A.J.'s last day? Rumors of retirement swirl
Veteran catcher non-committal as postgame celebrations spark speculation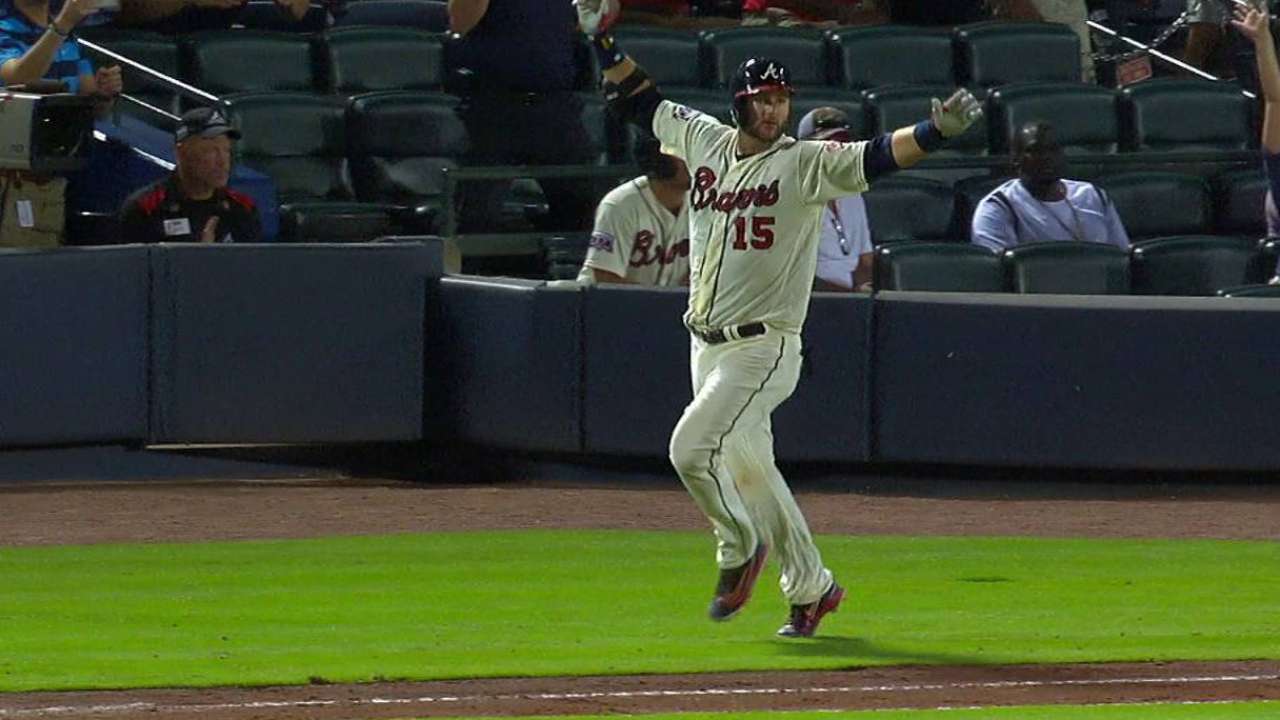 ATLANTA -- Three hours before Saturday's 4-3, 10-inning win over the Mets, Braves catcher A.J. Pierzynski was on the field throwing batting practice to his son, Austin.
Seven hours later, Pierzynski kept the Braves' 10th inning alive with a full-count, opposite-field single to help set the stage for Adonis Garcia's walk-off single.
It could have been the last at-bat of Pierzynski's 19-year career. The 39-year-old didn't give reporters a definitive answer after the game, but several signs in the clubhouse pointed to his potential retirement, fueling speculation on social media.
The Braves had his bat and ball authenticated, cigars were out and Braves first baseman Freddie Freeman hugged Pierzynski's son at his locker.
Pierzynski hasn't played much since returning from the disabled list in early September, with fellow backstops Anthony Recker and Tyler Flowers getting most of the reps behind the plate.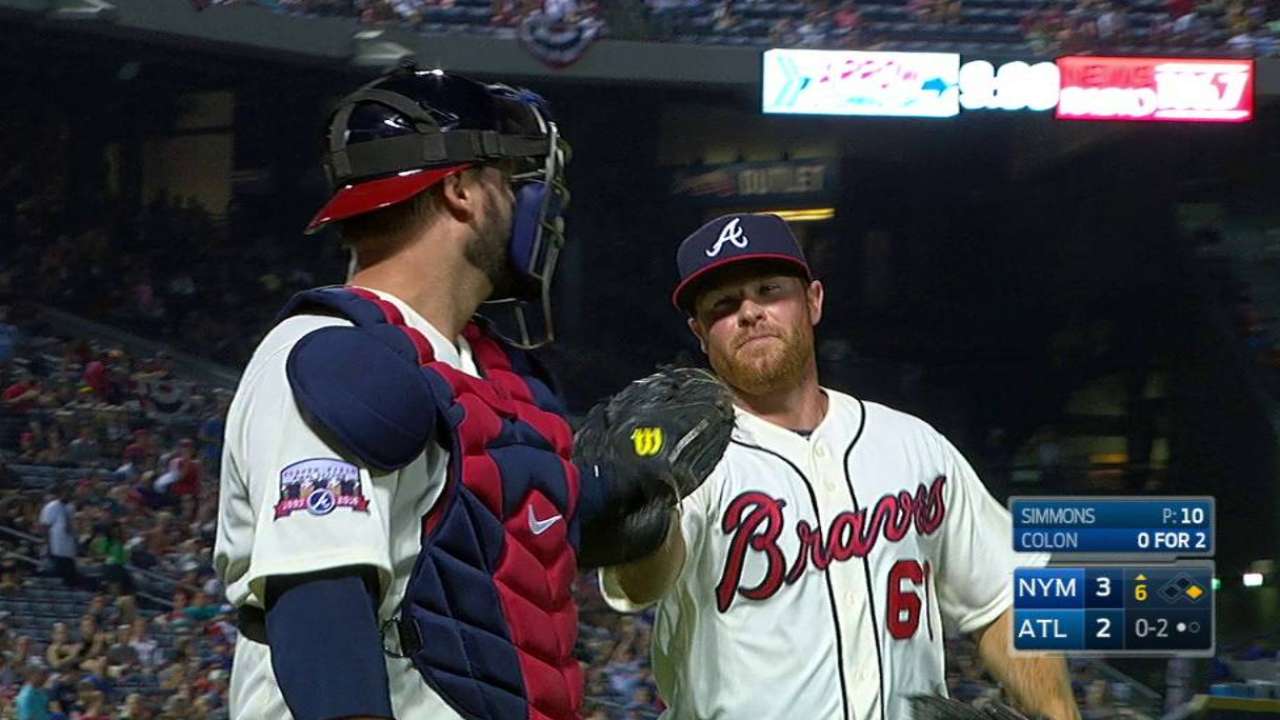 "It's been discussed, obviously, but I don't know," Pierzynski said. "I just hadn't played in a while ... guys were happy and I'm glad we won, but as far as me, I don't know what's going to happen. I don't know what tomorrow is going to bring, but that's it."
If Pierzynski is retiring, he had a memorable last game in front of a crowd of 47,841 at Turner Field. He was involved in a game-saving play in the eighth, when right fielder Nick Markakis nailed Wilmer Flores at home as he tried to score the go-ahead run on a single by Mets pinch-hitter T.J. Rivera.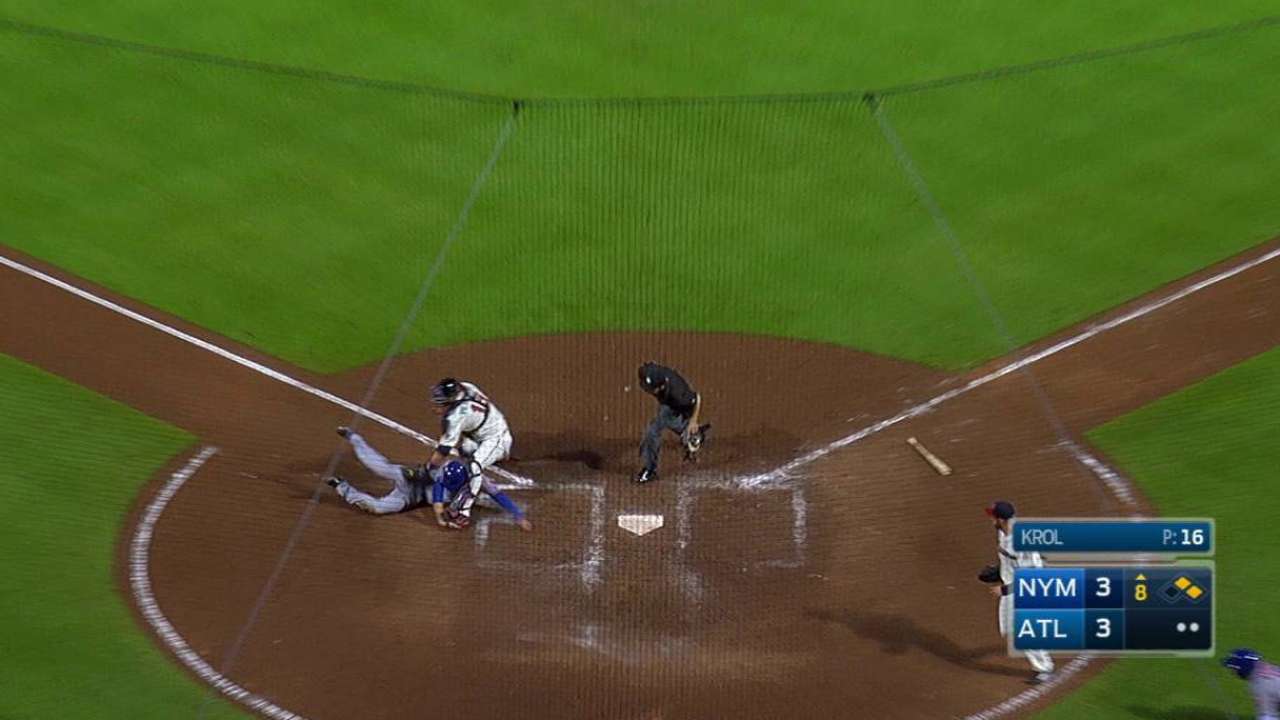 He came up big again in the 10th. Dansby Swanson led off with a single and moved to second on a wild pitch, and Pierzynski worked the count full before smacking a base hit to left field, advancing the go-ahead run to third. Swanson scored on Garcia's single three batters later.
"Just emotional, big hit for him," Braves manager Brian Snitker said after the game. "He hadn't played in a long time, and for him to go out and do that, that's pretty good, just because he's been inactive for so long."
Pierzynski came up with the Twins in 1998 and played in Minnesota through 2003. After a year with the Giants, he spent the next eight years -- the prime of his career -- with the White Sox, winning a World Series in his first season with Chicago in '05. After short stints with the Rangers, Red Sox and Cardinals, Pierzynski spent his last two seasons with a young Braves team.
If he doesn't play again, Pierzynski will have finished with a career .280 batting average on 2043 hits, including 188 home runs and 909 RBIs. He made the All-Star team in 2002 and '06 and won a Silver Slugger Award after swatting a career-high 27 homers in '12 with the White Sox.
"Whatever happens, happens," he said. "Tomorrow, today, I don't know. I'm trying to get through today. But as far as the rest of the year, I don't know what's going to happen tomorrow."
Aimee Sachs is a contributor to MLB.com based in Atlanta. This story was not subject to the approval of Major League Baseball or its clubs.