Francoeur breaks up perfect game in 8th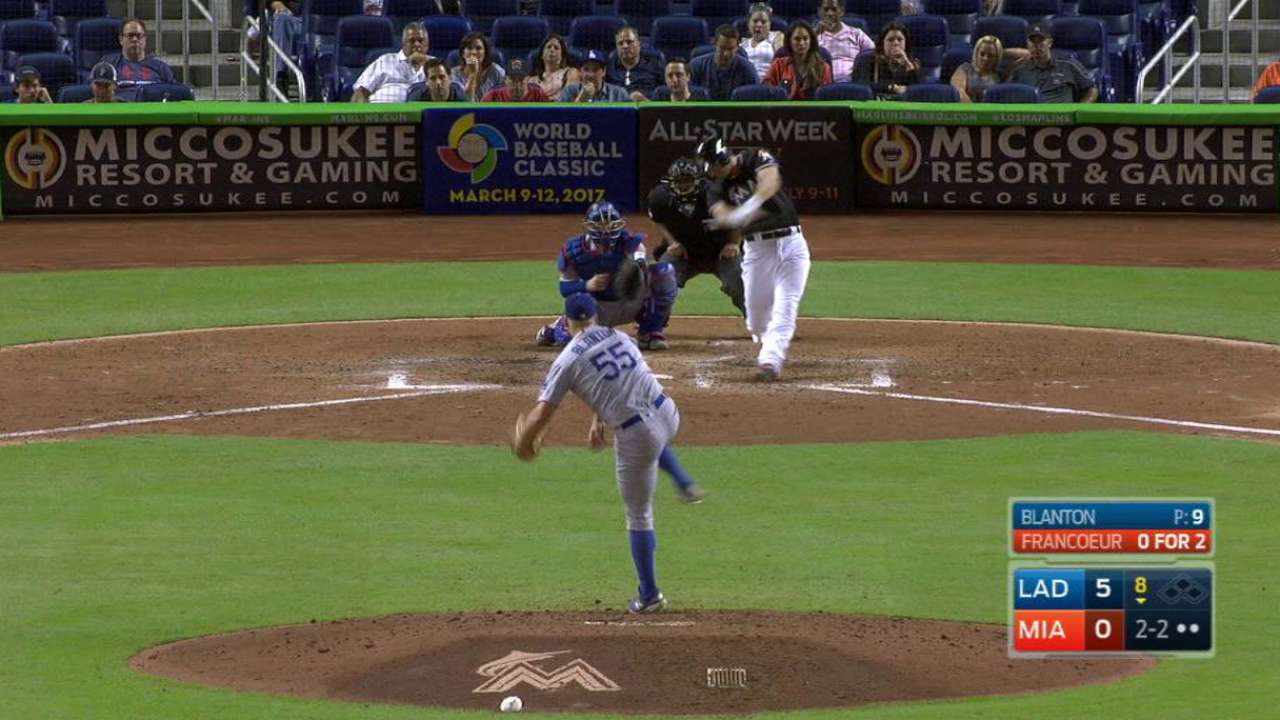 MIAMI -- Off the bat, Jeff Francoeur wasn't sure he hit the ball hard enough to get into left field. Shortstop Corey Seager did his best to prevent it from happening, making a leaping attempt.
But Francoeur did manage to have the distance -- and a bit of good fortune -- as Seager wasn't able to make a spectacular jumping play. It was about the only break the Marlins had on Saturday night in their 5-0 loss to the Dodgers at Marlins Park.
For seven innings, the Marlins could barely manage to make solid contact off Dodgers lefty Rich Hill, who flirted with perfection. Hill didn't allow a baserunner and struck out nine on the night.
But because Hill has dealt with blister issues, the Dodgers weren't taking any chances, so manager Dave Roberts pulled the veteran after 89 pitches for right-hander Joe Blanton in the eighth inning.
Francoeur's single to left, which glanced off Seager's glove, came with two outs in the eighth.
"It's huge," Francoeur said. "I was saying, in 11 years in the big leagues, I'd never had a no-hitter against my team or a perfect game. I was definitely praying this wasn't the first time. I'm glad we were able to come through with a few hits."
Once Hill exited, the Marlins scratched out two hits -- Francoeur in the eighth and Dee Gordon's infield single off Grant Dayton in the ninth. Adeiny Hechavarria also reached on an error by third baseman Justin Turner in the ninth.
Those were Miami's only baserunners.
"It was one of those things today where you ran into kind of a buzzsaw," Francoeur said. "When [Hill's] got that curveball working like that, it's tough, man. We just weren't able to make the adjustments."
Francoeur, who developed in the Braves' organization, faced Hill numerous times in the Minor Leagues.
"I've come up through the Minor Leagues with Rich when he was a big-time prospect," Francoeur said. "He's got the stuff. He ran into some arm problems and could never stay healthy. You've seen him the last two years really turn his career around and become a big-time pitcher. He showed it tonight."
Still, the Marlins were stunned to see a pitching change after seven innings.
"Honestly, I was wondering what was going on. Eighty-nine pitches. Perfect game," Francoeur said. "You'd have to pry me out of there. Someone said his blister started to flare up. It's tough. You see it both ways. How many chances do you get? But he's a big part of that team for them going into the playoffs. You have to have him."
The best chance for Miami off Hill came in the seventh. With two outs, Martin Prado, who entered the night batting a Major League-best .427 against lefties, drove a ball to the gap in left, but Yasiel Puig ran it down and made a diving catch.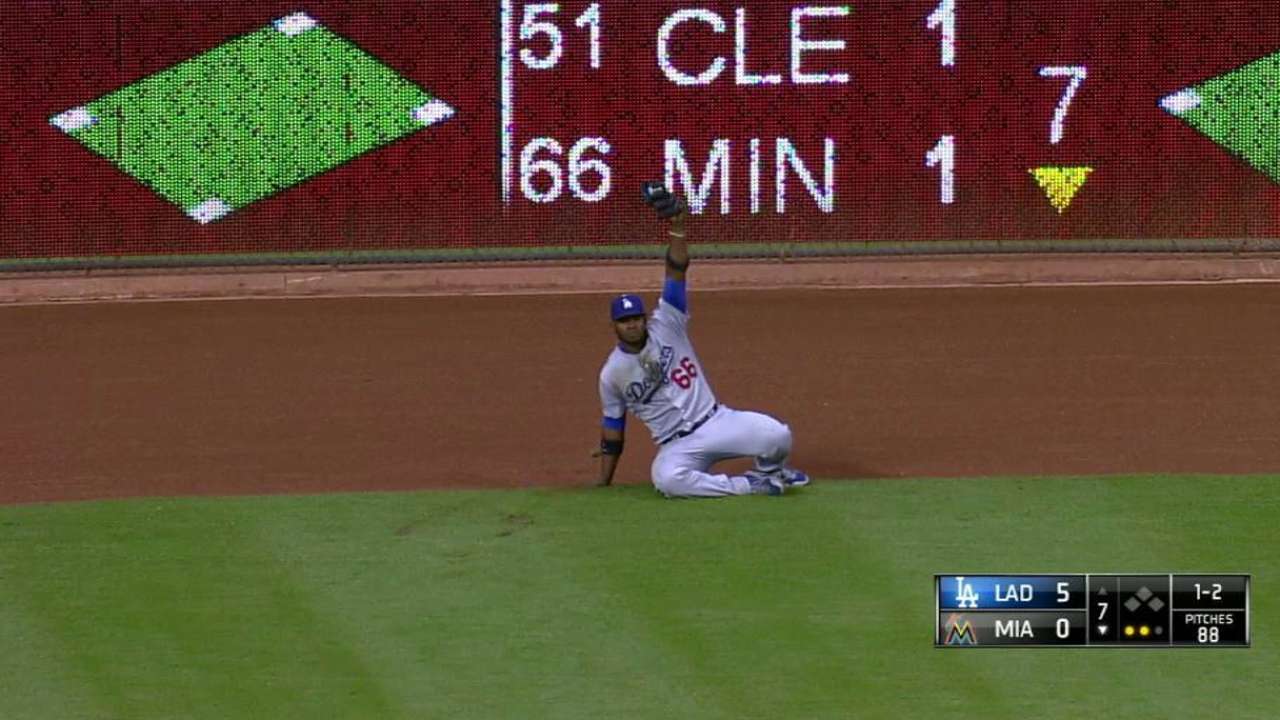 "That's just an incredible play," Marlins manager Don Mattingly said. "Those are the kind of plays you see when you see a no-hitter or a perfect game or something. You see a play like that. That was one of those plays where you're like, 'Ah, you never know what's going to happen tonight.' You don't see catches like that very often. That was an incredible play."
Joe Frisaro has covered the Marlins for MLB.com since 2002. He writes a blog, called The Fish Pond. Follow him on Twitter @JoeFrisaro and listen to his podcast. This story was not subject to the approval of Major League Baseball or its clubs.