MLB.com Columnist
Barry M. Bloom
Despite uncertainty, Peavy vows to return next year
Injuries the past two seasons have mostly grounded right-hander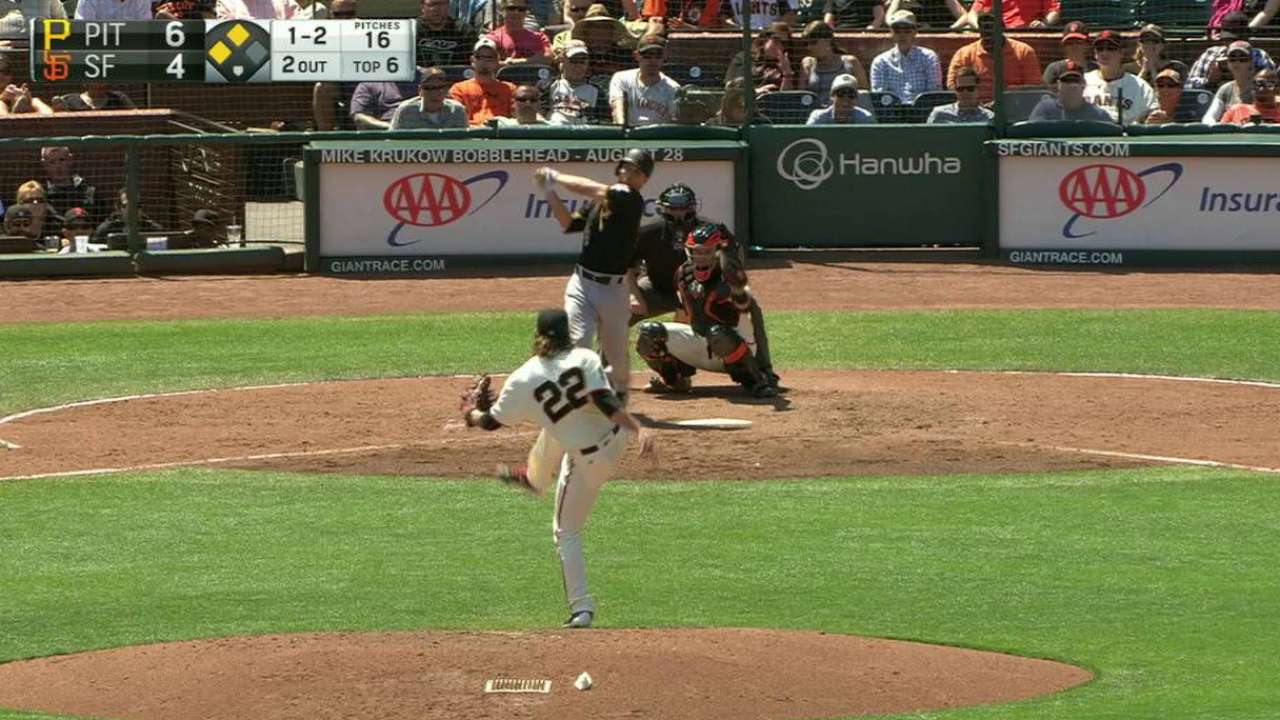 PHOENIX -- Giants right-hander Jake Peavy may be in a state of suspended animation awaiting how manager Bruce Bochy intends to use him during the final weeks of the season now that he's returned from a lower back strain.
But one thing is for certain, Peavy told MLB.com on Saturday, this is not how his 15-year career is going to end.
"I want to play [next year]," Peavy said before the Giants played the D-backs at Chase Field. "I'm looking forward to this year ending. From the start of Spring Training, it's just been a whirlwind. I've just struggled on all fronts."
For his part, Bochy said he's had this discussion with a player who has been part of his life since Peavy came up in 2002 as a 21-year-old with the Padres and Bochy was San Diego's manager. That relationship blossomed before Bochy left for the Giants in 2007.
If Peavy, now 35, wants to come back to San Francisco, the door is always open, Bochy said, although Peavy will be a free agent again this offseason.
"I've talked to him about this, and he wants to keep playing, and I don't blame him," Bochy said. "And he should play. He knows how he feels and what he wants to do. He'll have options. This door will always be open. I mean, we're open-minded here. We'll look at what we have and our needs and what makes sense."
Peavy hasn't had the greatest run of it this year. He's 5-9 with a 5.47 ERA in 21 starts, causing Bochy to drop him from the rotation when the Giants obtained Matt Moore from the Rays at the non-waiver Trade Deadline.
As a reliever, Peavy hasn't been much better, allowing six runs on 13 hits in eight innings over eight relief appearances.
This came off a 2015 campaign when Peavy made his first two starts and then missed three months because of back and hip injuries. Eventually he pitched well enough, winning five of his last six decisions, including the final four in a row.
This season, when Matt Cain was placed on the disabled list in mid-August with his own lower back injury, it was anticipated that Peavy would bounce back to the rotation.
"I knew I was going to get a chance to start again at some point in time," Peavy said. "Two days before it came up in Los Angeles, I couldn't go out there. My back just grabbed me. It took a couple of days for it to calm down.
"We had no choice but to put me on the disabled list, because we needed the roster spot."
Now, Peavy says he's ready to go and with the state of San Francisco's bullpen, Peavy believes he could be of some real relief.
"We'll see how it plays itself out," Peavy said. "I'll do whatever. I'll do whatever. I'll come in and throw an inning and get an out before they score. I'm sure I can do that."
Bochy had to use seven relievers in Friday night's 7-6, 12-inning victory over the D-backs, but Peavy was not one of them. Bochy's bullpen has blown 27 saves -- two of them in one game on Friday night -- eight alone by closer Santiago Casilla.
Bochy said prior to Saturday's game that he wouldn't specify who might be his eighth and ninth inning combination moving forward.
"We'll see," he said. "I'm not going to go through this every day."
But Bochy did say he wouldn't hesitate to use Peavy in a setup role.
"I'll use Jake as a long guy, but he could help out if I have some relievers who need a break," Bochy said. "He's available to start at any time. He gives us some versatility. So he'll be used the way he was before he was injured. I wouldn't hesitate to use him anywhere to get a hitter out."
Peavy was traded to the Giants from the Red Sox on July 26, 2014, and he was indispensable that season as San Francisco made a late run for the National League's second Wild Card berth and eventually won their third World Series since 2010.
The Giants won the last six of Peavy's starts that regular season, with Peavy getting credit for the victory in four of them.
That offseason, San Francisco signed Peavy as a free agent to a two-year deal worth $23.5 million. Now that deal is about to expire.
There's no telling now where Peavy will land. All he knows is that he's not ready to call it a career. Not yet.
Barry M. Bloom is a national reporter for MLB.com and writes an MLBlog, Boomskie on Baseball. Follow @boomskie on Twitter. This story was not subject to the approval of Major League Baseball or its clubs.