Flores sore, but OK after home-plate collision
X-rays negative; Collins regrets decision not to pinch-run for first baseman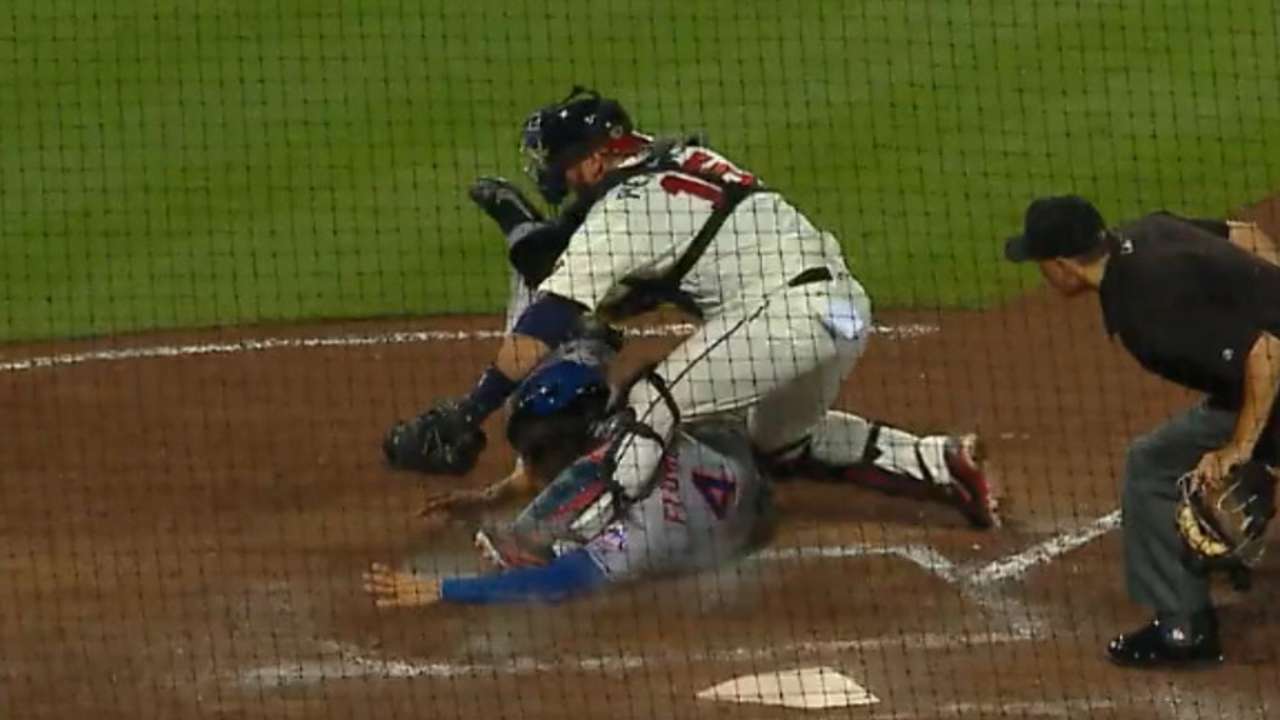 ATLANTA -- In retrospect, Terry Collins said, Wilmer Flores should not have been on the basepaths in the first place. But as Collins distracted himself readying the Mets' pitching for the eighth inning of their 4-3, 10-inning, walk-off loss to the Braves, Flores wandered off second as the potential go-ahead run.
Moments later, T.J. Rivera ripped a single to right field, where Nick Markakis fielded it and rifled home. His throw arrived a split-second before Flores, who attempted to score by tumbling into Braves catcher A.J. Pierzynski. It didn't work. Pierzynski held onto the ball while Flores collapsed to the dirt, suffering a bruised neck but no further injuries.
"I certainly should have had somebody ready to pinch-run," Collins said. "We certainly have enough guys. We could have run for him, which we should have. I was trying to get the pitching set up and get a pinch-hitter in, and got distracted. It's my fault."
The immediate impact of Collins' decision was the loss of Flores, who could miss several days with a contusion. Though X-rays came back negative, and the Mets said they had no reason to fear a concussion, Flores was still "feeling a lot of pain" after the game. He walked off the field under his own power but did not return, giving way to James Loney at first base.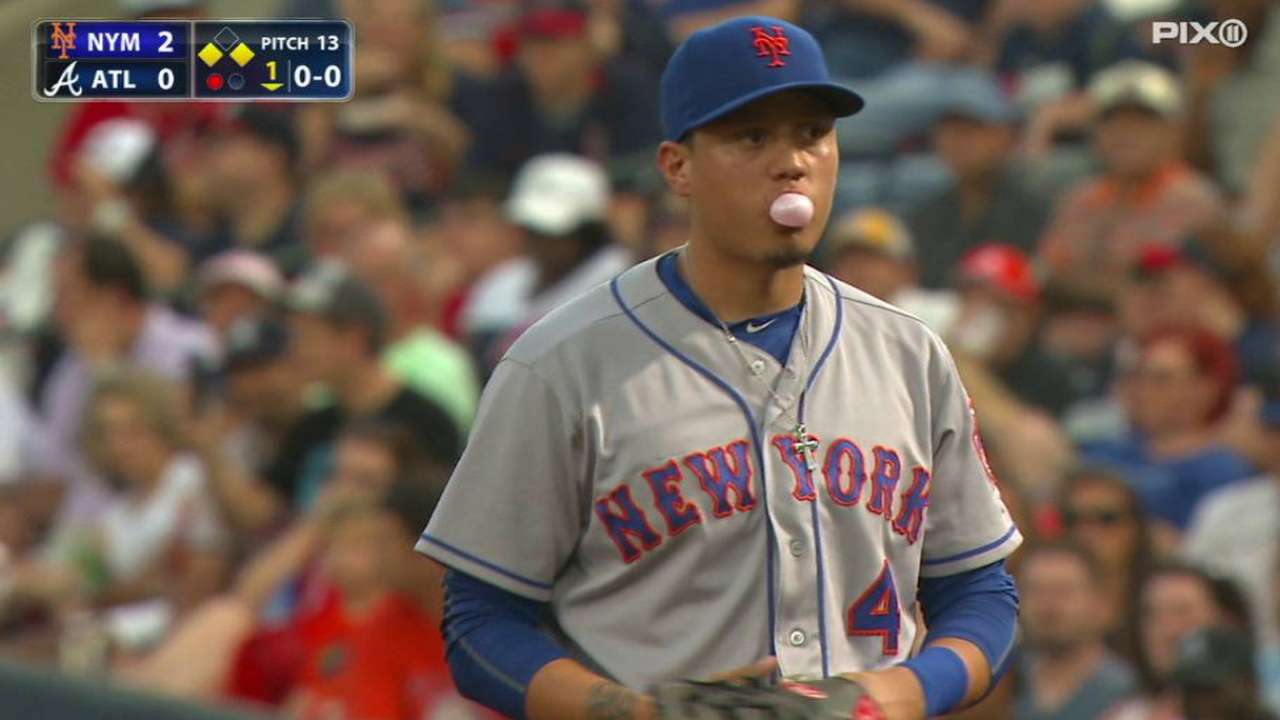 "I'm just very sore, my neck and back," said Flores, whose contributions to the Mets this season include 11 homers and a 1.093 OPS against left-handed pitching. "It's one of those plays where I really wanted to score, but I tried to do too much. That's why I got hurt. … The first two, three seconds after I hit him, I've never felt that pain before. I felt really weird and dizzy. But thank God, I feel good right now."
Despite being relieved at the news that Flores' injury should not linger, Collins regretted putting him in that situation in the first place. Stuck in a tie game in the eighth, Collins was scrambling to communicate with his bullpen and to ready a right-handed pinch-hitter, Rivera, to replace Kelly Johnson. He never considered pinch-running for Flores, a slow baserunner, despite having several options -- Matt Reynolds the most obvious -- available. Nor did bench coach Dick Scott advise Collins to pinch-run for Flores.
As a result, the Mets lost a player and a game. Statcast™ clocked Flores' dash home at 7.2 seconds, despite a secondary lead of more than 16 feet. He did not score, and two innings later, the Braves rushed the field to celebrate Adonis Garcia's walk-off single.
Collins retreated back to his shoebox office, where he blamed himself for the way that things unfolded.
"I should have run for him there," the manager said, repeating some variation of that phrase three times after the game. "I was trying to get the pitching set up. My fault."
Anthony DiComo has covered the Mets for MLB.com since 2008. Follow him on Twitter @AnthonyDiComo and Facebook, and listen to his podcast. This story was not subject to the approval of Major League Baseball or its clubs.