Puig's incredible catch preserves perfection bid
Outfielder starts in left for first time in three years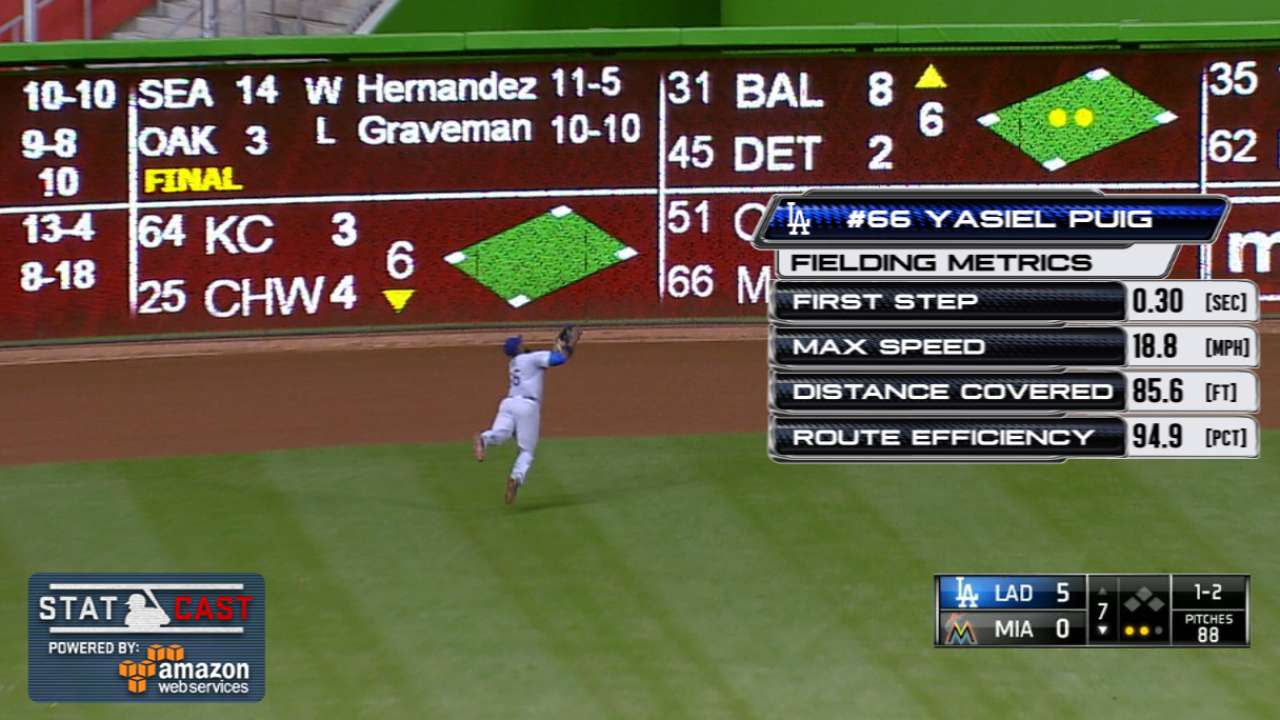 MIAMI -- Dodgers outfielder Yasiel Puig, making his first start in left field in three years, pulled off a miraculous, lay-out catch in the seventh inning of Saturday night's 5-0 win over the Marlins to preserve Rich Hill's bid for a perfect game.
Puig took off at contact, racing into the left-center gap and was all-out with a dive to glove Martin Prado's bid for extra bases with two out in the bottom of the seventh.
"It was a great play," said Dodgers manager Dave Roberts. "For Yasiel to go out there in left field, there might been a little of me that wouldn't have been too upset if the ball dropped, if I speak honestly. It was tough, but it was a great play."
Puig, generally a right fielder in his Dodgers career, was given the start in left field by Roberts, who started Josh Reddick in right field. Reddick was acquired at the non-waiver Trade Deadline, leading to Puig's demotion to Triple-A.
"That's just an incredible play," said Marlins manager Don Mattingly. "Those are the kind of plays you see when you see a no-hitter or a perfect game or something. You see a play like that. That was one of those plays where you're like, 'Ah, you never what's going to happen tonight.' You don't see catches like that very often. That was an incredible play."
Hill was lifted after the seventh inning, with right-hander Joe Blanton taking over. Jeff Francoeur ended the bid with a two-out single off the glove of a leaping Corey Seager at shortstop.
"That was a great catch," said Hill. "Hat's off to him for that, it was beautiful."
Statcast™ spin | Mike Petriello @mike_petriello
The final pitch of Hill's night was perhaps the most exciting, as Puig -- playing left field for just the second time in his big league career -- made a spectacular diving play on a Prado drive to left-center.
Though the play looked unbelievable, the Statcast™ data on it tells an interesting story. Puig traveled 85.6 feet in five seconds to make the catch, yet that distance covered doesn't make the Top 50 in Major League Baseball this year in terms of ground covered by an outfielder to make a catch in five seconds or less. And, Prado hit the ball at just 92 mph off the bat, an exit velocity that, combined with his 24-degree launch angle, leads to just a .267 batting average anyway.
So why did Puig's play look so great? Because on an evening where the ball was flying out to right field, as the Dodgers hit four homers that direction, Puig was playing very shallow in left. He was a mere 279 feet away from home plate, which is much shallower than both the average Dodgers left fielder (297 feet, through the end of August) or Marlins left fielder (297 feet).
That being the case, Puig had to run nearly straight back, adding a degree of difficulty -- and, of course, he finished it off with a perfectly timed dive.
Ken Gurnick has covered the Dodgers for MLB.com since 2001. This story was not subject to the approval of Major League Baseball or its clubs.