'Calm' Felix returns to form, flashes ace card
Following rough stretch, Hernandez deals six scoreless vs. A's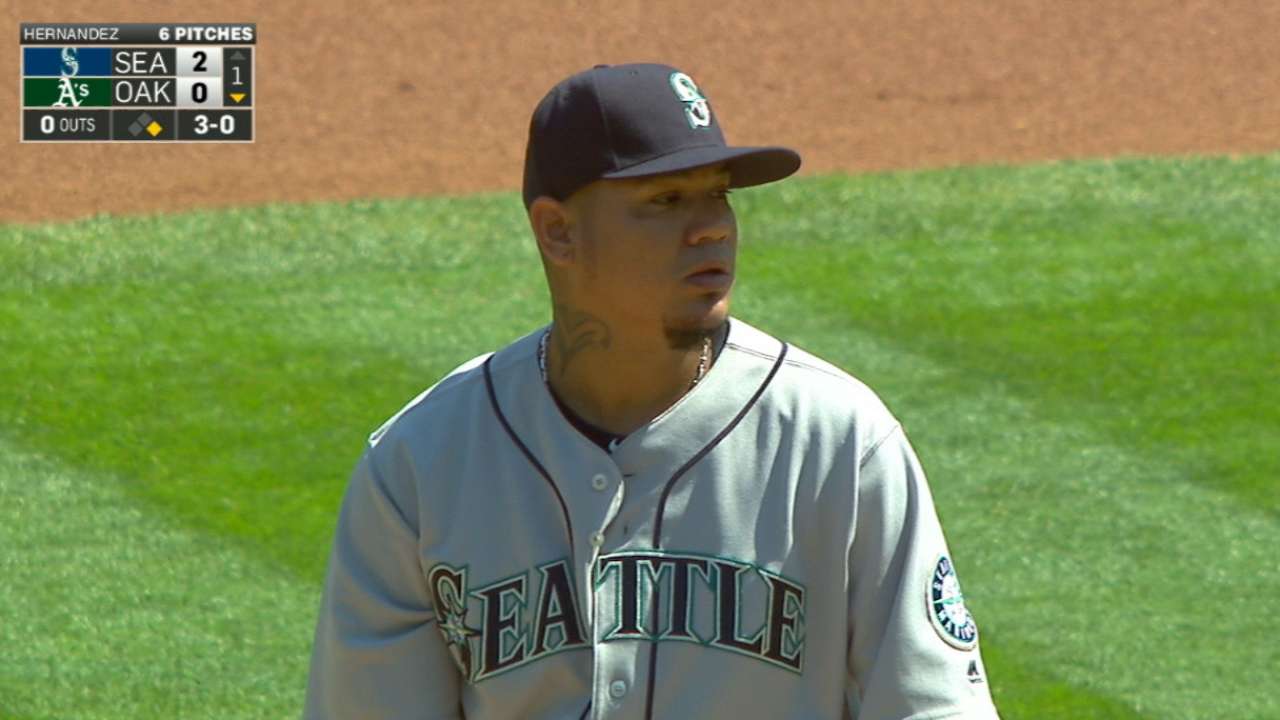 OAKLAND -- Felix Hernandez hasn't acted like his usual self this year. The 12-year veteran, who posted a 2.14 ERA in 2014, has lacked the command that made a season like that possible.
Regardless, Hernandez continues to be a critical part of the Mariners' rotation at this point in the season. And he showed why in Seattle's 14-3 win over the A's at the Coliseum.
After allowing a combined 12 earned runs in his previous two outings, Hernandez tossed six scoreless innings Saturday to earn his 11th win of the season. He also managed to strand four runners on base in the first two innings and exited after retiring 12 of the final 14 batters he faced.
"Not his sharpest early, but he got on a nice roll and kept them off-balance," Mariners manager Scott Servais said. "That's Felix. He's got good stuff, he's just got to figure out what's working."
Hernandez described the first two innings as "wild," adding that the ball was sinking and cutting everywhere. However, he finished by walking just one batter and yielded just two hits in the final four innings.
It is a welcome sign for the right-hander, who entered this most recent start averaging a career-high four walks per nine innings.
"I'm just trying to calm down and make good pitches," said Hernandez.
It was the first outing in which he didn't surrender a run since May 21. However, as the offense showcased, the right-hander hasn't needed to throw scoreless gems each time he takes the mound. He has now recorded wins in five of his past six starts and is 7-1 with a 4.22 ERA since returning from the disabled list on July 20.
"He's done what we've needed him to do, it just hasn't been the over-the-top, dominating performances we're used to seeing," Servais said Friday.
Hernandez didn't provide an "over-the-top, dominating" performance Saturday. But staked to an early lead, he proved to be me a more than capable starter.
"When you give him a lead, he's not going to let those slip away, he knows how to get deep into games, and it's why he's been Felix for as long as he's been," Servais said.
Justin Wise is a reporter for MLB.com based in the Bay Area. This story was not subject to the approval of Major League Baseball or its clubs.