Injury, illness leave Padres rotation unclear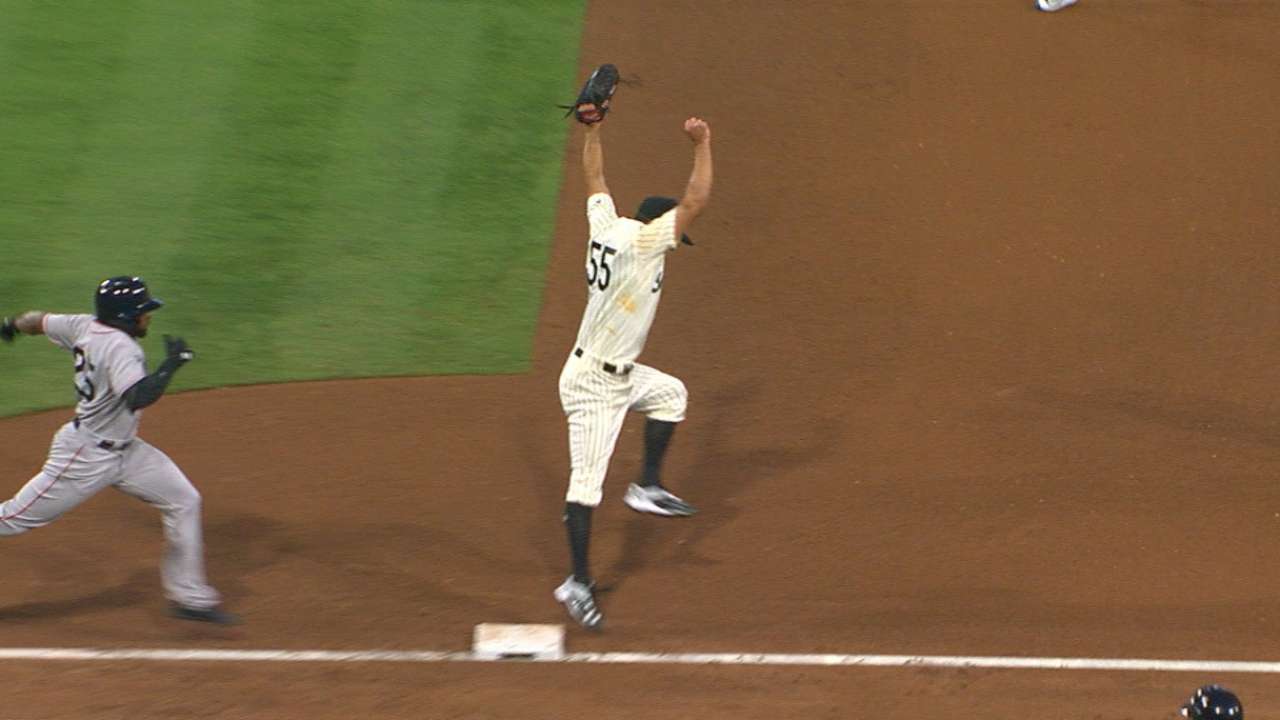 SAN DIEGO -- The Padres have yet to completely solidify their plans for the rotation in the coming week, with Jarred Cosart still recovering from his hamstring and groin strain, but Padres manager Andy Green shed some light on what is likely to happen.
The team was committed to using a six-man rotation to help ease the workload of both Luis Perdomo and Christian Friedrich, but was forced to audible when Cosart left his start on Wednesday.
"The expectation right now, not to declare it, but we expect kind of just bumping up Clayton Richard and Luis Perdomo to pitch in front of that [Thursday] off day," Green said. "And Christian Friedrich will throw on the backside of that off day.
"Jarred's making good progress. The hope is after that off day, if not that turn through the rotation then the next turn through the rotation the he'd be back with us. But he's definitely missing one start at this point in time."
Another potential wrinkle in those plans is Paul Clemens, who is scheduled to start on Monday vs. the Giants but has been fighting a flu bug. Green said that he still expected Clemens to be able to make that start, but if he couldn't the team would need to go to an option outside of the current rotation or have someone pitch on short rest.
Myers makes the most of BP
Padres first baseman Wil Myers was out on the field taking extra batting practice Saturday. The 25-year-old All-Star has been struggling in the second half of the season, hitting just .218/.303/.342.
Green said that the hitting session, which lasted around 20 minutes, was about trying to get his feel back.
It apparently worked, as Myers went 2-for-3 with two RBIs in a 6-3 victory over the Rockies.
"Wil has always been a feel-oriented hitter and I think sometimes the best thing you can do is, before anybody else is around in the ballpark, kind of get out on the field and let someone like him find his feel," Green said before the game. "That's what we were searching for today…
"He wants to get it going. I think those things mount, especially when the clock's ticking, and the season's coming to an end. And you had the expectation that it was going to be a great statistical season. I think the best thing you can do is kind of take your eyes off the stats, work back to just squaring baseballs up hard… And I think we'll start seeing the results here very soon."
For those looking at those statistics, there are a few telling signs.
Here's how differently teams have attacked Myers with FBs this season. Left is through July, Right is from July on. pic.twitter.com/CKfklzn85S

- Carlos Collazo (@CarlosACollazo) September 10, 2016
Pitchers attacked Myers differently during the first half of the season, when he posted a 134 wRC+ compared to how they are attacking him in the second half when he has a 68 wRC+.
Green said that pitchers started going to offspeed offerings earlier against Myers to try to slow him down in the box, before going low and away with fastballs -- a pitch and location he normally excels at driving the other way.
Myers has seen fewer pitches in the middle of the plate, and he's also been swinging at offerings that aren't indicative to good results, according to Green. Once he gets back to swinging at -- and driving -- his pitch, the results should follow.
"He felt good about it I think at the end of the hitting session," Green said. "[I] like where he was. He liked where he was. And that's the first step to moving it back in the right direction."
Carlos Collazo is a reporter for MLB.com based in San Diego. Follow him on Twitter @CarlosACollazo. This story was not subject to the approval of Major League Baseball or its clubs.