Pitching to Sanchez no walk in the park
Rookie phenom swings on intentional BB pitch, notches sac fly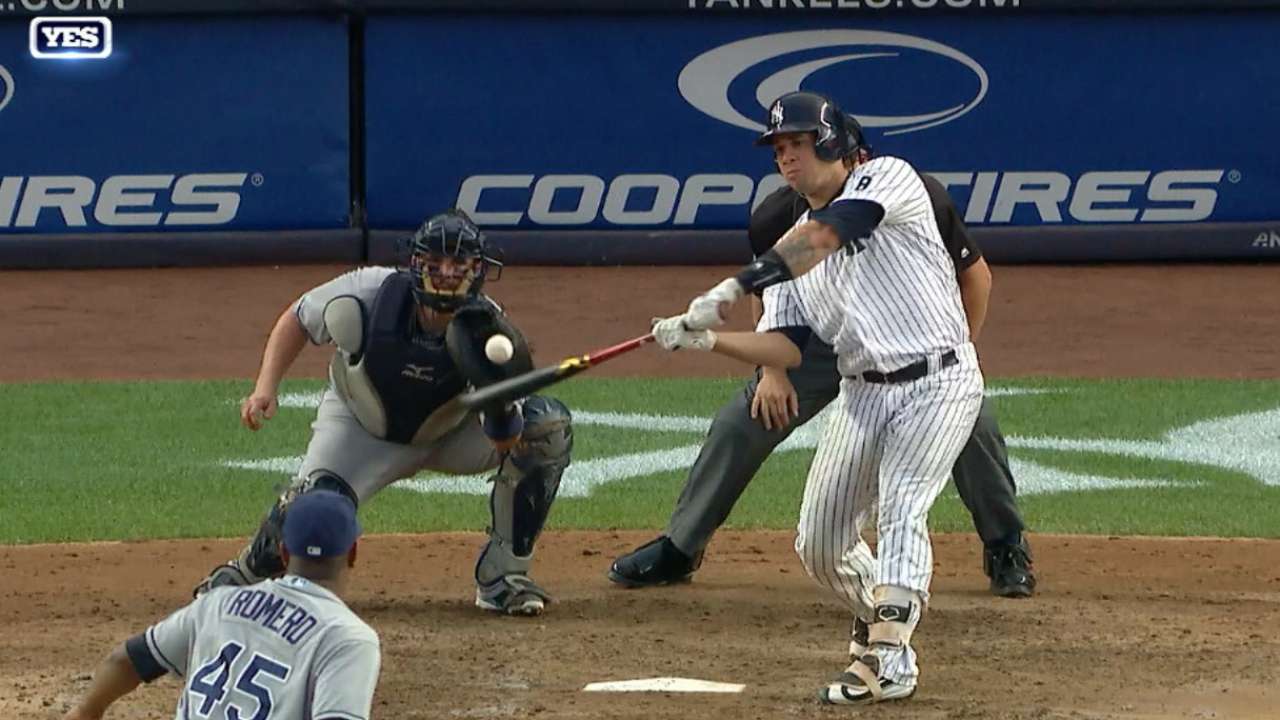 NEW YORK -- It wasn't the first time that Gary Sanchez has seen an intentional ball turn into an unintentional strike. On Aug. 24, in a 5-0 win over Seattle, Sanchez saw a pitch during an attempted intentional walk that he wish he could have squared up.
But he wasn't ready to swing. At that time, he was content to take his walk. When he got back the dugout, the New York hitting coach Alan Cockrell told him to always be ready. So when Rays reliever Enny Romero made the same mistake to Sanchez on Saturday, the Yankees' phenom catcher made sure he was ready to do damage. He corked the pitch about 400 feet to center field for a sac fly, his second RBI in a 5-1 win over the Rays at Yankee Stadium.
"I knew they were going to walk me," said Sanchez, who also hit a sixth-inning home run, "but at the same time, I wanted to be ready in case I could swing at the pitch, find something that I could drive, and hopefully score the run from third."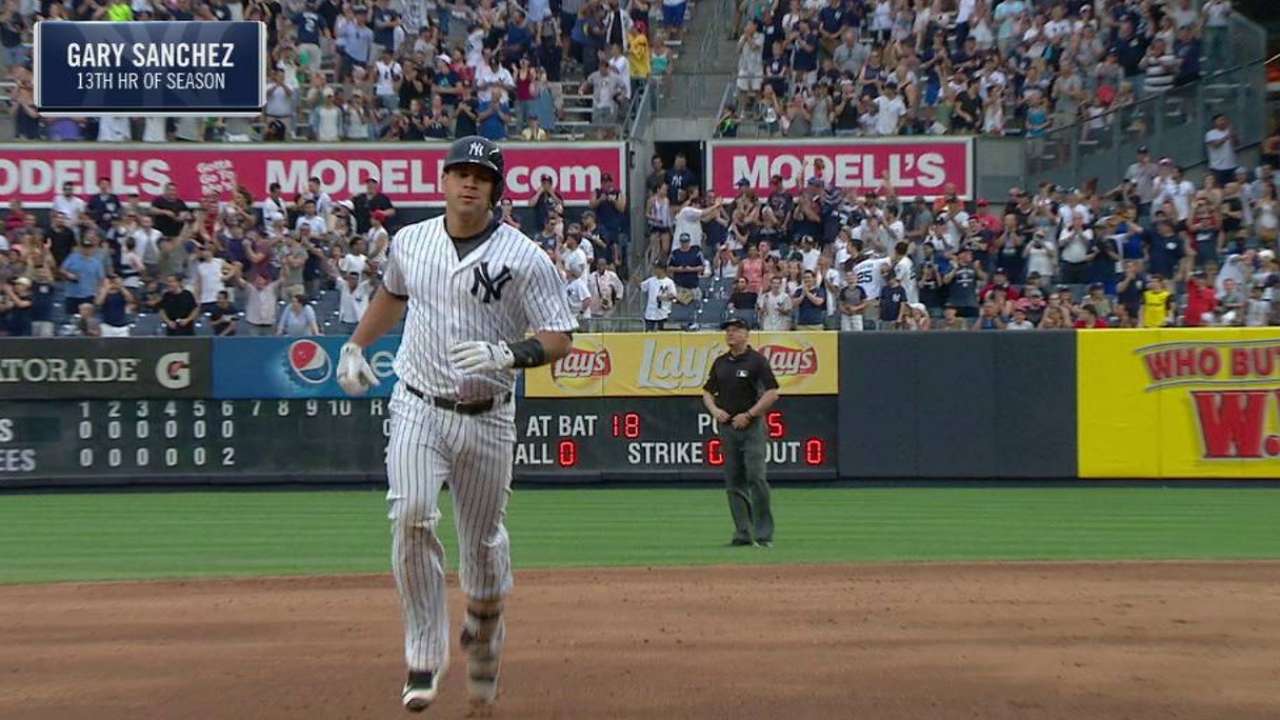 • Cut4: Sanchez hits sac fly on intentional walk pitch
Joe Girardi told his team to be ready for something like that from Romero, whom the Yankees' manager said has trouble throwing to first base -- an indication he might struggle on an intentional walk.
"It's a great job by Gary Sanchez to be ready to hit that," Girardi said. "It's not something that pitchers are doing a lot and are always comfortable. I think you have to be prepared because if they throw it over the plate, it's probably going to be one of the softer pitches you see in your career."
Romero has had a penchant for command loss this season, walking 27 in 42 1/3 innings. In his past five outings, he has a 16.62 ERA, allowing eight runs and four walks in 4 1/3 innings.
"As far as the eighth inning is concerned, I'm not going to really talk about it other than to say it's embarrassing," Rays manager Kevin Cash said.
Romero said he didn't want to balk, and he knew the pitch didn't feel right coming out of his hand. If he stopped the motion, a run would have scored, so he followed through, and the ball looped right in there for Sanchez to crush. The pitch came out at 51.8 mph, per Statcast™. It was the slowest pitch put in play this season.
"I know I'm supposed to throw a base on balls on four pitches," Romero said, "an intentional walk."
Sam Blum is a reporter for MLB.com based in St. Petersburg. This story was not subject to the approval of Major League Baseball or its clubs.