Mackanin's player pool grows as 4 more arrive
Phillies call up more Minor Leagues on Saturday, including Asche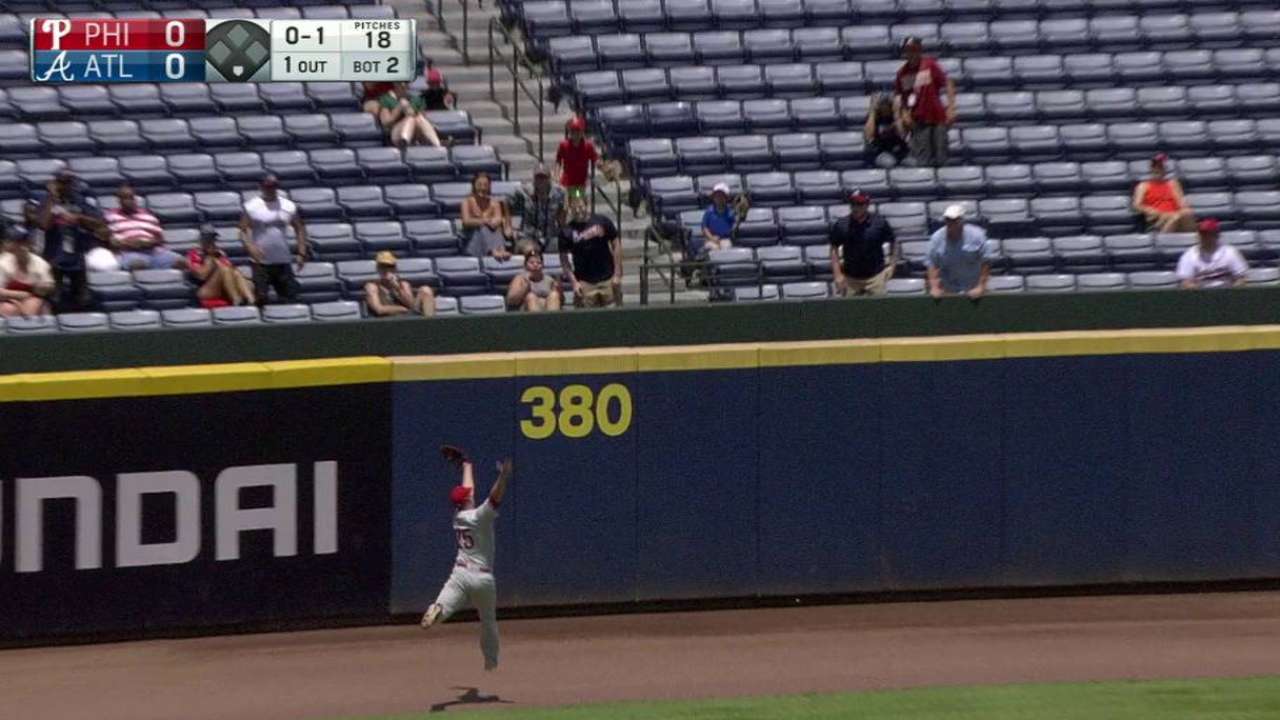 WASHINGTON -- Phillies manager Pete Mackanin has a few more players to squeeze into games before the end of the season.
The club announced Saturday it had recalled outfielder Cody Asche and right-handers Luis Garcia and Phil Klein from Triple-A Lehigh Valley. They also selected the contract of left-hander Joely Rodriguez and designated infielder Taylor Featherston for assignment.
The Phillies could see Double-A Reading catcher Jorge Alfaro and outfielder Roman Quinn join the club before the end of the season, too.
"At this point it's flip a coin," Mackanin said of finding playing time for everybody. "I don't want to sound down about it, but we've got so many guys, and who do I play? I don't know. It's a guessing game.
"But when it comes to something like that, I'm going to play the best defense. Peter Bourjos is hard to take out of the lineup because he provides that defense."
It should be a little easier to see Rodriguez, whom the Phillies acquired from the Pirates in a December 2014 trade for Antonio Bastardo. The left-hander went a combined 7-0 with a 2.35 ERA in a combined 53 appearances with Class A Clearwater, Double-A Reading and Lehigh Valley.
The Phillies need left-handed relievers, so Rodriguez and Patrick Schuster will have an opportunity to prove themselves in the season's final weeks. Left-hander Elvis Araujo had a 5.60 ERA in 32 appearances with the Phillies. He finished the season with Lehigh Valley but was not recalled.
"We want to get a look at Rodriguez," Mackanin said. "We've seen Araujo quite a bit and we know what he's capable of doing. We want to see Schuster, too. We're going to try to run him out there as much as we can."
Schuster entered Saturday's 3-0 loss in the eighth inning to face David Murphy and walked him. He then served up a game-winning three-run home run to Bryce Harper.
"It wasn't a good audition," Mackanin said. "At least you've got to throw strikes. That situation was meant for a left-handed situational guy."
Worth noting
Remember when Phillies center fielder Odubel Herrera was walking and seeing more pitches than just about anybody in baseball?
Well, he got away from that. He ranked fourth in baseball in walks (33) and sixth in pitches per plate appearance (4.37) through June 3. But Herrera ranks 133rd in walks (21) and 91st in pitches per plate appearance (3.79) since. Asked what has happened to Herrera, Mackanin offered a more philosophical answer.
"Rather than look at the game of baseball in little spurts, the test is about six months," he said. "Gene Mauch once said, 'You're going to hit what you're supposed to hit.' If you're a .250 hitter and you're hitting .280 with a month to go, you're most likely going to hit .250. What it's all about is consistency over the course of six months. It's not looking at a guy with a hot week and getting excited about him. What you need is consistent at-bats over the course of six months, and those guys are hard to find.
"Everybody is streaky to a point, but the really good ones we're looking for don't have prolonged slumps. Regardless, I don't really care what happened to him after the All-Star break. I'm not saying he's a good first-half player or not. Last year, he went through that issue where he was down to .250 near the All-Star break, but he rebounded to hit .297. For example, if he goes off and gets a ton of hits and ends up hitting .297 again because he gets hot, that's great.
"But the last six weeks have not been helpful to win games. You're looking for that guy that's consistent on a daily basis, quality at-bats."
Todd Zolecki has covered the Phillies since 2003, and for MLB.com since 2009. Read his Phillies blog The Zo Zone, follow him on Twitter and listen to his podcast. This story was not subject to the approval of Major League Baseball or its clubs.