Cubs catch hustling Springer by a toe
Replay confirms call that saw Cubs' Baez, Contreras deny Astros OF with relay throw home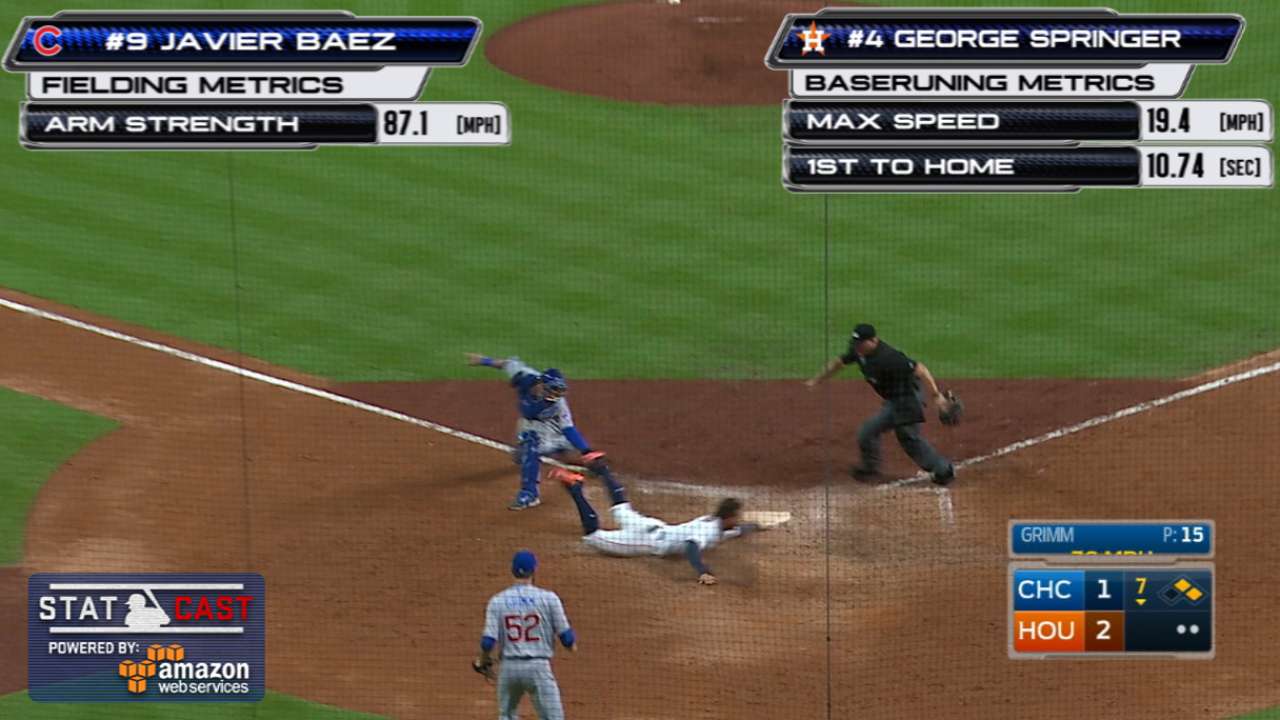 HOUSTON -- The Astros had an opportunity to extend their lead in Saturday afternoon's 2-1 win over the Cubs at Minute Maid Park, but Chicago shortstop Javier Baez and catcher Willson Contreras made sure that didn't happen.
"We play that game often, man," Cubs manager Joe Maddon said. "We had all those one-run games back at home in that last homestand. That's the kind of game we play all the time, and I love it."
With two outs in the seventh and the Astros up by one, George Springer walked. Rookie Alex Bregman then launched a blooper to right-center field that neither Cubs outfielder could reach as it bounced away from sliding right fielder Jason Heyward, which spurred Springer to take off.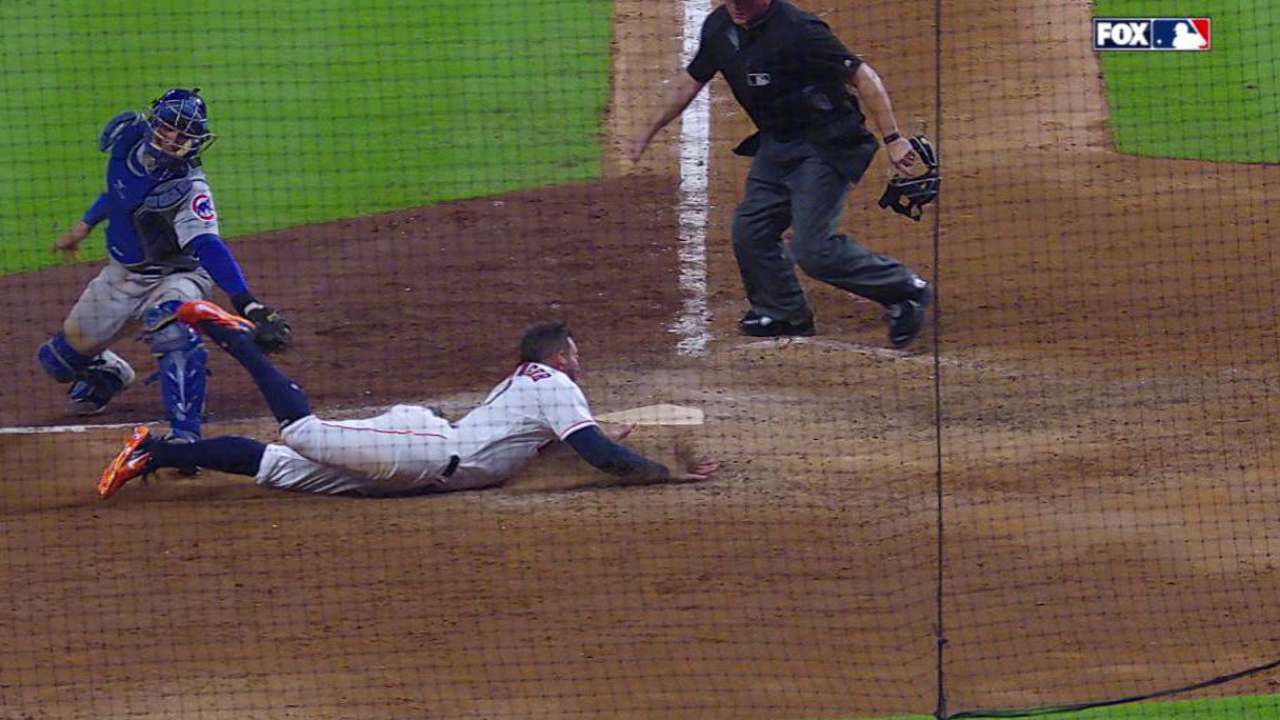 Springer, whose top speed on the play was tracked at 19.43 mph by Statcast™, rounded third and made a break for home plate just as Baez got the ball in the infield from a regrouping Heyward.
Known for his outstanding defensive plays as of late, Baez didn't disappoint with the throw, propelling the ball a Statcast-projected 87.07 mph to Contreras' glove, just quickly enough for Contreras to making a reaching tag on Springer's foot as he was sliding into home.
"[Springer's] emotions are running high saying, 'There's no way they touched me. I'm safe.' I just said, 'I don't know,'" Astros manager A.J. Hinch said of Springer making the safe sign when he leaped up after the tag. "But we're going to challenge either way."
Hinch did indeed challenge the call, and it was confirmed after a review that lasted one minute and 41 seconds, ending the inning.
"Any time there's a scoring change in the game, it's worth a challenge," Hinch said. "I hadn't seen a replay of how close it was. I saw the one on the big screen, and you always hope to get lucky a little bit if it's 50-50 it will go your way.
"Those are hard calls to overturn. But if the game is on the line like that and a close game, it's set up for us to use it for those purposes, specifically late in the game when the difference in the game is so minimal."
Springer's first-to-home time was 10.74 seconds, which was not among the leaders for fastest overall, but was his third-fastest first-to-home scamper of the season (of 11 total plays) and his fifth-fastest tracked by Statcast™ (of 16 total plays since the beginning of 2015).
"I told [George], 'Way to hustle,'" Hinch said.
Jordan Ray is a reporter for MLB.com based in Houston and covered the Astros on Saturday.

Richard Dean is a contributor to MLB.com based in Houston and covered the Cubs on Saturday.

This story was not subject to the approval of Major League Baseball or its clubs.