With three weeks to go, Yanks like schedule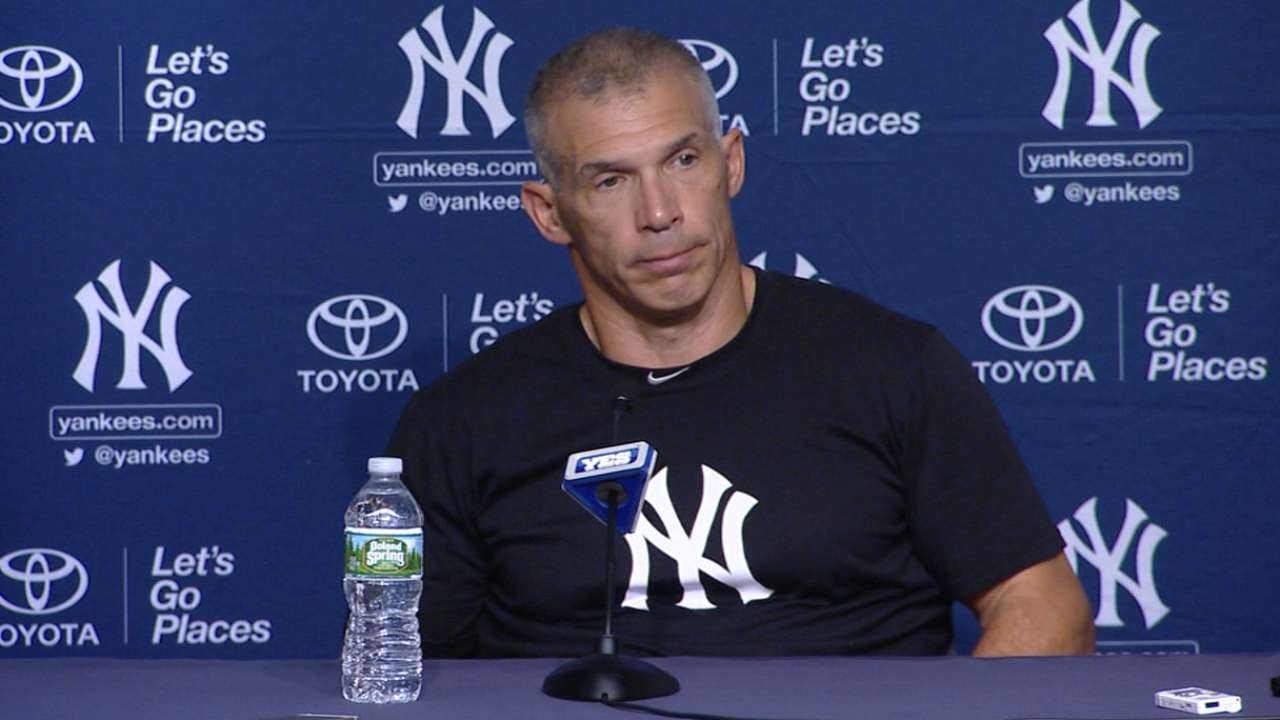 NEW YORK -- To feel the minor disappointment in the Yankees' clubhouse Sunday afternoon was to appreciate just how far this team has come in the last week, and a testament to the position it has played itself into. There is a slight sense, after a 4-2 loss to the Rays at Yankee Stadium, of missed opportunity. Going forward, an overwhelming majority of the Yankees' games will come against teams with winning records, many still positioned slightly ahead of New York in the standings.
"Every loss hurts, because it's a day you don't make up any ground, or you lose ground," manager Joe Girardi said. "Just based on how few games are left."
But more at the forefront was the reality of the club's newfound postseason chances, and reflection into how those came to be. The seven-game winning streak the Yankees had snapped Sunday had been their longest in more than three years, and it propelled them from the fringes of postseason contention, for at least a moment more, to the forefront.
"You're not going to win every game that you play," said Chase Headley, whose fifth-inning homer provided much of New York's offensive output. "I love the way we're playing. I love the way guys are competing. We're getting contributions from everybody. And of course, it would have been great to keep it going. We just have to start a new one tomorrow."
It was a streak that saw New York win a finale against the Orioles, then sweep the Blue Jays before taking three of four from Tampa Bay. A team that was 6 1/2 games back in the American League East a week ago is now just four games back. From 4 1/2 games out of the second Wild Card spot, the Yankees now sit just two behind. To make up this ground, New York has gone 24-15 since the Aug. 1 non-waiver Trade Deadline and 20-10 since Aug. 10, matching their best 30-game stretch of the season.
Four of the five teams in the AL East are in contention for the division title. Seven AL teams remain within striking distance of the two Wild Card spots.
That the Yankees need to leapfrog at least one division opponent is not an obstacle, because of the schedule. Seventeen of the Yankees' remaining 20 games are against AL East opponents, a matter of circumstance they find favorable to their chances.
"The teams we're trying to catch, we're playing," Headley said. "You either look at it like, 'Hey, these are tough teams and we have a tough road.' Or you look at it like an opportunity to play those guys. I think that's the way we've looked at it. We're confident we can go out and beat anybody playing the way we are now. It's not going to be easy. But I'd rather be playing the guys we need to pass than hoping somebody else can beat them."
Joe Trezza is a reporter for MLB.com based in New York and covered the Yankees on Sunday. This story was not subject to the approval of Major League Baseball or its clubs.