LoMo likely out for rest of '16 after wrist injury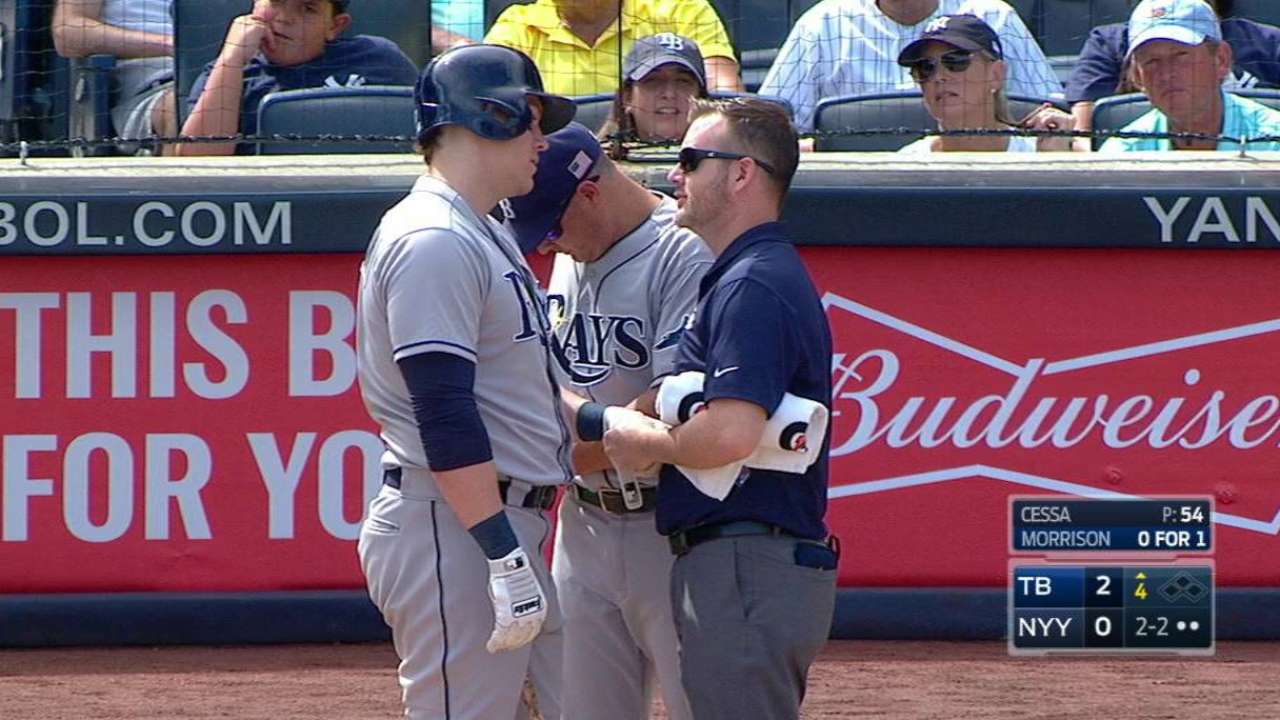 NEW YORK -- The Rays' Logan Morrison is likely to miss the rest of the season after injuring his left wrist on a fourth-inning swing during Sunday's 4-2 win over the Yankees at Yankee Stadium.
The 29-year-old first baseman and designated hitter was up with two outs and none on. He fouled off a 2-2 pitch from Luis Cessa, came out of his follow-through and grabbed his wrist. He was in too much pain to finish the at-bat and came out of the game. Mikie Mahtook finished the plate appearance by grounding out on the next pitch.
"More than likely, I am done for the year," Morrison said.
He'd had no issues with the wrist prior to Sunday but said, "I just felt it pop on that swing."
Morrison was examined by a doctor and the team announced the injury as a "left wrist strain." After the game, manager Kevin Cash called the situation "unfortunate."
"For sure, it's a little scary," Morrison said of the moment after the swing. "When you hit a home run and you feel nothing because it's on the sweet spot? It's probably the opposite of that. It hurt."
"He probably irritated the sheath in your wrist. We're going to get some more doctors to look at it," Cash said. "He's going to go with us to Toronto, and when we go to Baltimore [Thursday], we're probably going to send him to Tampa. He will not be playing in Toronto."
Morrison was acquired along with Danny Farquhar and Brad Miller in a November deal with the Seattle Mariners. He has performed below his career averages this season, batting .238 with 14 home runs and 43 RBIs.
Morrison also missed time with a right forearm strain, but has been one of the Rays' best hitters since he returned from that injury on Aug. 15. In the 20 games since, he hit .283 with four home runs and 12 RBIs.
The question to be resolved after Morrison undergoes further tests is whether he has an injury that will heal on its own or require surgery.
Morrison will be a free agent at the end of the season and so may have played his last game in a Tampa Bay uniform. Still, he looked at the last days of this season and said, "I would love to come back and be part of the team."
Roger Rubin is a contributor to MLB.com based in New York and covered the Rays on Sunday. This story was not subject to the approval of Major League Baseball or its clubs.