deGrom improving, throws light bullpen session
Right-hander follows long toss with impromptu workout off mound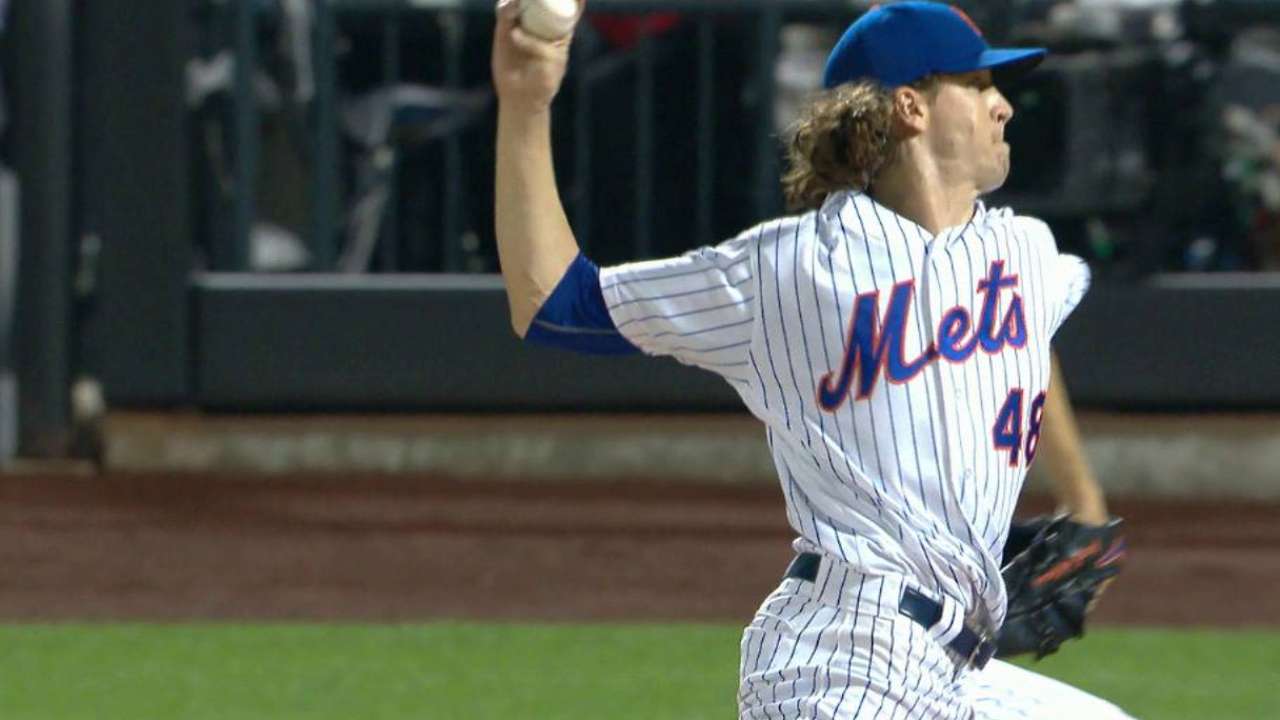 ATLANTA -- Feeling stronger than expected following a flat-ground session Friday at Turner Field, Jacob deGrom went off-script Saturday. He climbed atop Turner Field's bullpen mound in tennis shoes, throwing 10 pitches for the first time since the Mets diagnosed him with right forearm tightness.
Though deGrom said he does not know his next step, the outing gave him encouragement that he can pitch again this season.
"I want to be out there, definitely," deGrom said, noting that his forearm soreness has calmed significantly over the past week. "But at the same time, I've got to be smart about it, and make sure that I am feeling fine before I go back out there."
It has been a difficult month for deGrom, whom the Mets skipped in the rotation after he allowed 13 runs over two starts to end August, then shut down after he complained of forearm soreness following his next start. deGrom did not throw for a full week after that, finally stepping onto the field to play long toss Friday in Atlanta.
The next day, he felt well enough to advance to a mound for the first time since Sept. 1, despite admitting that the bullpen session was "as light as it gets."
"I think it was a product of feeling good after [Friday]," deGrom said. "We're just going to take it day by day. I felt good today, so I wanted to throw light off the mound, and just see how it reacts."
Rafael Montero, who has filled in for deGrom twice in September, will make a third start Monday in Washington. But there is still time for deGrom to make as many as three starts down the stretch.
The Mets will take any starts they can get from a pitcher who was 7-5 with a 2.29 ERA before his troubles began bubbling up in August. But they also have confidence to give deGrom the rest he needs, considering the contributions that Seth Lugo and Robert Gsellman have given the rotation. The Mets are 7-2 in the games those two and Montero have started since mid-August.
"They've done a great job," deGrom said. "They're fun to watch. That's kind of how I got my chance, making a start for somebody. They've made the best of it, and they've done a great job of keeping this team in ballgames and giving us a chance to win."
Anthony DiComo has covered the Mets for MLB.com since 2008. Follow him on Twitter @AnthonyDiComo and Facebook, and listen to his podcast. This story was not subject to the approval of Major League Baseball or its clubs.