Price not a fan of limiting or shutting down pitchers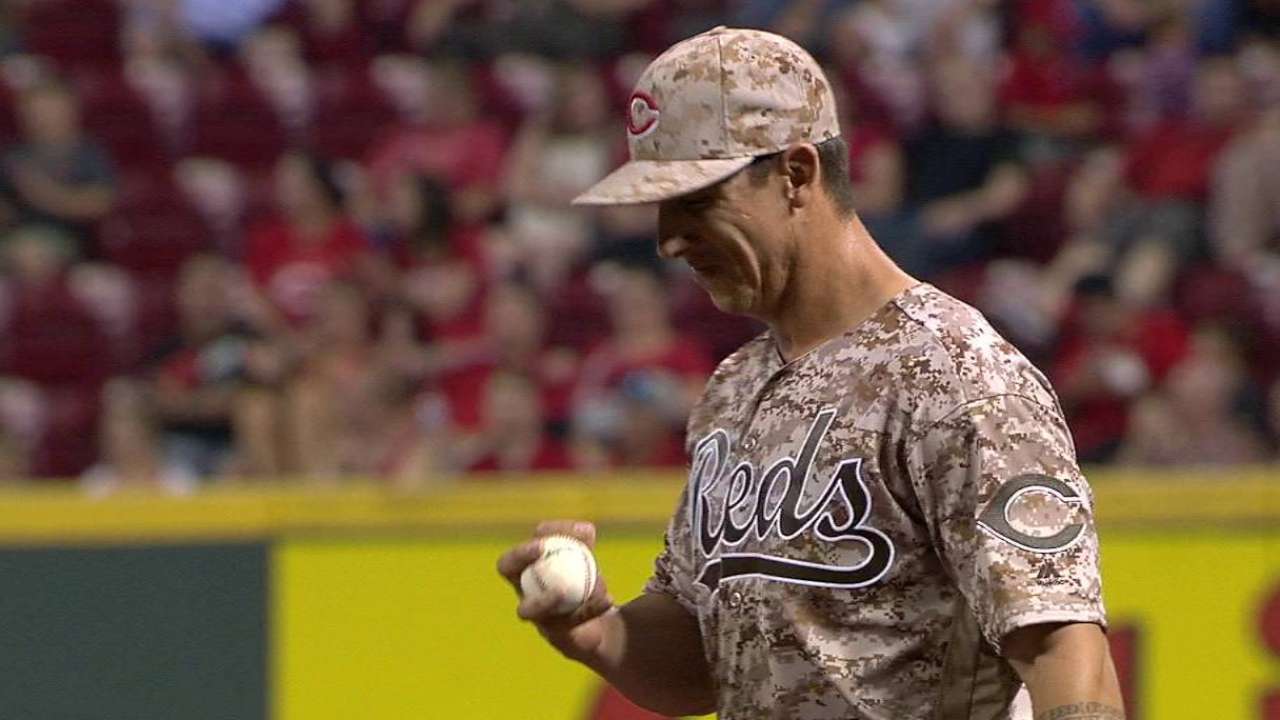 PITTSBURGH -- With a few young pitchers on his pitching staff this season, Reds manager Bryan Price has been asked often about pitch counts and innings limits. It's rarely a topic he enjoys delving into too greatly.
On Saturday, Price was asked if reliever Michael Lorenzen would be faced with such limitations or caution next season should he move back into the rotation. Price replied directly with complete candor about a larger issue that has bugged him.
"I've spent a lot of time thinking about this question," Price said. "I don't think it's a problem. I think the problem is that what we've done with baseball is we've gotten to the point [where] we think we're solving our arm issues by decreasing innings and pitch workload and there's nothing in the data that suggests we've [done] anything other than to continue to cut open the arms of young pitchers that we are extremely cautious with, extremely cautious, to a fault cautious. And it is not helping.
"My personal opinion is I don't care, at all, about innings workload as they're written up right now. We've prescribed a very similar philosophy that the rest of Major League Baseball does for the most part in the industry. I don't agree with it, but we tend to follow it. For me, if we said, 'Hey, he's going to be a starter.' I'm giving [Lorenzen] the ball 30-plus times and letting him pitch. That's what I would do."
Before he became manager ahead of the 2014 season, Price spent 10 seasons as a big league pitching coach for the Mariners, D-backs and Reds. Before that he spent several years coaching in the Minor Leagues and was a Minor League pitcher for five seasons.
Arm injuries and prevention of those injuries is a prevalent concern in baseball and there have been a lot of theories but few solutions.
"We spend so much time talking about numbers and what guys do and what guys are able to accomplish," Price said. "We had great pitchers going home in the offseason and they were working because they didn't make enough money. Now these guys get a September in the big leagues and they don't have to do anything in the offseason but train. It hasn't affected the number of injuries because these guys aren't working selling shoes, or working in a factory or driving UPS [trucks] and they're going home and training.
"It hasn't decreased the number of injuries, for me, in my 30-plus years in the professional game. They've gone this way [signaling upward] in my 30-plus years. I'm not a believer that these innings [limits], pitch limits have done anything at all to preserve pitchers' arms. Not one thing at all."
Mark Sheldon has covered the Reds for MLB.com since 2006, and previously covered the Twins from 2001-05. Follow him on Twitter @m_sheldon and Facebook and listen to his podcast. This story was not subject to the approval of Major League Baseball or its clubs.