Manaea will likely return to rotation Wednesday
A's to use six-man rotation thereafter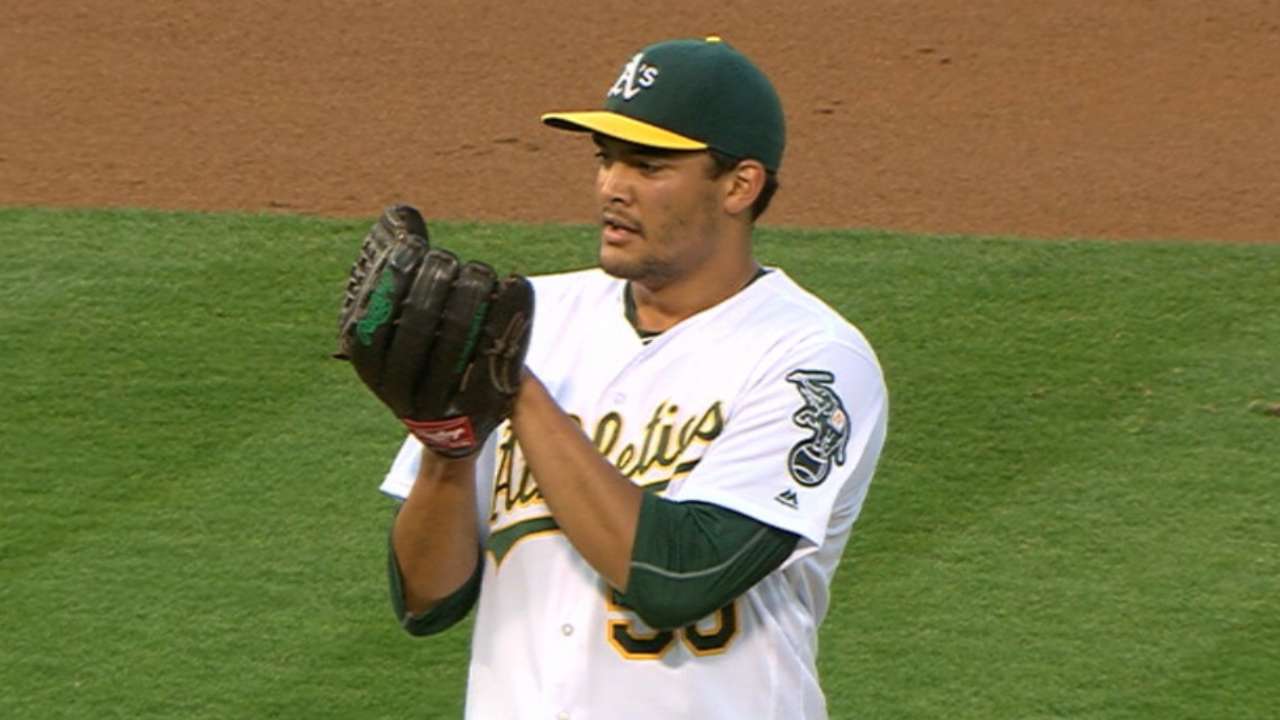 OAKLAND -- The A's plan to pencil in left-hander Sean Manaea for a start in Kansas City on Wednesday, after the rookie got through a 50-pitch bullpen session without any issues on Saturday.
Manaea, sidelined by back discomfort for more than a week, "looked better than ever today on the mound," said A's manager Bob Melvin, who will employ a six-man rotation upon Manaea's return.
"Had a lot of life on the ball, threw all his breaking pitches well," Melvin said. "He wants to finish up the season pitching. I know that's a goal of his."
Manaea, 24, is in line to make at least three more starts to cap his rookie campaign, which, much like the A's season, has endured its ups and downs. The lefty, sporting a new mustache -- "At first, everybody thought it was terrible except for [John] Axford," he said -- has pitched to a 4.40 ERA in 21 games since his late April promotion.
"A little more downs than ups, but I learned a lot this first season," Manaea said. "If I didn't get to throw the rest of the season, I'd be happy with how things turned out, learning things and finding things out about myself. It's been a fun season, being up here and throwing to real good teams and learning where I stand."
"I think he's done well," Melvin said. "He's gotten better as the year's gone along, he's incorporated his slider a lot more to where it's a real effective pitch for him. He's gotten more confident, he's had to make adjustments based on the fact he's had to see teams a second time around. I think it's been a very productive year for him."
The impending six-man rotation will allow the A's to limit innings among their younger arms as the season comes to a close, though Melvin noted the possibility of keeping at least one of them -- Kendall Graveman -- on regular rest, given the right-hander's continued surge.
"Here deep in the season, to be going deeper in games and pitching better is kind of unique," Melvin said. "This time of year, usually for younger guys, you're trying to cut the workload back and guys are getting a little tired, the velocity is going down and maybe not as productive. It's just the opposite for Kendall. His velocity has been as high as it's been all year, and he's pitching with a lot of confidence right now."
Jane Lee has covered the A's for MLB.com since 2010. Follow her on Twitter @JaneMLB. This story was not subject to the approval of Major League Baseball or its clubs.