Girardi taking advantage of expanded bullpen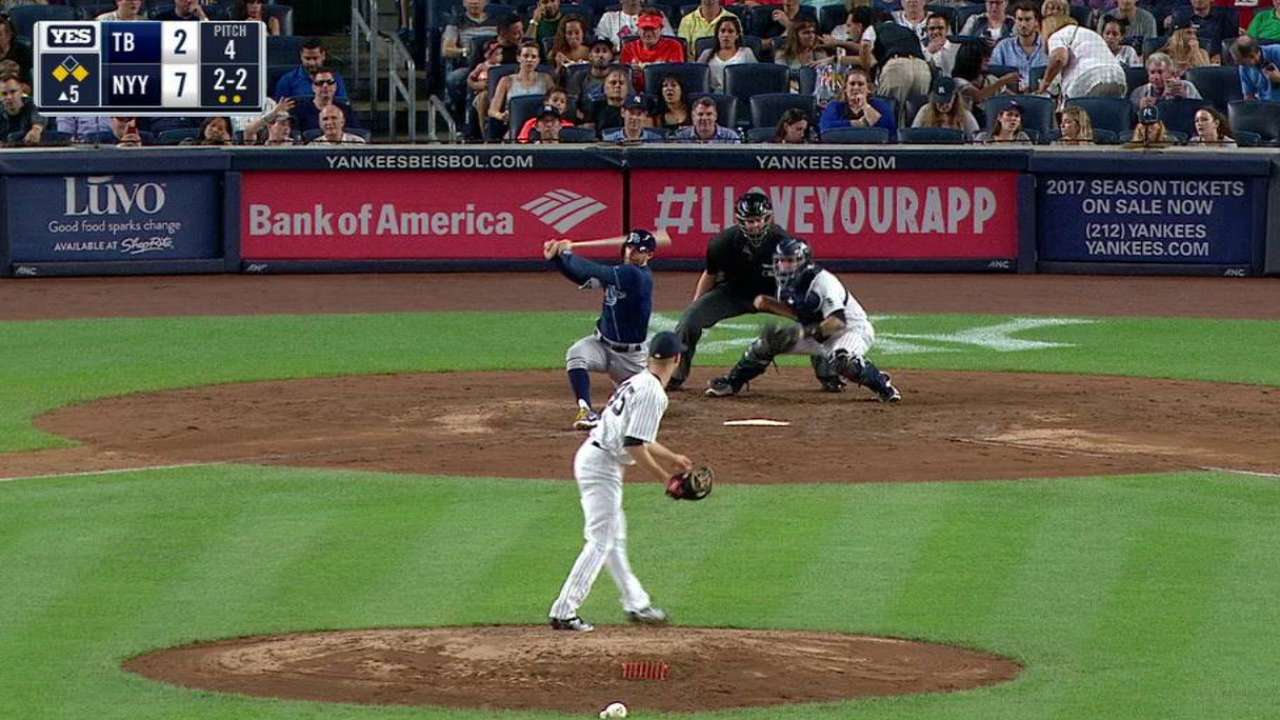 NEW YORK -- Michael Pineda glared over the head of Joe Girardi as the Yankees' manager came to take his starting pitcher off the mound on Friday, one out short of qualifying for a win. If it were earlier in the season, Girardi said, he might have left him in there.
But facing a home run threat in Tampa Bay's Brad Miller, as well as the prospect of getting closer to the playoffs, Girardi pulled Pineda to his apparent disapproval.
"It's a really difficult decision," Girardi said. "Early in the year, maybe you do it a little bit differently. This time in the year, I think you have to do what is best to win the game. I thought that was a really important out, and that's why I made the decision."
Early moves to the bullpen have been commonplace for the Yankees in September with an expanded roster. Girardi hasn't hesitated to use the extra arms early and often. Pineda went only 4 2/3 innings on Friday, and on Thursday, CC Sabathia lasted just four innings. Bryan Mitchell went five frames on Wednesday, and Luis Cessa got only one more out than that on Tuesday.
"The good thing is you have the expanded roster," Girardi said when asked about the importance of starters going deep into games. "We've been able to make it work. It's when you get in long streaks like this where it becomes difficult."
Over the past five games, Girardi has motioned to the bullpen 24 times. Still, the Yankees are surging with the postseason within reach.
Girardi said that figuring out how he's going to be able to use the bullpen is "a lot" of the focus before most games. Who's available, where you try to match them up, different situations, how they handle it -- that's all part of the consideration.
"That's nothing new," Girardi said. "But with a lot more of them, it probably takes a little bit more time."
Not only does Girardi have a lot more options, but he's also been utilizing them very consistently.
Sam Blum is a reporter for MLB.com based in St. Petersburg. This story was not subject to the approval of Major League Baseball or its clubs.