Cheer on: Vote for the Reds' top fan of 2016
Winners on all 30 clubs will take home tickets, major bragging rights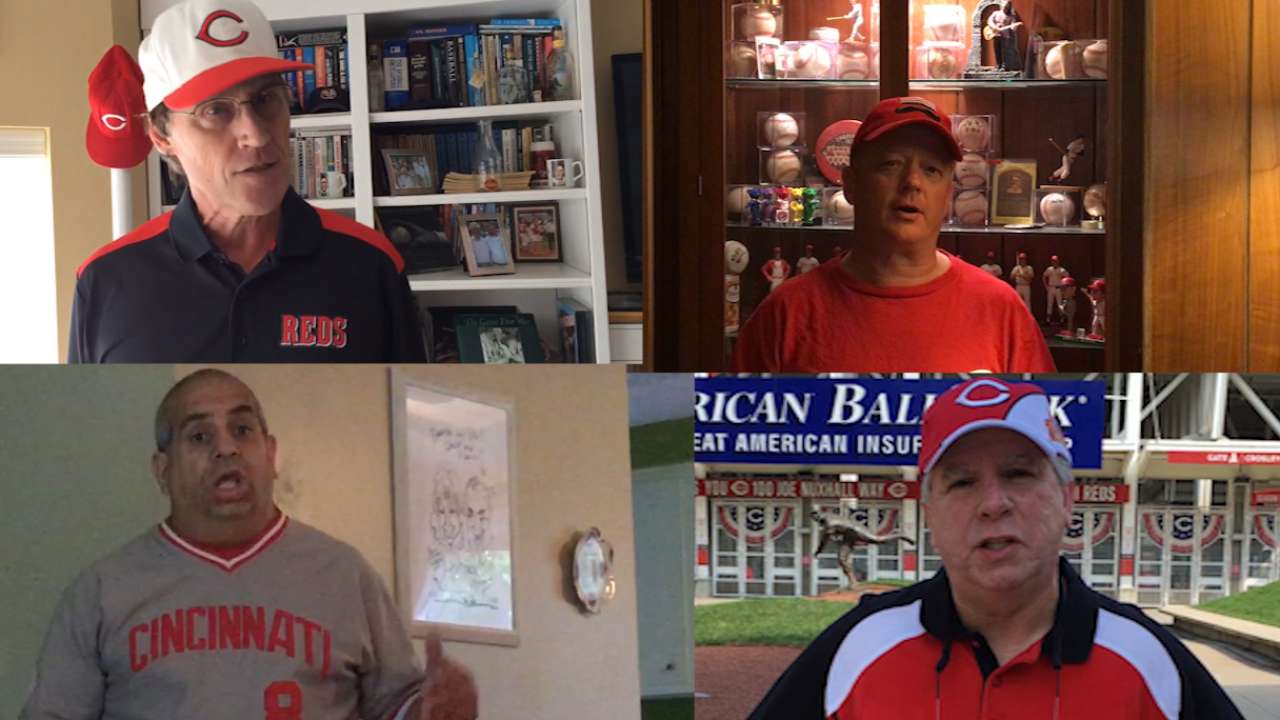 Players, managers and executives receive their fair share of recognition each season. But what about the fans?
The most important part of the game -- you -- should be cheered, too. That is why Major League Baseball has stepped up to the plate to honor the inaugural MLB Fans of the Year presented by Esurance.
Nominees from all 30 Major League clubs will be featured on MLB.com/awards through Monday at 2 p.m. ET -- with winners to be unveiled an hour later at 3 p.m.
Vote NOW for the MLB Reds Fan of the Year presented by Esurance
Winners whose clubs reach the League Championship Series or Fall Classic will receive tickets to root for the home team on a late-October night. As for the top fans whose teams fall short of the sport's semifinals? Have no fear, as there's always next year (and free tickets to an April 2017 game of their choice).
Major League Baseball and the 30 clubs worked tirelessly to identify the sport's top supporters. But, after great debate, the following Reds fans were chosen from among a long list of deserving candidates:
• Tim Ashburn: Ashburn, a longtime season-ticket holder, is now retired and living in Georgia. But he still travels to attend several Reds games per year.
• Chris Collier: Collier has built an impressive memorabilia collection that includes a champagne bottle from the Reds' 1976 World Series celebration.
• Pete Mateyka: Though they live in New York, Mateyka and his wife have made countless trips to Cincinnati over the years to cheer on the Reds.
• Johnny Martin: Martin, a Kentucky resident and lifelong Reds fan, proved his fierce dedication by driving to see the team at Spring Training this year.
The MLB Fans of the Year presented by Esurance program represents the "first inning" of the Esurance MLB Awards, which honor greatness in Major League Baseball and serve as the grand finale of the game's awards season. Esurance MLB Awards voting will run from 4 p.m. ET on Monday to 2 p.m. ET on Nov. 11 and include nominees in 19 categories -- from Best Major Leaguer to Best Social Media Post to Best MLB Interview.
Media, front-office personnel, retired MLB players, the Society for American Baseball Research (SABR) and fans will determine the most #AwardWorthy players and moments from 2016. The MLB Awards winners will be announced on Friday, Nov. 18, live on MLB.com and MLB Network.
Zachary Finkelstein is an editor for MLB.com. This story was not subject to the approval of Major League Baseball or its clubs.