Blue Jays say players-only meeting beneficial
Happ feels club had 'better energy' as it snapped four-game slide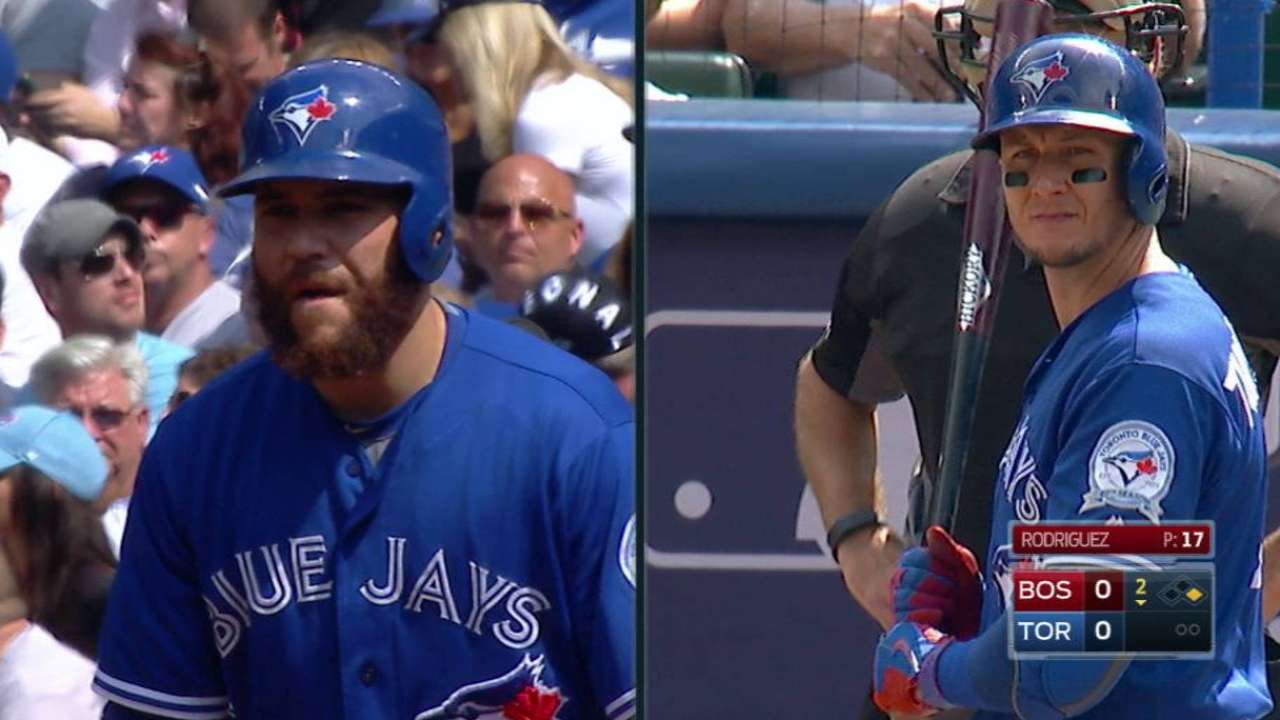 TORONTO -- The merits of players-only meetings often are a hotly debated topic across baseball. Whether there's a tangible benefit or it's just an easy narrative is hard to measure, but count Blue Jays left-hander J.A. Happ among those who believe it made a big difference.
Toronto held a closed-door meeting before Saturday afternoon's 3-2 victory over the Red Sox and after the game Happ believed the Blue Jays had "better energy" than they've had in quite some time. Did that have anything to do with the meeting?
"I would say so, yeah," Happ said when asked whether the change in mentality was a result of the meeting. "I was part of it. It was overwhelmingly positive. I feel like it ended on a good note. I feel like that translated into the game."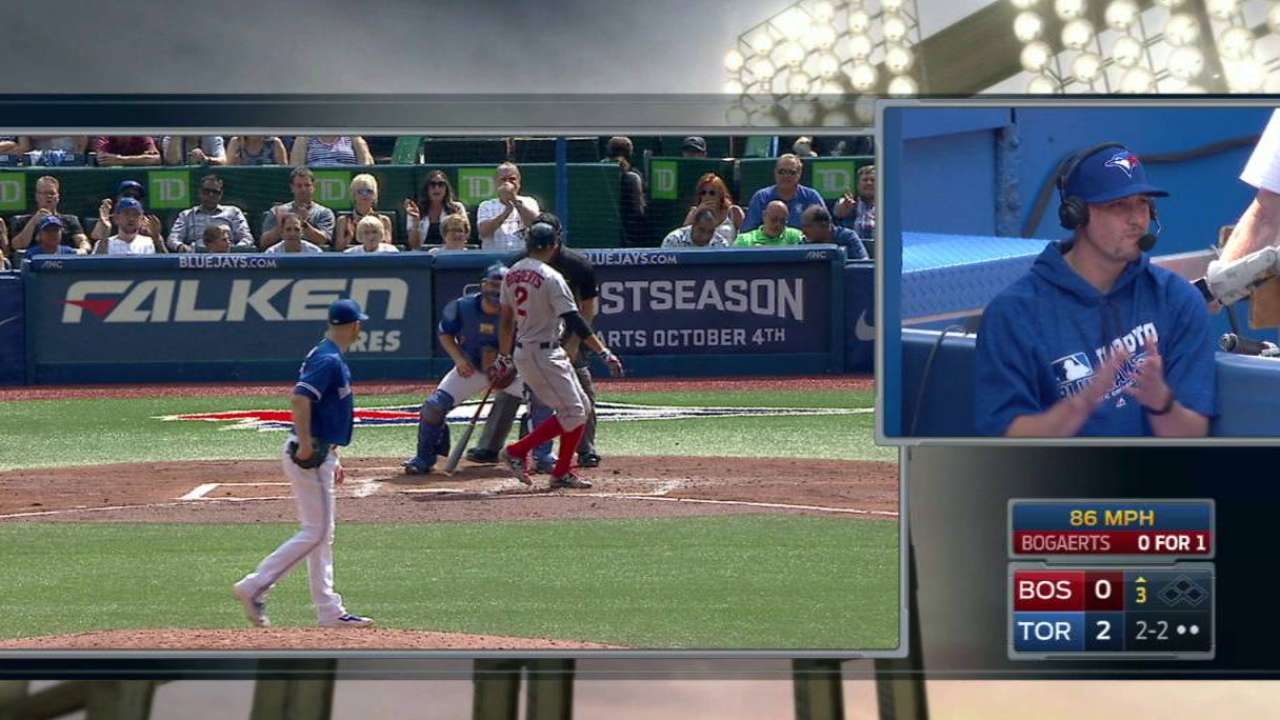 The meeting came the morning after Toronto saw its losing streak extended to four games. The club had dropped six of its last seven to fall two games back of first-place Boston in the AL East. With two games remaining in this series, there was a serious risk of falling completely out of the race for the division crown.
The good news for Toronto is that the potential disaster was averted. The Blue Jays will finish this series no more than two games back of first place and they have Aaron Sanchez going in the finale with a chance to pull even with Boston. After all the panic from outside forces, this team is far from being out of it.
Even so, the recent struggles were enough to justify a meeting of the minds before the crucial second game of the series. Multiple players described the encounter as "positive" and suggested the message was that the team needed to come together as a group. That appears to indicate there was some discord during the recent skid, but perhaps that shouldn't be surprising at a time of the year when tensions run high.
"I'm glad we had it," Blue Jays catcher Russell Martin said. "It was just good to kind of get the guys in a room and talk about the things we need to talk about to make sure we're all in it together and remembering that it's about winning. It's not about individuals, it's about the team."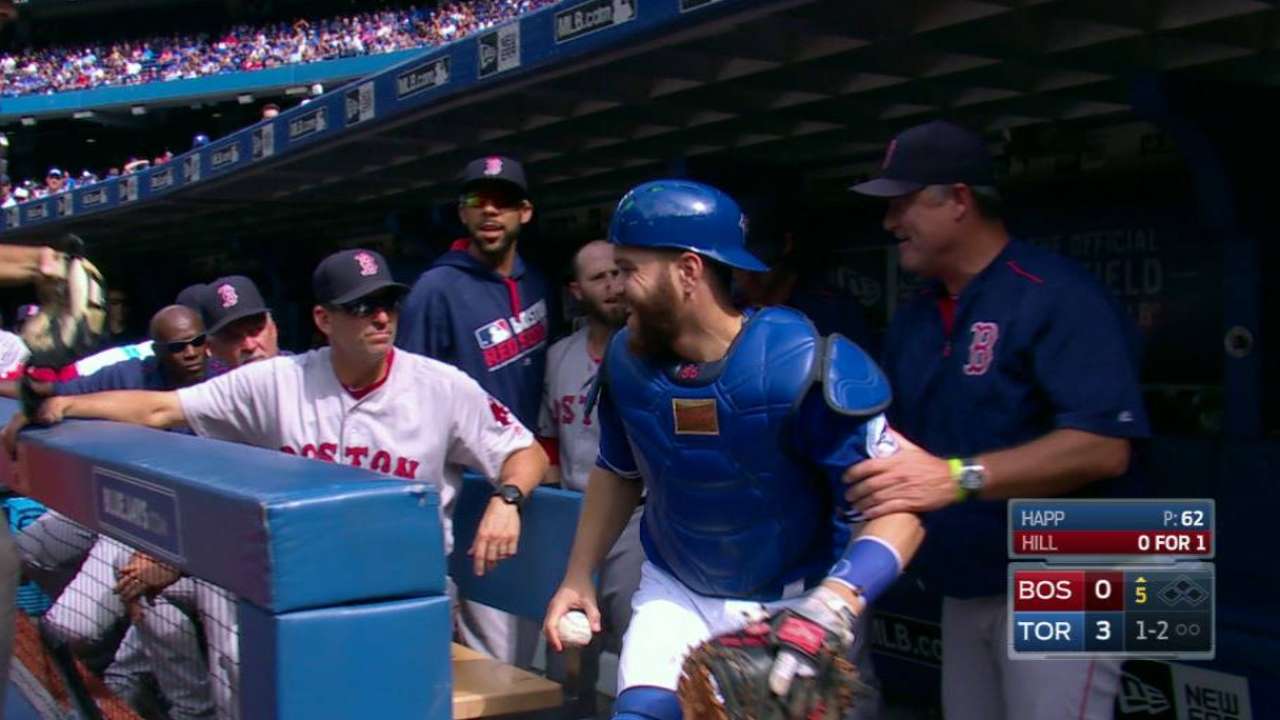 It was not immediately clear who called the meeting, but players received a text message from director of team travel and clubhouse operations Mike Shaw informing them of the 10 a.m. ET appointment. It's believed that veterans Josh Donaldson and Troy Tulowitzki did most of the talking, but players were understandably hesitant to give the specifics of exactly what had been said.
For at least one day, the meeting seemed beneficial. Toronto's offense remained relatively stagnant with the exception of a two-run homer by Melvin Upton Jr. but the club was a lot sharper defensively and on the mound than it had been for quite some time.
The rollercoaster of emotions continues on at full speed. A lot of people wanted to write off the Blue Jays following Friday night's 13-3 series opener, but with 21 games to play and four remaining, vs. Boston the Blue Jays have the ability to control their own fate. According to veteran reliever Jason Grilli, that's all anyone can ask for.
"I think in Spring Training, if you said this is where we're going to be, on this date, everybody would raise their hand and say, 'I'm in,'" Grilli said. "I think everybody reset and we're all in to do what we know what we're capable of. We regrouped and we showed that's the kind of team that we are."
Gregor Chisholm has covered the Blue Jays for MLB.com since 2011. Follow him on Twitter @gregorMLB and Facebook, and listen to his podcast. This story was not subject to the approval of Major League Baseball or its clubs.