Red Sox want Moncada to be more focused
Likely in reserve role for rest of '16, MLB's top prospect loses track of outs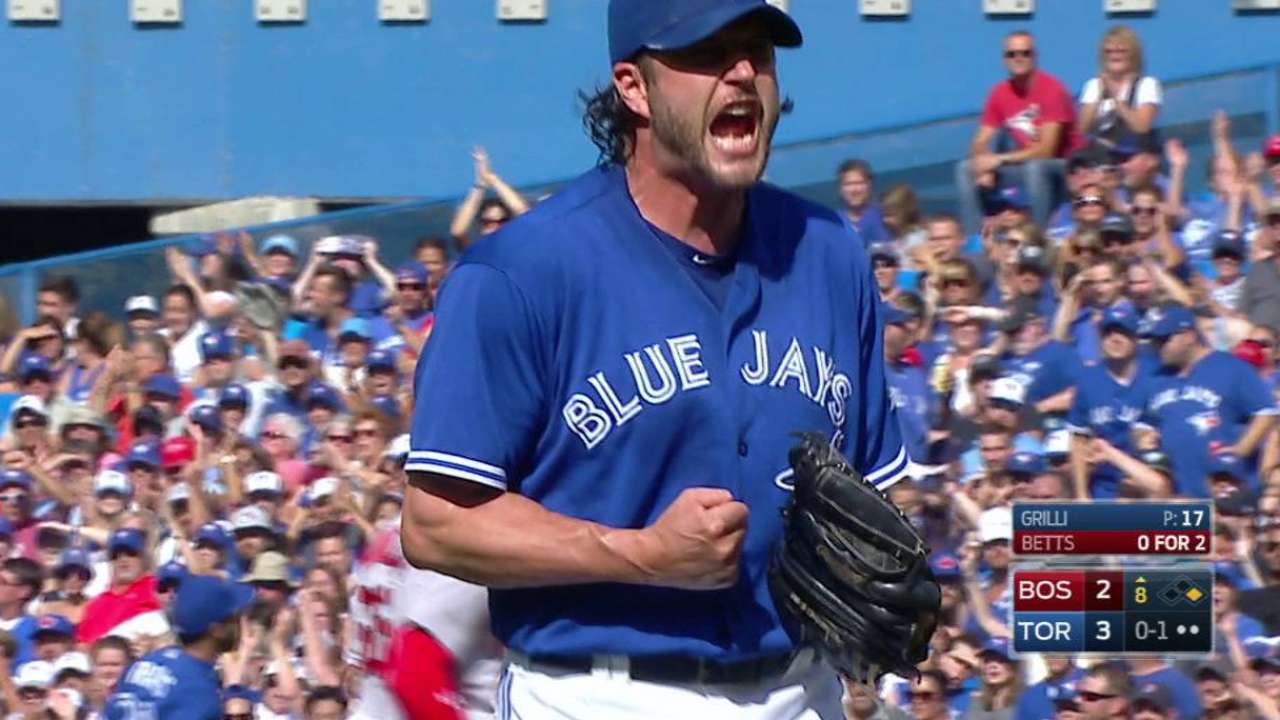 TORONTO -- Just a week ago, Yoan Moncada was pounding out two hits in his first Major League start and looked primed to play regularly down the stretch. His second Saturday in the Major Leagues was not nearly as fun.
Before a 3-2 loss to the Blue Jays at Rogers Centre, Red Sox manager John Farrell confirmed to the media that the 21-year-old, who has struck out in nine straight at-bats, will likely be used as a reserve for the rest of the season.
And when Moncada got a chance to pinch-run for David Ortiz in the eighth inning and Boston down by a run, he made a glaring mental mistake.
With two outs, Mookie Betts hit a fairly routine popup into short right. Moncada first went halfway and then retreated to first base when the ball was caught by second baseman Devon Travis.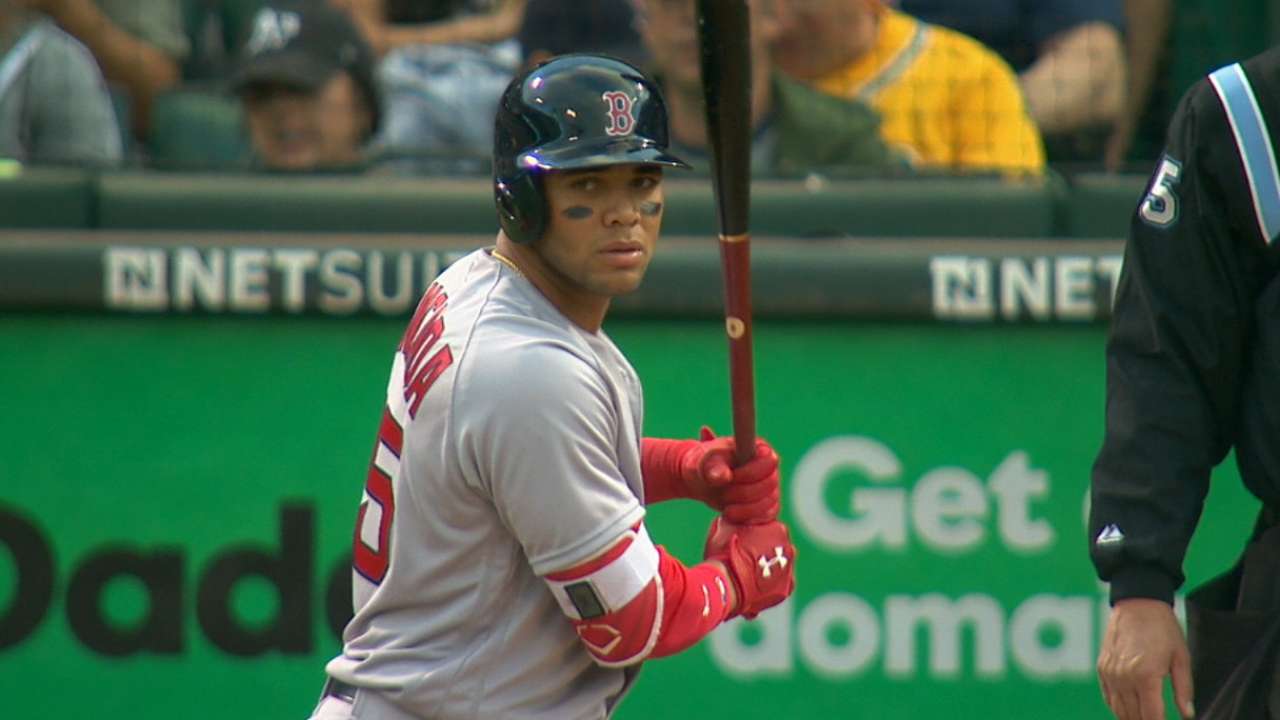 "Yeah, that's an elementary play, to be honest with you, at this level," said Farrell. "Two outs, you're on the move no matter what direction the ball is going in. That's been addressed and will continue to be addressed."
Did Moncada -- ranked the No. 1 prospect in the Majors by MLB Pipeline.com -- know how many outs there were when he came into the game?
"Just a simple confusion on my part," Moncada said through interpreter Daveson Perez. "That's basically it."
Moncada was added to the roster Sept. 1 and was initially given the chance to get regular at-bats. Plans changed when Moncada went on the run of strikeouts, and Travis Shaw started heating up again.
"This is a great learning experience for Yoan," said Farrell. "I think while he got a boost of confidence by coming to the big leagues, you get challenged a little bit and you have to take a step back to rebuild that. Still, our primary goal is to win. Development in this situation does not take a front seat."
Shaw will get most of the at-bats against righties, while veteran Aaron Hill will start at the hot corner against lefties.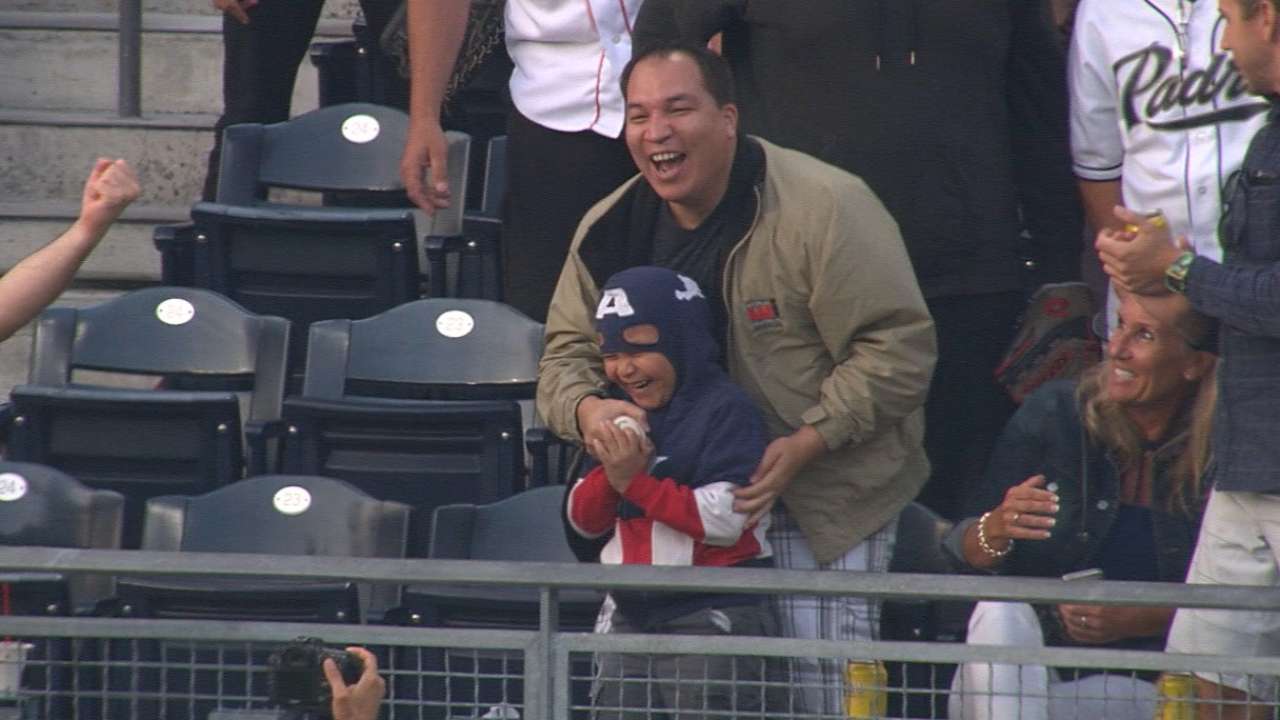 "Yeah, there has been a quick turnaround," said Farrell. "Yoan's arrival here was driven by looking to get production out of third base. As he got here, things turned around. Travis has swung the bat well, much like he did the first month or six weeks of the season. When he's in this type of run offensively, he's got a bat that can almost carry the team when he gets hot.
"We've gone through a lot of ups and downs with Travis throughout the course of this year. And if competition has found that edge for him, somehow or someway, even better for us."
The 21-year-old Moncada has only 854 plate appearances over two Minor League seasons, so his early struggles at the highest level are hardly alarming.
"Yeah, I've had a tough time lately," said Moncada. "It's been a tough few games, but just working hard to get out of that slump and keep moving forward. What I've learned basically is that you have to have patience and learn from every situation. It's been a tough week, but it's all a part of the process and what I have to do to be in the big leagues."
The Red Sox feel Moncada can still benefit from being in the environment of a pennant race, even as a backup.
"It's through getting an occasional at-bat. So much can be had from watching the game at this stage in his career," Farrell said. "If you notice in the dugout, he's in and around a number of guys and that's done on purpose to just walk through game situations, to think the game, to rehearse certain things. When he finds himself back in those spots, hopefully he's lived it in his mind a little bit. The beauty of this game is you can't hide. It's the one-on-one competition. Sooner or later, he'll come out of it."
Ian Browne has covered the Red Sox for MLB.com since 2002. Follow him on Twitter @IanMBrowne and Facebook. This story was not subject to the approval of Major League Baseball or its clubs.