Cheer on: Vote for the Mariners' top fan of 2016
Winners on all 30 clubs will take home tickets, major bragging rights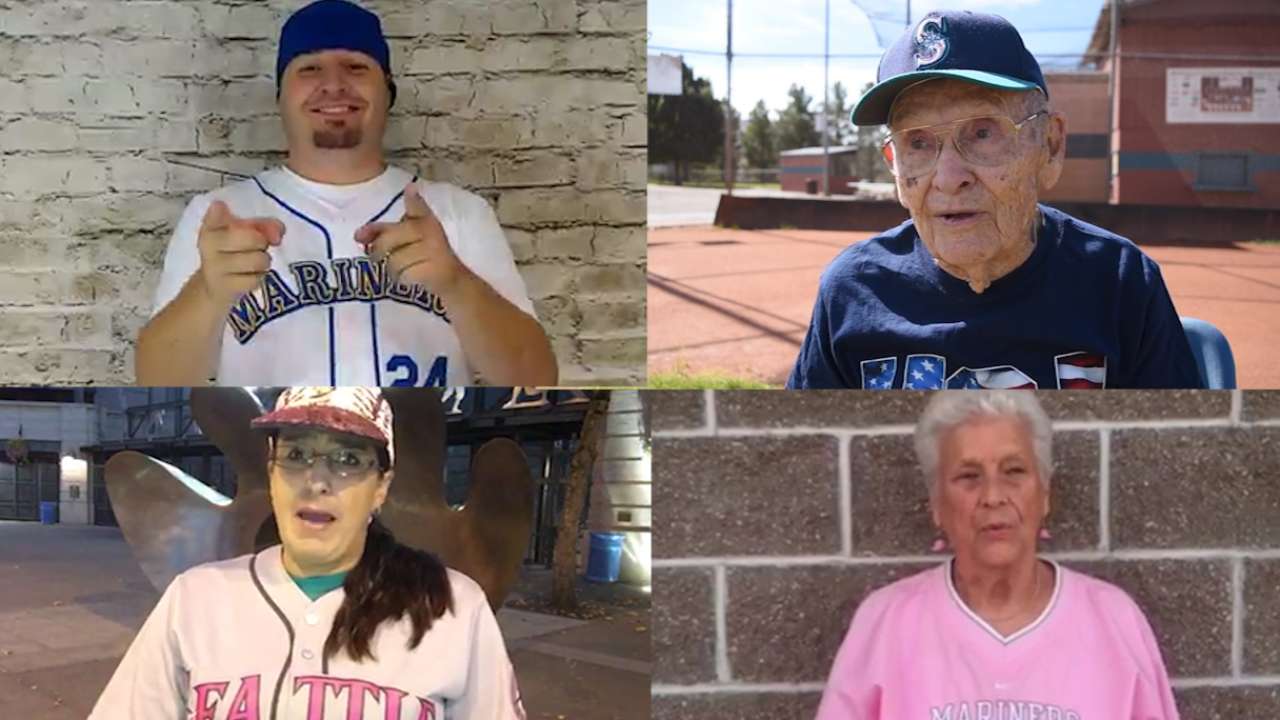 Players, managers and executives receive their fair share of recognition each season. But what about the fans?
The most important part of the game -- you -- should be cheered, too. That is why Major League Baseball has stepped up to the plate to honor the inaugural MLB Fans of the Year presented by Esurance.
Nominees from all 30 Major League clubs will be featured on MLB.com/awards through Monday at 11 a.m. PT -- with winners to be unveiled an hour later at noon.
Vote NOW for the MLB Mariners Fan of the Year presented by Esurance
Winners whose clubs reach the League Championship Series or Fall Classic will receive tickets to root for the home team on a late-October night. As for the top fans whose teams fall short of the sport's semifinals? Have no fear, as there's always next year (and free tickets to an April 2017 game of their choice).
Major League Baseball and the 30 clubs worked tirelessly to identify the sport's top supporters. But after great debate, the following Mariners fans were chosen among a long list of deserving candidates:
Larry Andersen: Andersen traded his Mariners-centric Darth Vader helmet to Robinson Cano at a road game, and the club adopted it as a good-luck charm.
Burke Waldron: World War II veteran Waldron captured the hearts of many when he threw out the first pitch at a Mariners game on Memorial Day.
Amy Franz: Franz is a Mariners fan known for tallying Ichiro's hits with her "Ichimeter." She has kept it alive even as Ichiro has gone elsewhere.
Joyce Schott: A season-ticket holder since 1996, Schott is often spotted on camera behind the Mariners' dugout when left-handed hitters are at bat.
The MLB Fans of the Year presented by Esurance program represents the "first inning" of the Esurance MLB Awards, which honor greatness in Major League Baseball and serve as the grand finale of the game's awards season. Esurance MLB Awards voting will run from 1 p.m. on Sept. 19 to 11 a.m. on Nov. 11 and include nominees in 19 categories -- from Best Major Leaguer to Best Social Media Post to Best MLB Interview.
Media, front-office personnel, retired MLB players, the Society for American Baseball Research (SABR) and fans will determine the most #AwardWorthy players and moments from 2016. The MLB Awards winners will be announced Friday, Nov. 18, live on MLB.com and MLB Network.
Zachary Finkelstein is an editor for MLB.com. This story was not subject to the approval of Major League Baseball or its clubs.