Sardinas contributing with glove and bat
SAN DIEGO -- Seventeen games after joining the Padres and Luis Sardinas is looking more like the elite shortstop prospect he was billed as after signing with the Rangers than the glove-only defensive player he became this season with the Mariners.
After a 2-for-3 game during the Padres' 4-1 loss to the Rockies Friday night, the 23-year-old Venezuelan infielder is hitting .286 (14-for-49) with four doubles and a homer during his first 17 games with San Diego. Those numbers come in stark contrast to the .181/.203/.264 triple slash he posted through 32 games with Seattle.
"He's been great," said Padres manager Andy Green. "Seems really confident and comfortable in the box right now. I've been as pleased as anything with the walks he's taking. It wasn't something [that was] in his M.O. when we picked him up."
Forcing opposing pitchers to throw him four balls was almost unheard of for Sardinas prior to joining the Padres. In his 77 plate appearances with Seattle, he drew just one free pass while striking out 25 times. He was walking just 1.30 percent of the time and striking out 32.5 percent of the time.
He's seemingly transformed his approach at the plate overnight though, and has now drawn almost as many walks (8) as strikeouts (10) in his time with the Padres. A small sample to be sure, but his walk rate is up to 13.8 percent and his strikeout rate is down to 17.2 percent.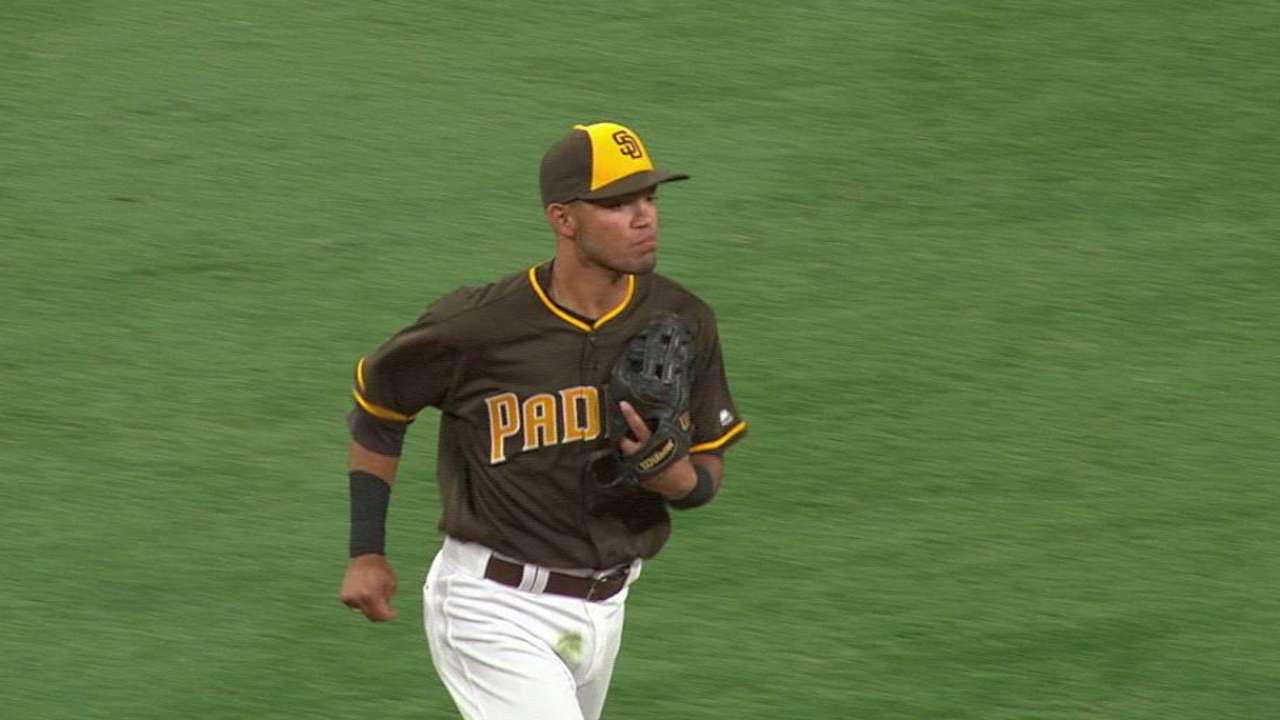 Those significant changes come thanks to a conversation with his new organization.
"We've talked a little bit, like especially 3-2 counts," Green said. "He had a tendency to -- when he first got here -- to get in 3-2 counts and expand the zone, thinking the pitcher's got to throw him a strike in the moment. And that doesn't always happen.
"So he needs to start treating 3-2 counts like they're 2-1 counts and kind of having a finer focus on what he's looking for. I think that's kept him in the zone a little bit better. It's kept him aggressive."
That approach has also yielded more than twice the extra-base hits he managed with Seattle, in 22 fewer plate appearances.
Another factor could also be that he's getting consistent playing time in San Diego, starting 16 of 17 games with the Padres, compared to coming off the bench in 12 of his games with the Mariners.
Whatever the reason, the Padres are hoping that he continues this success at the plate; that it becomes more of a reliable trend than a flash in the statistical pan.
"I think he's having really good all-around at-bats," Green said. "[He's] hitting the ball hard on a consistent basis. [I] Feel good about his offensive performance.
"A pretty good eye by the organization to pick him up and give him a shot."
Carlos Collazo is a reporter for MLB.com based in San Diego. Follow him on Twitter @CarlosACollazo. This story was not subject to the approval of Major League Baseball or its clubs.