By arm and by bat: Chatwood leads Rox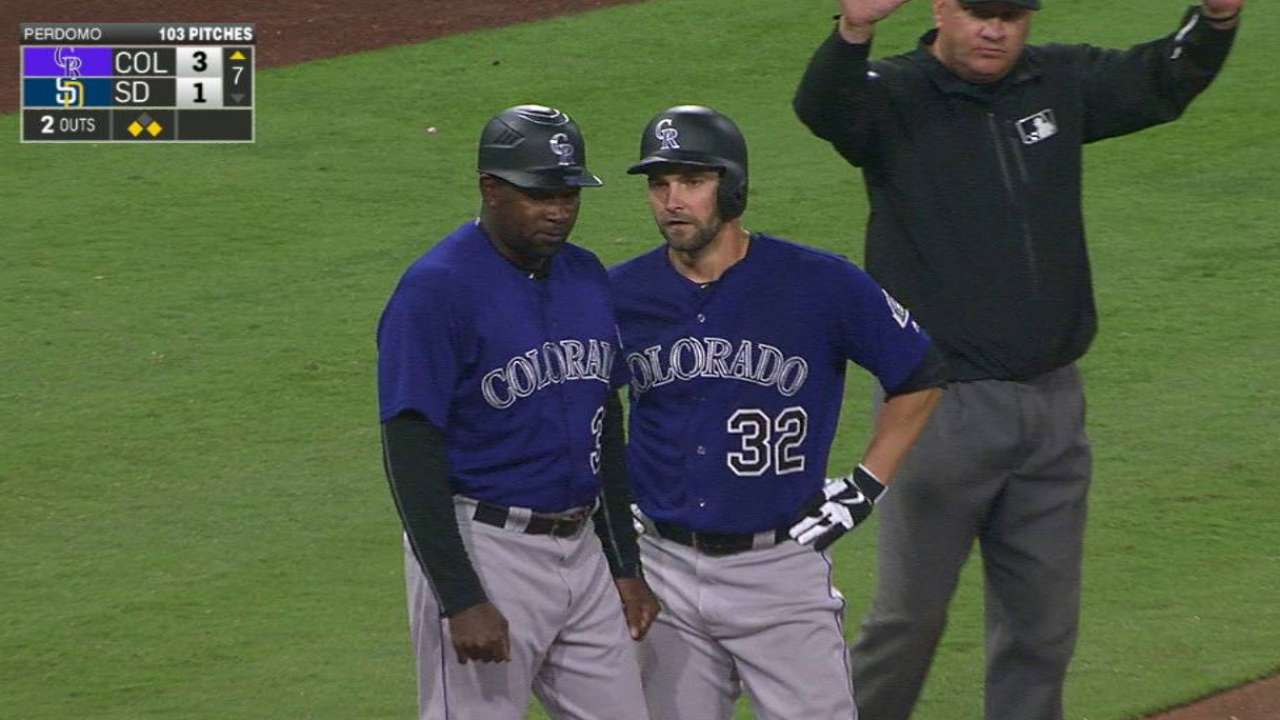 SAN DIEGO -- Like many in Major League Baseball, Tyler Chatwood hasn't been a two-way player since high school. His production on both sides of the ball must have brought back some good memories Friday night, as he almost single-handedly powered the Rockies to a 4-1 win over the Padres.
Chatwood excelling on the road is familiar enough, he would lead the Majors in road ERA with a 1.77 mark if he had three more innings to qualify for the ERA title. It was, instead, his time at the plate that proved the pleasant surprise.
Chatwood singled in the third inning and scored a batter later thanks to Charlie Blackmon's home run. In the seventh inning, manager Walt Weiss chose to extend Chatwood's night on the mound and let him hit with two on and two out.
That decision more than paid off as Chatwood hit his first career triple into right-center for a pair of RBIs and a vindication of his insistence on swinging for hits instead of bunting.
"I haven't been very good this year, so they were getting on me, telling me I need to start bunting," Chatwood said. "Try to bunt for a hit, and I told them I don't need to, I can still swing for a hit. I got lucky tonight and found some holes."
Chatwood hit .521 as a senior shortstop for Redlands East Valley High School in California before entering the Angels system as a pitcher. Since then, he has hit .209/.244/.225 between the Minors and Majors.
While he enjoyed the hitting, Weiss understandably said he still liked Chatwood the pitcher than Chatwood the hitter.
"Both pretty good, but I'll take the Chatty on the mound," he said. "He's done a lot, especially on the road. He's been lights out most of the time and I felt like he had his good two-seamer. Mixed in some breaking balls and changeups, not a bunch, but enough to keep him guess. Commanded the ball pretty well and had a lot of movement."
Chatwood's home and road splits remain extreme this season -- 5.67 ERA at Coors Field, 1.77 away -- but trying to find a middle between those two still leaves a fairly strong pitcher.
Entering Friday, Chatwood held a 127 ERA+, a stat that compares ERA against league average and adjusts for park factors. A 127 ERA+ indicates an ERA 27 percent better than league average. To give some context, Jose Fernandez, a top Cy Young contender, entered Friday with a 131 mark.
When away from Colorado, Chatwood's sinker turns into a true weapon and that was no less true Friday, when he got eight groundouts against three flyouts.
"He's good. I mean it's 95 [mph] with sink down in the zone, and a tight little slider," Padres manager Andy Green said. "It's good stuff. We've had trouble with him before and you know he executed."
Jack Baer is a reporter for MLB.com based in Los Angeles. This story was not subject to the approval of Major League Baseball or its clubs.