Swanson plans to learn from costly error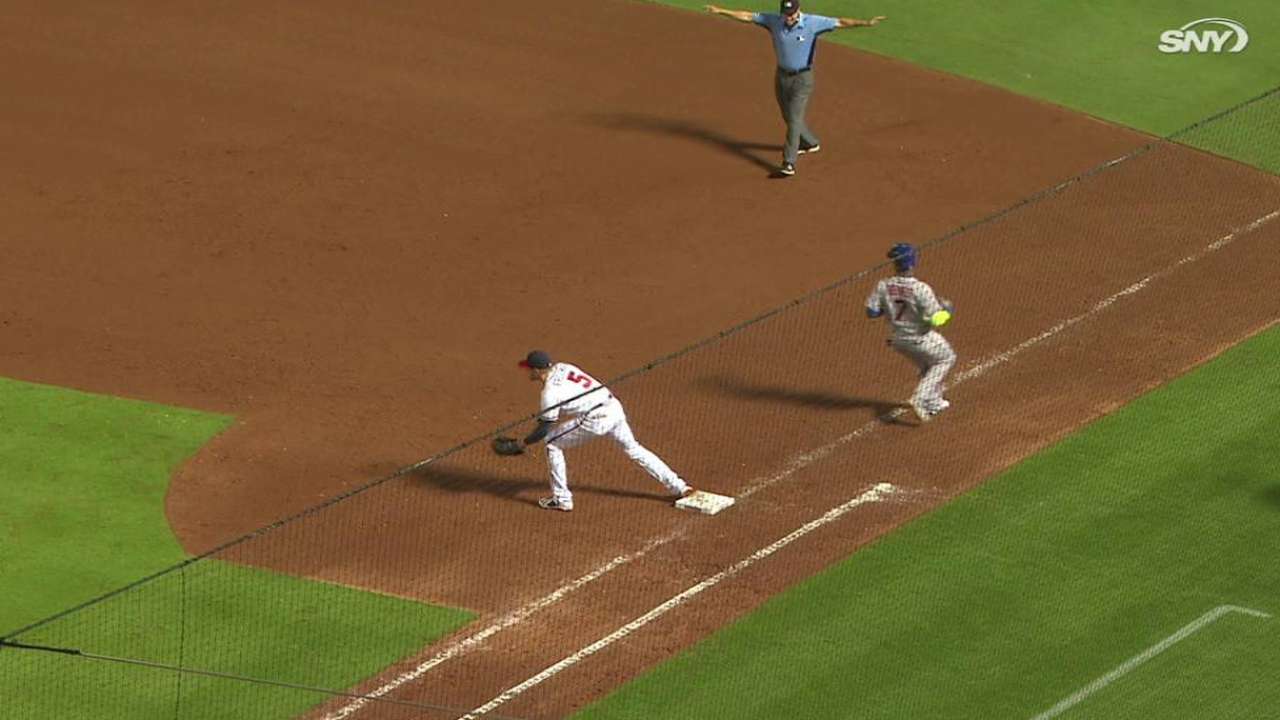 ATLANTA -- Through the first few weeks of his Major League career, Dansby Swanson has shown why he's considered to be an intelligent and fundamentally sound shortstop. But at the same time, the Braves' top prospect has also provided the occasional reminder that he's one year removed from college and subject to those growing pains that may ultimately allow him to realize his tremendous potential.
Swanson has hit the first two homers of his career and produced three consecutive multihit performances this week. But the potential thrill of enjoying the first three-hit game of his career on Friday night was negated by a costly error that propelled the Mets toward a four-run eighth inning, sending the Braves to a 6-4 loss at Turner Field.
"The next time it happens, I'll make the play," Swanson said. "That's just how baseball goes. It's a game of failure. You've got to learn to fail before you learn to succeed."
It's not like Swanson hasn't made this kind of play countless times dating back to his days as a top prep athlete in suburban Atlanta. But this reality simply fueled the frustration he felt as he watched what the Mets did after he was unable to record at least one out on the routine grounder Jose Reyes produced with one on and no outs in the eighth inning.
"Initially, I waited back on it and then at the last minute, I just tried to come get it to beat [Alejandro] De Aza to the bag," Swanson said. "I just went a little too fast. It was definitely a play I can make and will make. I just didn't tonight. It just stinks because it led to a big inning."
As Reyes' chopper bounced through the middle of the infield, it initially looked like Swanson could simply step on second and throw to first base to complete a double play. But the ball deflected out of his glove and went to second baseman Jace Peterson, whose throw nearly beat Reyes to the first-base bag.
So instead of having two outs and nobody on, Mauricio Cabrera found himself in a jam on a night when he, too, showed his youth, allowing four runs (three earned), while retiring just one of the seven batters faced.
"That one might be trying to do too much, too quick," Braves manager Brian Snitker said in reference to Swanson. "I thought his thought process was good. It's a fast runner and we probably should just worry about one. But he'll learn from stuff like that, too. When he goes back out there, he makes that play in the hole. I've got no reason to worry about him not learning from everything that happens on the baseball diamond. He's as solid as they come defensively."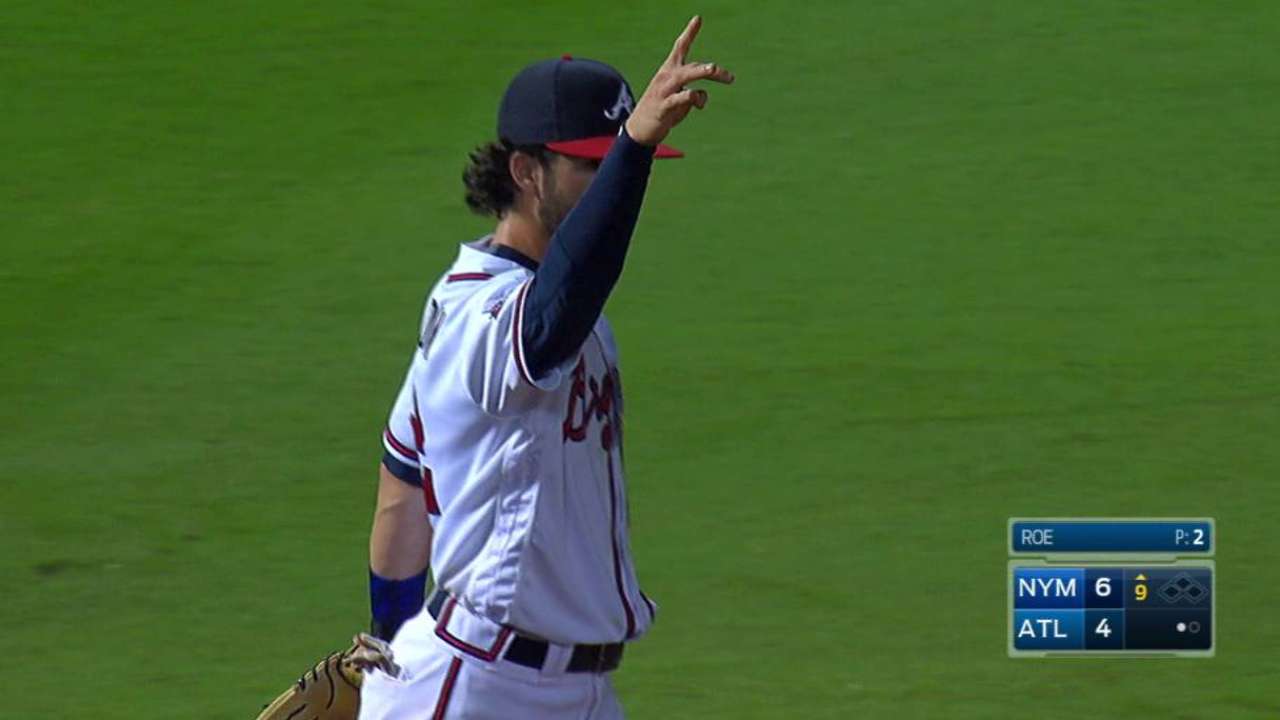 After committing 11 errors in the 506 chances he combined to compile for Class A Advanced Carolina and Double-A Mississippi this year, Swanson has already made five errors through his first 57 chances at the big league level.
This latest error was the most costly of Swanson's young career, but there certainly didn't appear to be a carryover effect as he went in the hole to snare a grounder and deny Reyes a leadoff single in the ninth inning.
"I've just got to slow everything down," Swanson said. "That's probably the biggest thing. It's just kind of frustrating right now. But I'll learn from it. I always do."
Mark Bowman has covered the Braves for MLB.com since 2001. This story was not subject to the approval of Major League Baseball or its clubs.