Take a bow, Tex! Slam huge for Yankees
In final season, veteran earns curtain call while helping club continue postseason push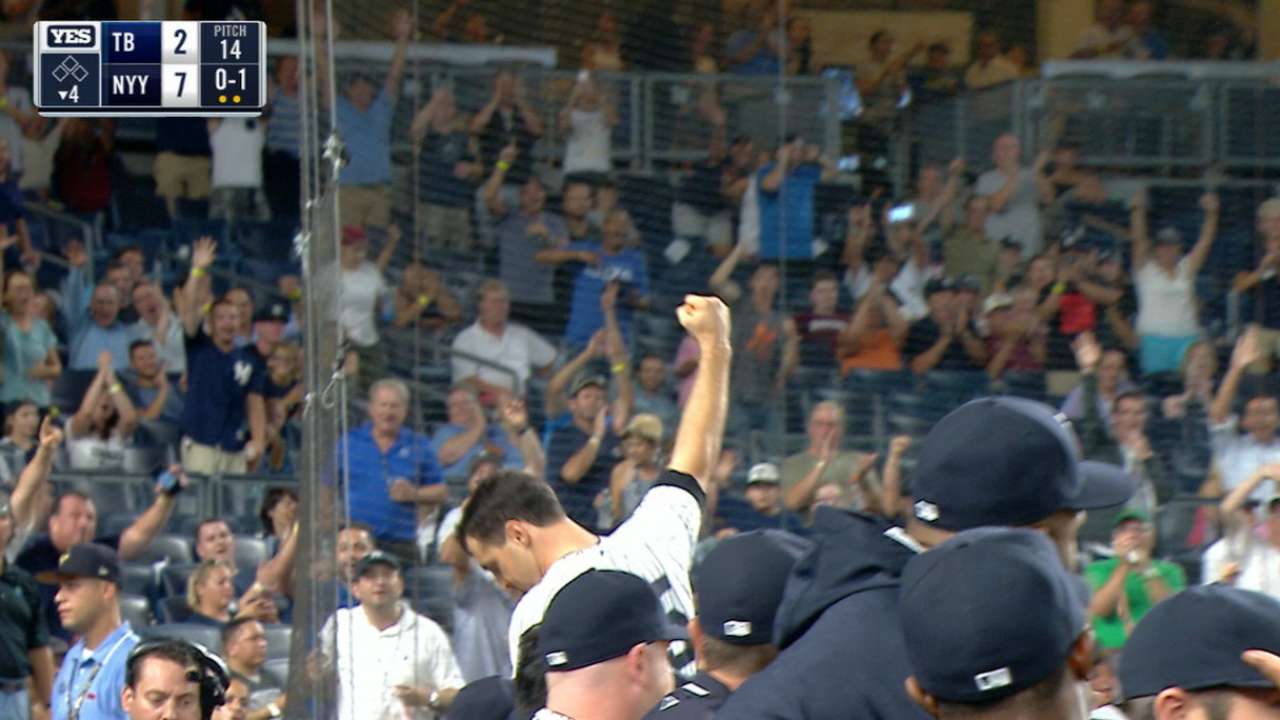 NEW YORK -- Mark Teixeira, the final season of his career drawing ever closer to its end, delivered the Yankee Stadium crowd one more huge swing Friday night in the Yankees' 7-5 win over the Rays.
With two outs and the bases loaded in the bottom of the fourth inning, the Yankees holding a 3-2 lead over the Rays, Teixeira unloaded a game-breaking grand slam, wheeling on a Kevin Jepsen fastball out over the plate and sending it into the Yankees' bullpen in right-center field. As he rounded first base, he pumped his fist.
"My bat's a little slow right now. That's no secret. Teams know that," Teixeira said. "So the feeling when your bat's quick, that's a good feeling. And tonight I felt pretty quick."
• Grand slams mean 40% off pizza
His homer, the decisive blow in a win that pulled the Yankees to within a single game of the second American League Wild Card slot, earned Teixeira a long ovation from the New York fans and, eventually, a curtain call.
"I remember my first one, and this may be the last," Teixeira said. "This late in my career, knowing I've had a tough season, it's been really difficult all year. But the fans have stuck with us."
Even after Friday's 2-for-3 performance, in which he also doubled and walked twice, the 36-year-old is batting just .202 this year, with 12 homers. His struggles and health -- recurring neck and knee issues that require extensive pregame treatment -- have cost him his everyday first-baseman role, with manager Joe Girardi mostly turning to rookie Tyler Austin to man the position of late, though Teixeira played first on Friday.
"It's definitely different, but I understand it," Teixeira said. "And I can't play every day. To be able to get that rest is important. And then I tell Joe, 'Whenever you need me, just let me know.'"
His last grand slam came July 31, 2015, in a 31-homer campaign he hasn't been able to come close to replicating in '16. None of that took away from the moment Friday night, though, with Teixeira's blast the shot the Yankees needed to continue closing the gap in the postseason race.
"I just felt, again, that he can help us," Girardi said. "And obviously, he delivered big."
Teixeira has 406 home runs in his 14-year Major League career, and 203 in the eight seasons he's spent in New York. He has as many home runs as a Yankee as Roger Maris, tied for 15th on the franchise's all-time list.
"As a power hitter, it does me no good to try to slap the ball around the infield," Teixeira said. "I have to know that when I barrel a ball up, it's gonna go. Tonight, I had that feeling. And I was trying to hit a home run there. I really was."
That paid off in grand fashion for the Yankees, who now have 22 games left to make it back to the postseason.
"I'm emptying the tank," Teixeira said. "Whatever I have left, it's gonna be thrown out onto the field. And if we are still in this toward the end of the season, the next three weeks, I want to be a big part of this team."
David Adler is a reporter for MLB.com based in New York. Follow him on Twitter at @_dadler. This story was not subject to the approval of Major League Baseball or its clubs.