Mets pounce on Braves' mistakes in 4-run 8th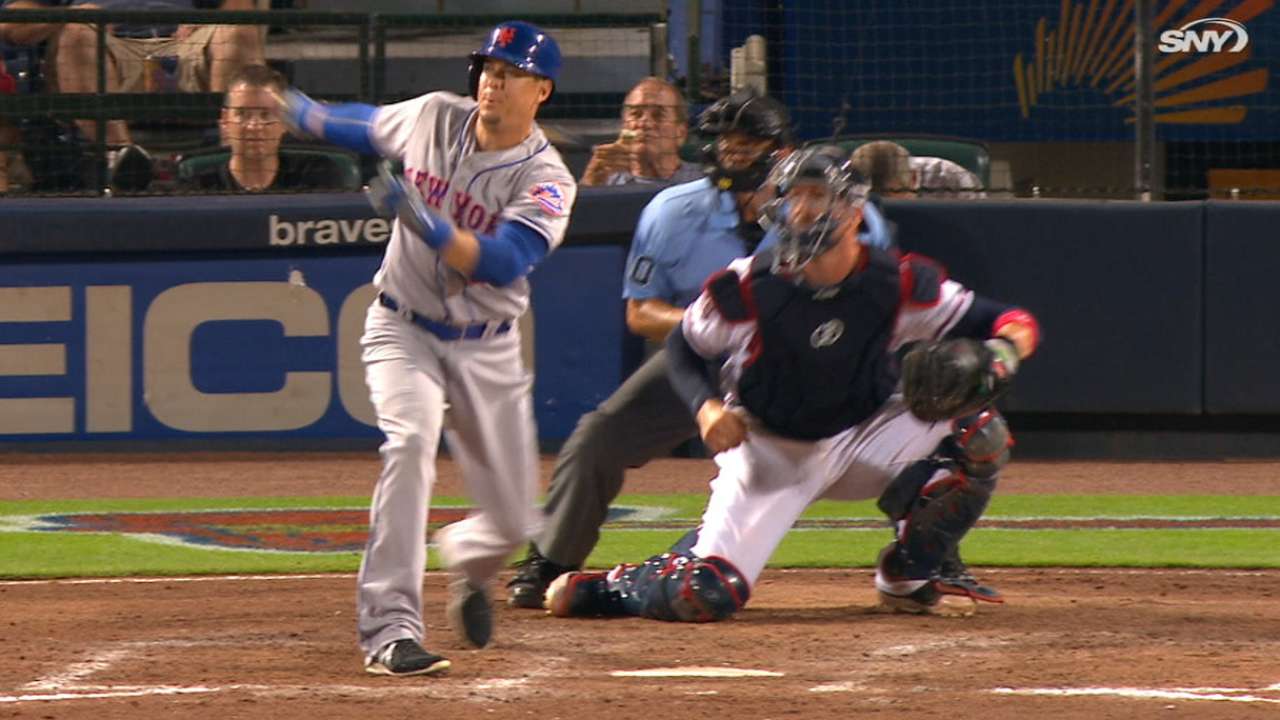 ATLANTA -- Were the Cardinals, the Giants or even the Marlins playing their best ball down the stretch, the Mets' situation might not be as rosy as it currently appears. To be clear: the Mets are in sole possession of the second National League Wild Card spot because they have played superlatively in recent weeks. But they've also had plenty of help from their foes.
In that sense, the eighth inning of Friday's 6-4 win over the Braves was in many ways a microcosm of their last three weeks, keeping them in sole possession of an NL Wild Card spot. Given an opportunity, the Mets took full advantage, parlaying a host of Atlanta mistakes into a go-ahead four-run rally in the eighth.
"You've got to capitalize right now, this time of year," manager Terry Collins said. "You've got to take every advantage you can."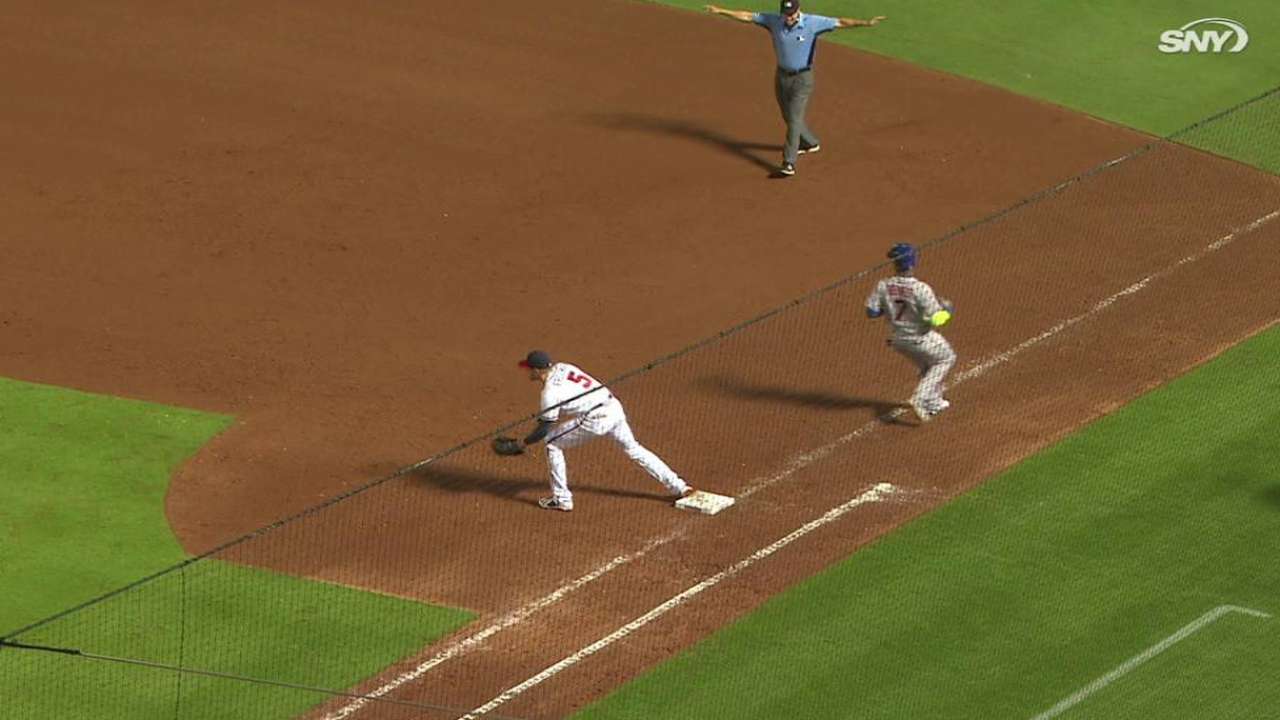 For the first four-plus months of this season, the Mets struggled to do that, threatening to set a modern-day record for futility with runners in scoring position. But the team has transformed while winning six straight games and 15 of 19 since Aug. 20, refusing to let more opportunities slip through its fingers.
There is perhaps no better example than what unfolded in the eighth, when the Mets loaded the bases on two walks and an error. Rather than melt, the Mets capitalized, tying the game on a Yoenis Cespedes sacrifice fly and a Curtis Granderson bloop single.
Next up was pinch-hitter Kelly Johnson, who ripped a go-ahead double down the right-field line. By the time the Mets were finished, they had sent 10 batters to the plate, scoring four times to turn a two-run deficit into a two-run lead. In doing so, they continued to establish themselves as a Wild Card favorite with just 21 games to play.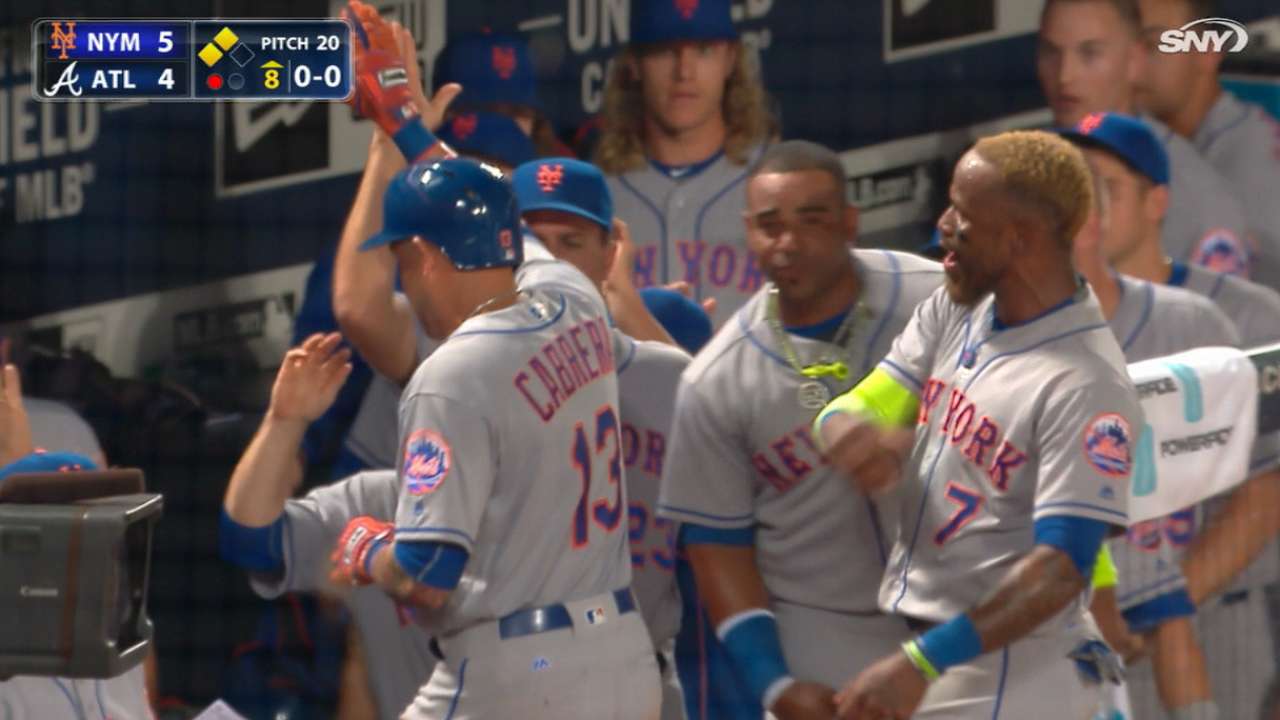 "A month ago was tough," Johnson said. "Runs were tough to come by. Hits were tough to come by. But I think the general feeling was if we were healthy, all things considered, we were going to flip that and we were going to get hot at some point. That's exactly what happened."
The turnaround has been somewhat reminiscent of 2015, when the Mets turned a bottom-feeding offense into one of the game's best thanks to the additions of Cespedes, Johnson and others. This year's renaissance may not be so stark, with more competition than the team faced last September. But the mood is the same. The vibe is the same.
And the Mets, once again, are in control of their own destiny. Winning at least as many games as the Cardinals down the stretch will ensure that they play on.
"We've just got to keep plugging," Collins said. "That's all that can happen right now."
Anthony DiComo has covered the Mets for MLB.com since 2008. Follow him on Twitter @AnthonyDiComo and Facebook, and listen to his podcast. This story was not subject to the approval of Major League Baseball or its clubs.