Bux on the pound: Rookie surging for Twins
Buxton crushes 443-foot shot for 5th homer in 8 games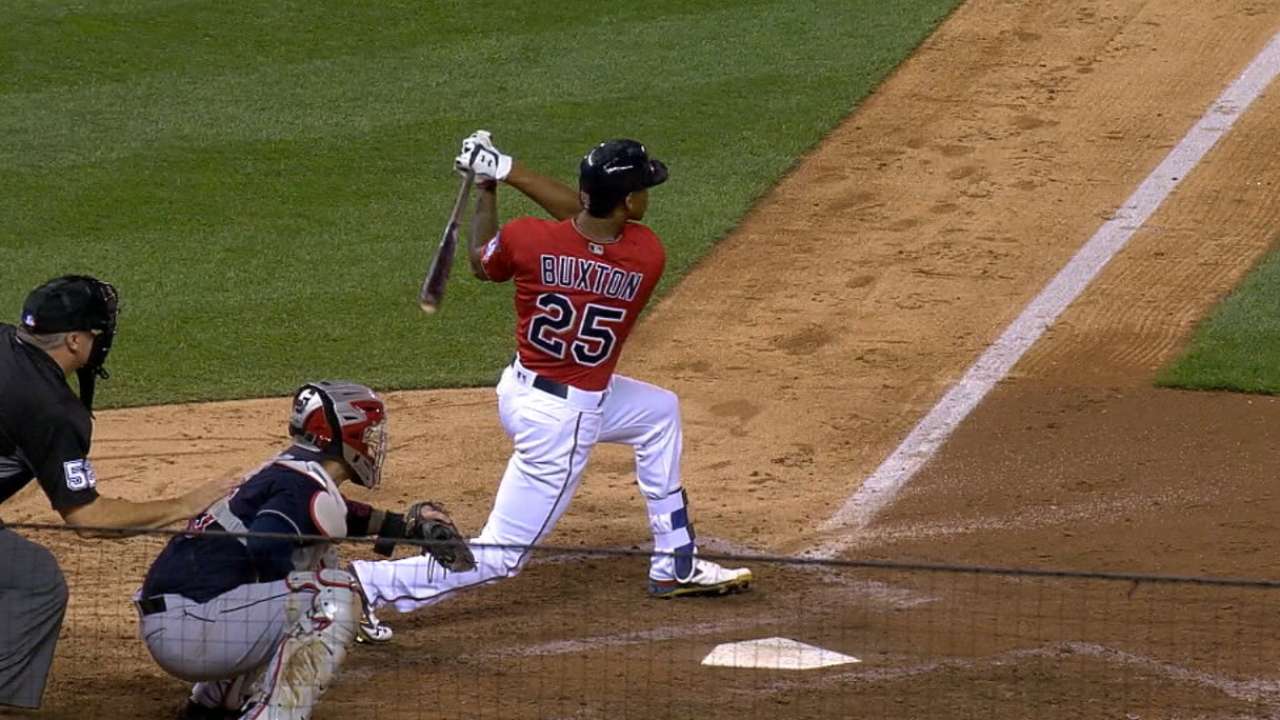 MINNEAPOLIS -- When Byron Buxton was called up by the Twins on Sept. 1, the rookie center fielder had three homers in 109 Major League games, including one this season in 208 plate appearances.
But after an August stint at Triple-A Rochester that saw him hit four homers over eight games before getting called up, Buxton's power is starting to translate to the Majors. Buxton homered again in the Twins' 5-4 loss to the Indians on Friday night, giving him five homers in eight games since the promotion. Buxton is hitting .433 with four doubles, 12 RBIs and 11 runs over that stretch.
It's only been eight games, but it's fair to wonder if the former No. 1 overall prospect is figuring things out after the 22-year-old's early scuffles in the Majors.
"He's swinging it," Twins manager Paul Molitor said. "He's got that feel. It seems like when he gets pitches he can handle, the home runs have been kind of surprising, coming in bunches since he came back. But I just think he's continuing to find ways to be a better hitter."
One difference this time around for Buxton has been more of a pronounced leg kick, which has helped him drive the ball. It was apparent with his two-run blast off Danny Salazar in the fourth, as his homer was absolutely crushed, leaving the bat at 109 mph and traveling 443 feet to left-center. He's also been more aggressive, as this was his first-career homer on a first pitch, while three of his last four homers came with two strikes.
"I think he's doing it with more of a compact swing," Molitor said. "I think he's trying to see the ball better. He's trying to balance that aggressiveness early in the count. I'd love to see it through the end of this year and for many more years to come."
Rhett Bollinger has covered the Twins for MLB.com since 2011. Read his blog, Bollinger Beat, follow him on Twitter @RhettBollinger and listen to his podcast. This story was not subject to the approval of Major League Baseball or its clubs.