V-Mart provides Tigers' latest dramatic finish
DH breaks out of slump with tiebreaking blast in 8th to beat O's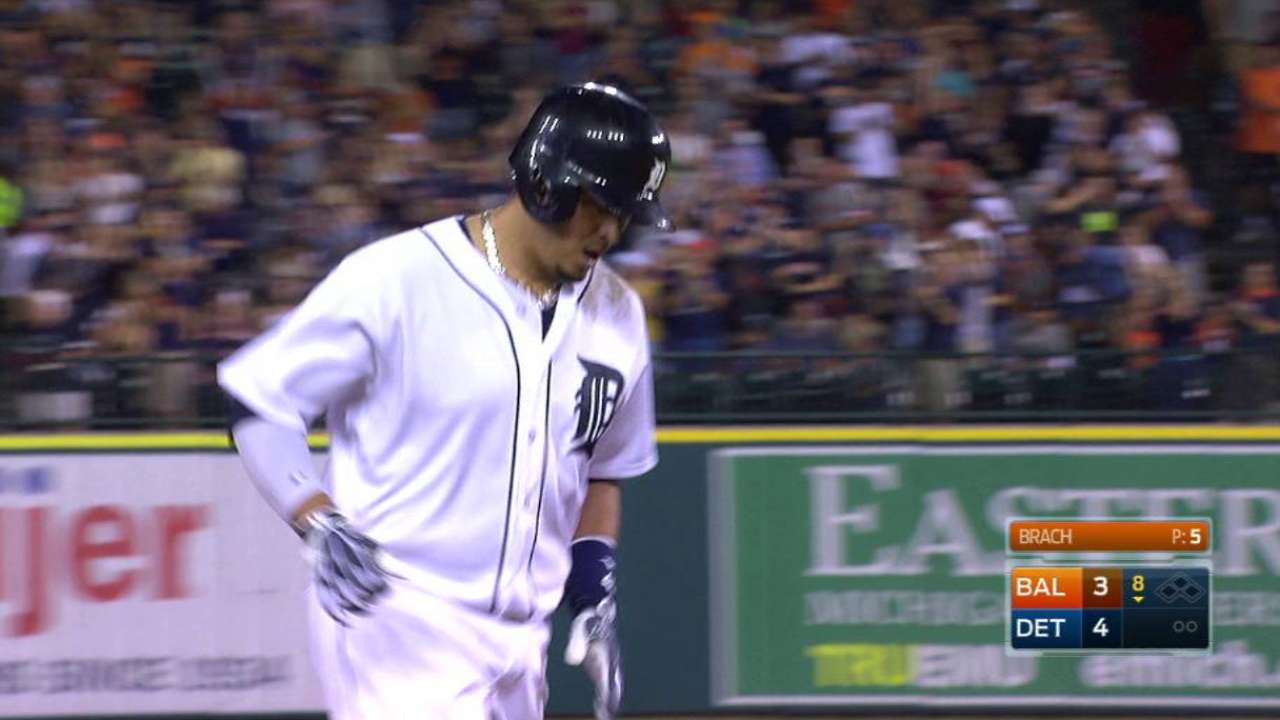 DETROIT -- Victor Martinez hadn't hit a home run since Aug. 23. Brad Brach hadn't given up a lead or put the Orioles behind since July 24, and hadn't given up a lead-changing home run since June 10.
And yet, the way the last couple weeks have gone for the Tigers, it all fit -- the go-ahead homer, the 4-3 Tigers win, and the tie between the two clubs for the American League's second Wild Card.
This is the confidence that late-inning dramatics foster. Even as Detroit's own bullpen reels from big hits in recent days, the Tigers are comforted by the knowledge that they can do the same and more to others.
"I just think it promotes the belief that you can get to anybody," manager Brad Ausmus said. "Back ends of the bullpens are some of the best pitchers in the game, and you don't get too many looks at them, like you do starters. If you get to them, which we've done many times, you never lose faith."
Tigers relievers have taken the decision in eight of Detroit's last 10 games, but they've been on the winning end in seven. Detroit has handed losses to White Sox closer David Robertson, Royals closer Wade Davis, former Tigers closer turned Royals veteran reliever Joakim Soria, and now an All-Star setup man in Brach.
"We know that we're never out of a game," James McCann said. "That's the mentality that we have. We're going to play nine innings. If there's extras, we're going to play longer, but we're going to play a complete game. Even in some of our losses, we've put together rally innings and come up short."
The Tigers have 66 home runs in the seventh inning or later, according to STATS -- tops in the AL. They have 11 go-ahead home runs in the eighth inning or later, second in the AL behind Texas.
The latter stat includes three of Martinez's last eight home runs.
"He's a professional hitter. The numbers show themselves," closer Francisco Rodriguez said. "He's just a professional hitter. He doesn't give up an at-bat. He prepares himself really well for every at-bat. They got him once, twice, three times -- which is not too often a pitcher can do that. But you see, he made them pay the fourth time. He's one of our horses. He's a guy we rely on when they don't pitch to Miggy. He's huge for us."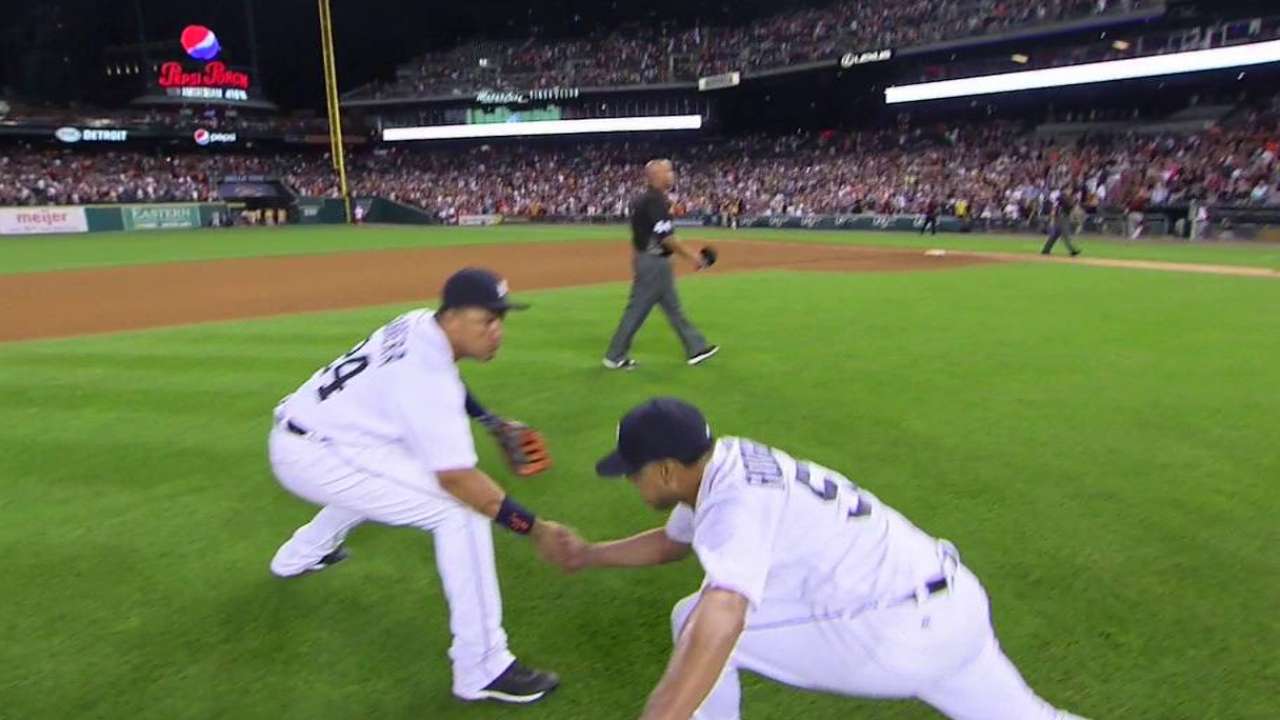 When Martinez stepped to the plate to lead off the eighth, he carried a 6-for-42 slump with him, with no extra-base hits since Aug. 26. He missed two chances earlier for his first RBI since Aug. 25, hitting a fly ball too shallow in right to score Ian Kinsler from third base in the third inning before striking out with the bases loaded on a Kevin Gausman splitter in the fifth.
When Brach put Martinez in an 0-2 count, he seemed set up for a similar fate. But after taking a splitter and a fastball to even the count, he got the pitch he wanted. Matt Wieters had his glove spotted on the inside corner at Martinez's knees, but Brach's pitch ended up over the middle of the plate.
Martinez's resulting drive cleared the out-of-town scoreboard in right-center, but they needed to only look around to see the impact.
Jason Beck has covered the Tigers for MLB.com since 2002. Read Beck's Blog, follow him on Twitter @beckjason and listen to his podcast. This story was not subject to the approval of Major League Baseball or its clubs.