Giants win in 12th inning to keep Wild Card edge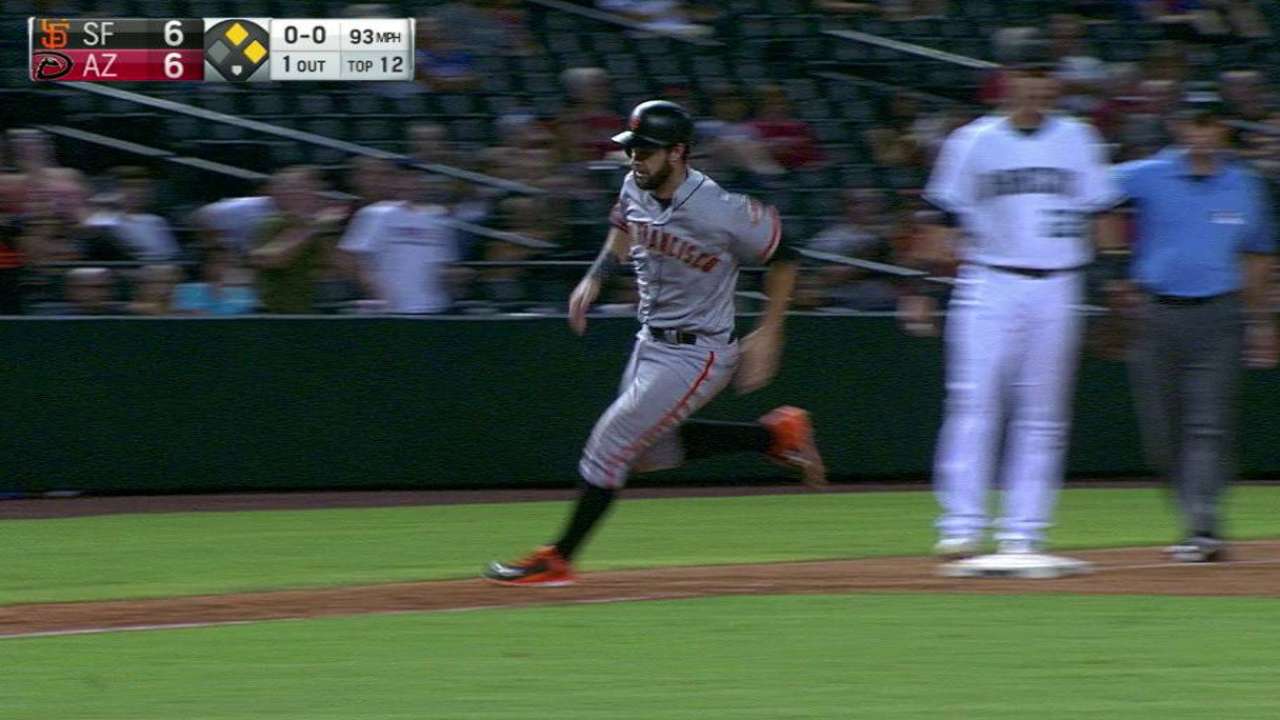 PHOENIX -- The San Francisco Giants devoted five hours and 23 minutes Friday night to their 7-6, 12-inning triumph over the Arizona Diamondbacks. And it was worth every minute to the victors.
"It was a game we had to have," left-hander Javier Lopez said after Kelby Tomlinson's pinch-hit single broke a 6-6 tie in the 12th and Cory Gearrin played left field between stints on the mound while recording the save. The outcome kept the Giants a half-game ahead of the Mets for the National League's first Wild Card spot. St. Louis trails the Giants by a game. San Francisco stands four games behind the first-place Dodgers in the NL West.
With the score tied, 6-6, Brandon Belt coaxed a walk from D-backs reliever Dominic Leone to open the 12th. Joe Panik singled Belt to second base. One out later, Tomlinson grounded a Leone pitch up the middle to send home Belt. It marked the third consecutive game in which Tomlinson, a reserve, has delivered a critical hit.
"He has a base-hit swing," Giants manager Bruce Bochy said, explaining Tomlinson's effectiveness. "He's short to the ball and he doesn't strike out."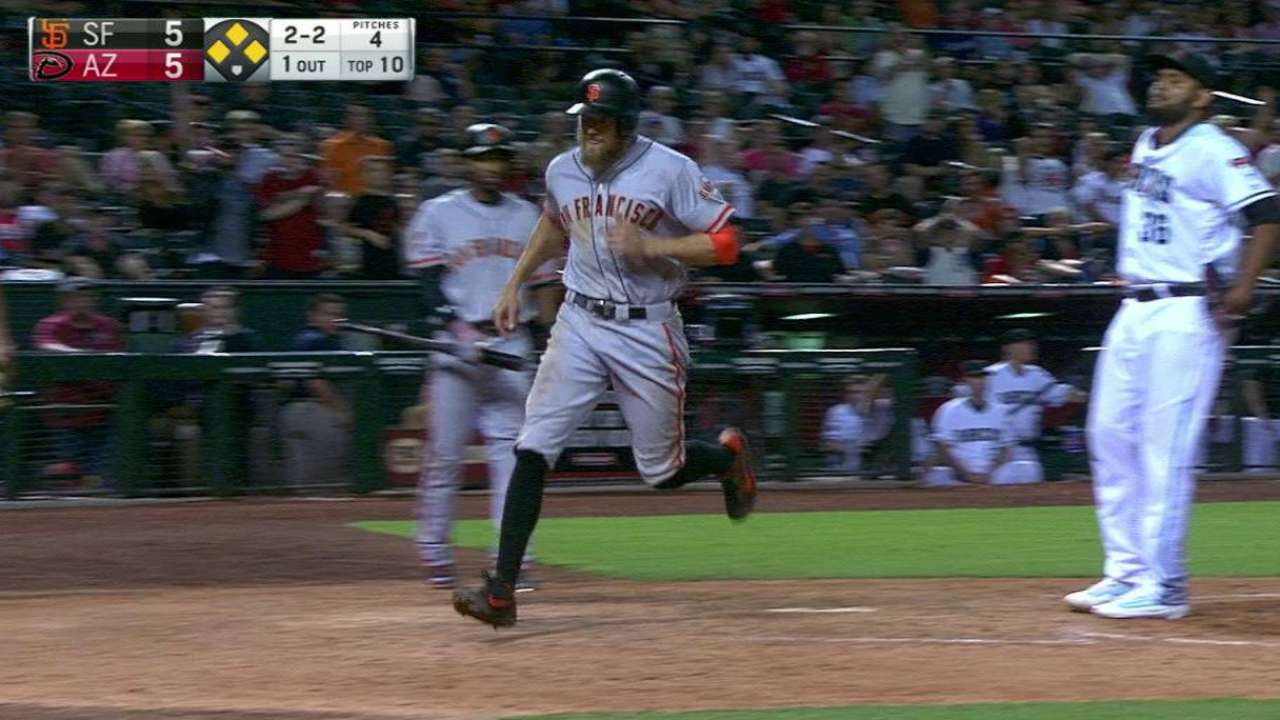 Santiago Casilla's third blown save in his last 10 appearances denied the Giants a victory in 10 innings. The Giants inched ahead in their half of the 10th, 6-5, as D-backs reliever Enrique Burgos flung a bases-loaded wild pitch that scored Hunter Pence with the tiebreaking run. Then pinch-hitter Jake Lamb's one-out homer off Casilla forged the game's third tie since the Giants overcame a 4-1 deficit after three innings.
"The guys battled," Arizona manager Chip Hale said. "I think we walked a few too many guys. That's what strikes me about the whole game: There was too many leadoff walks and you just can't win, that's not winning baseball. … They're playing for their lives over there, they know it, and I thought our guys matched it tonight. It just didn't come out our way."
MOMENTS THAT MATTERED
Both sides benefit: Arizona scored an unearned run in the seventh inning to tie the score and would have had another run without superb defense from the Giants. With two outs, pinch-runner Socrates Brito at first base and the Giants leading, 5-4, Chris Owings hit a drive to center field that turned around Denard Span as he pursued the ball. It went off his glove for an error. After Brito scored easily, Owings tried to follow him home. But shortstop Brandon Crawford made a strong relay home, which catcher Buster Posey deftly short-hopped before applying the tag.
"That was clutch," Bochy said. "That keeps them from taking a lead. That saved us."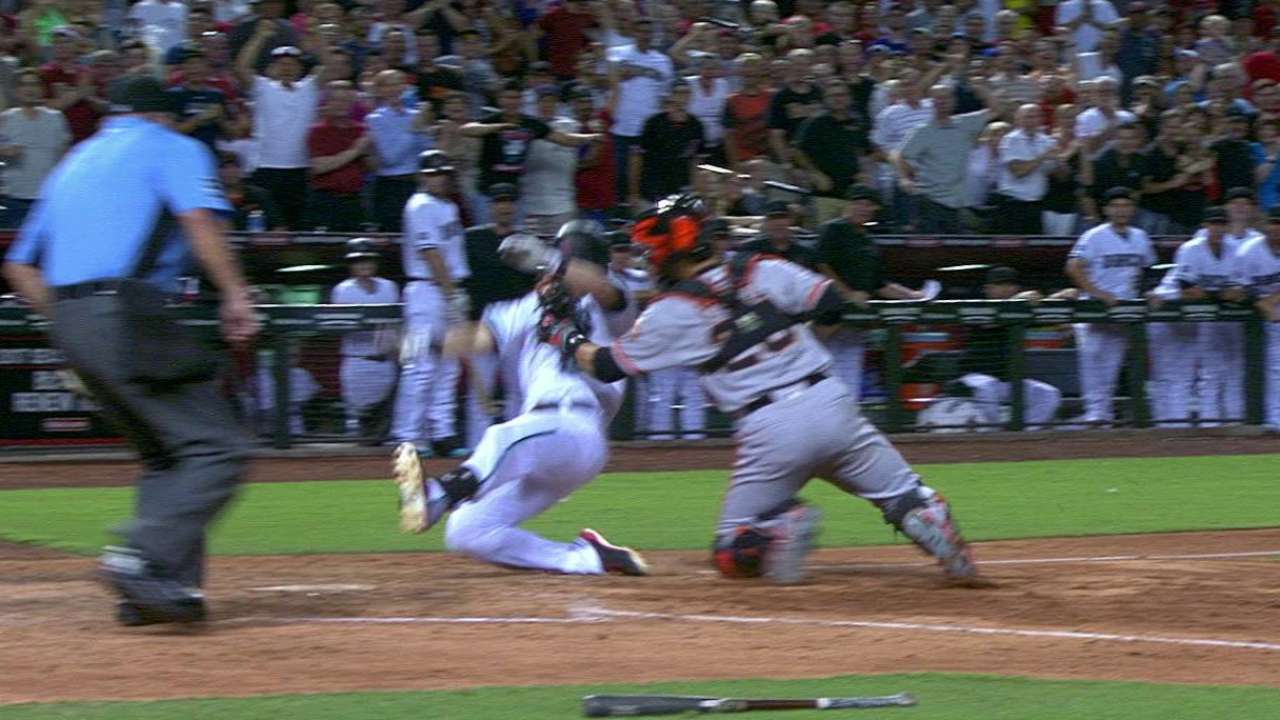 Welcome to the bigs: Kyle Jensen's first career hit was quite a big one. The D-backs left fielder belted a two-run shot to left off Madison Bumgarner for a 4-1 lead in the third. The homer went 412 feet with an exit velocity of 106 mph and a launch angle of 20 degrees, according to Statcast™. Jensen, 28, led the Pacific Coast League with 30 homers this season.
"Beautiful, that was a great job, coming in the game, hit it off of Bumgarner, I'm sure he's watched a lot of him," Hale said of Jensen, who is from the Bay Area. "Great night for him."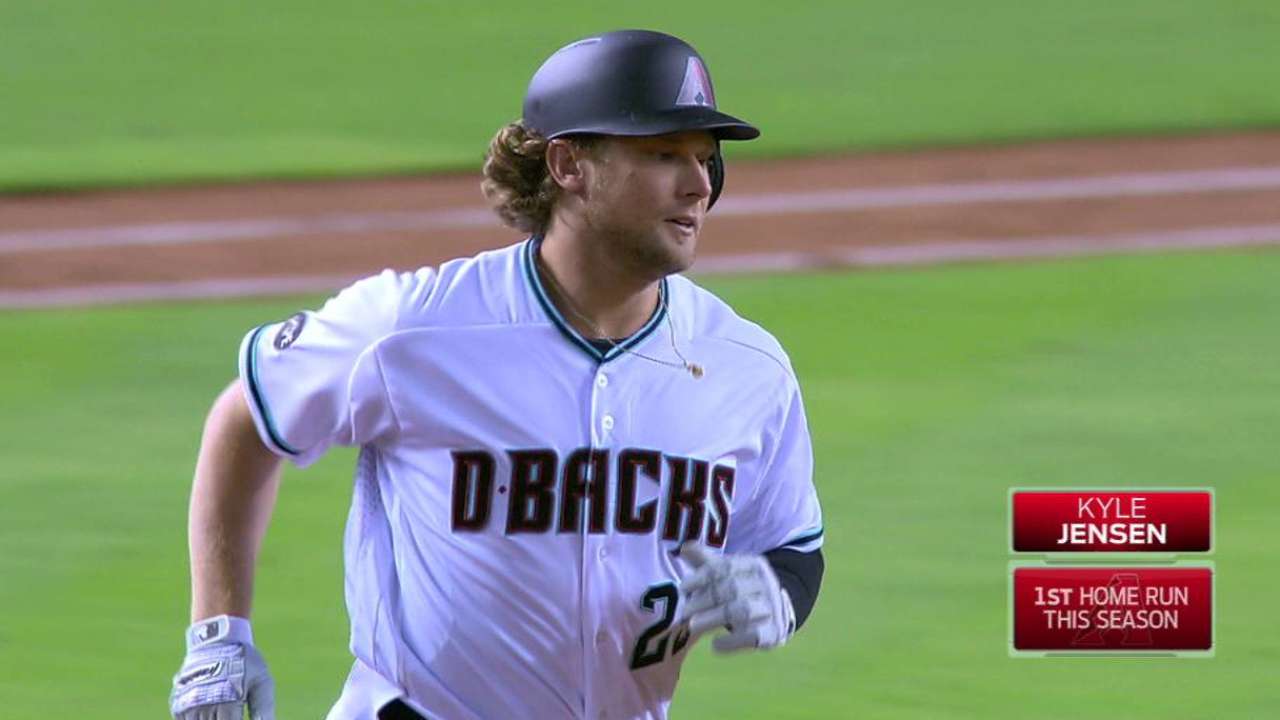 5-6-7-8, who do we appreciate: The second quartet of position players in the Giants' batting order -- Pence, Belt, Panik and Eduardo Nunez -- accounted for all of San Francisco's four runs and seven hits through the first six innings. Pence scored three runs and rapped a pair of infield hits, Nunez smacked a pair of hits and drove in two runs, Belt collected two hits and an RBI and Panik stroked a run-scoring single.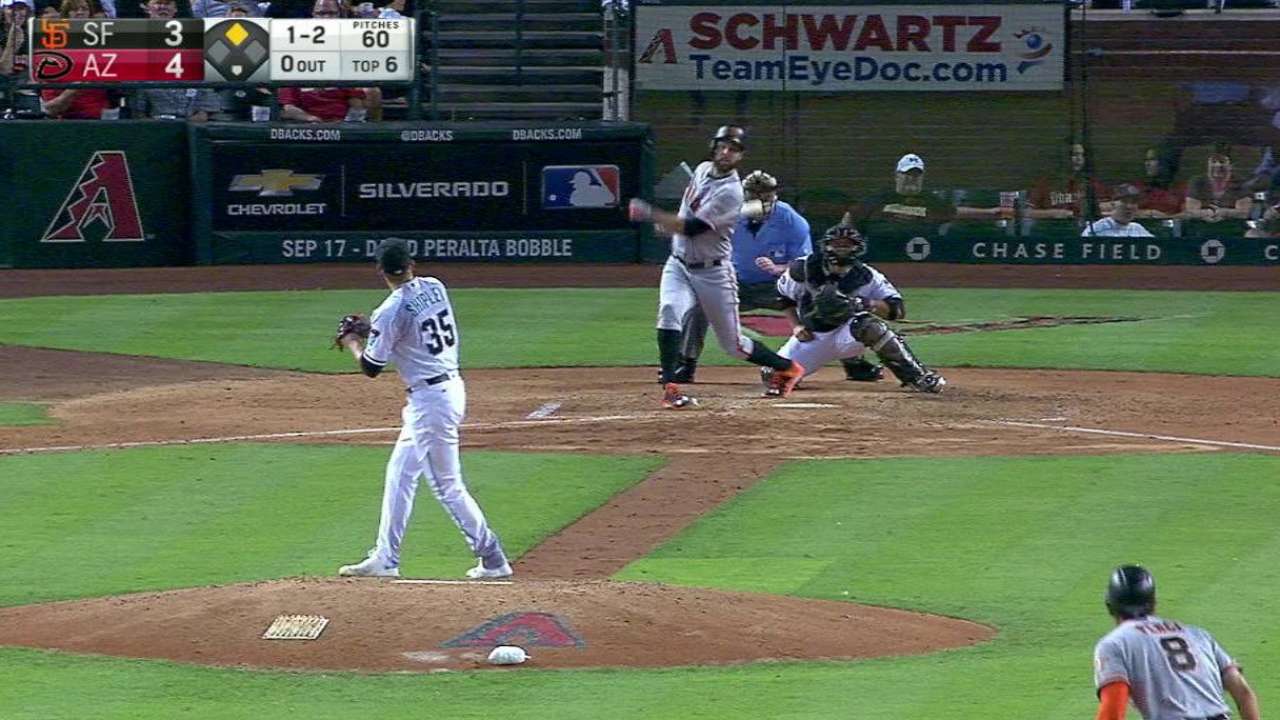 Welcome back, Rubby: Rubby De La Rosa made his first start for the D-backs since May 25 after spending the last three-plus months on the disabled list with right elbow inflammation. The right-hander hasn't built his pitch count all the way back up, so it was scheduled to be a short outing. He worked two innings, allowing a run on one hit with two walks and three strikeouts on 43 pitches.
"It was OK; he couldn't get the ball down in the second inning. First inning was beautiful," Hale said. "He couldn't get it down, got through it with minimal damage, which was good." More »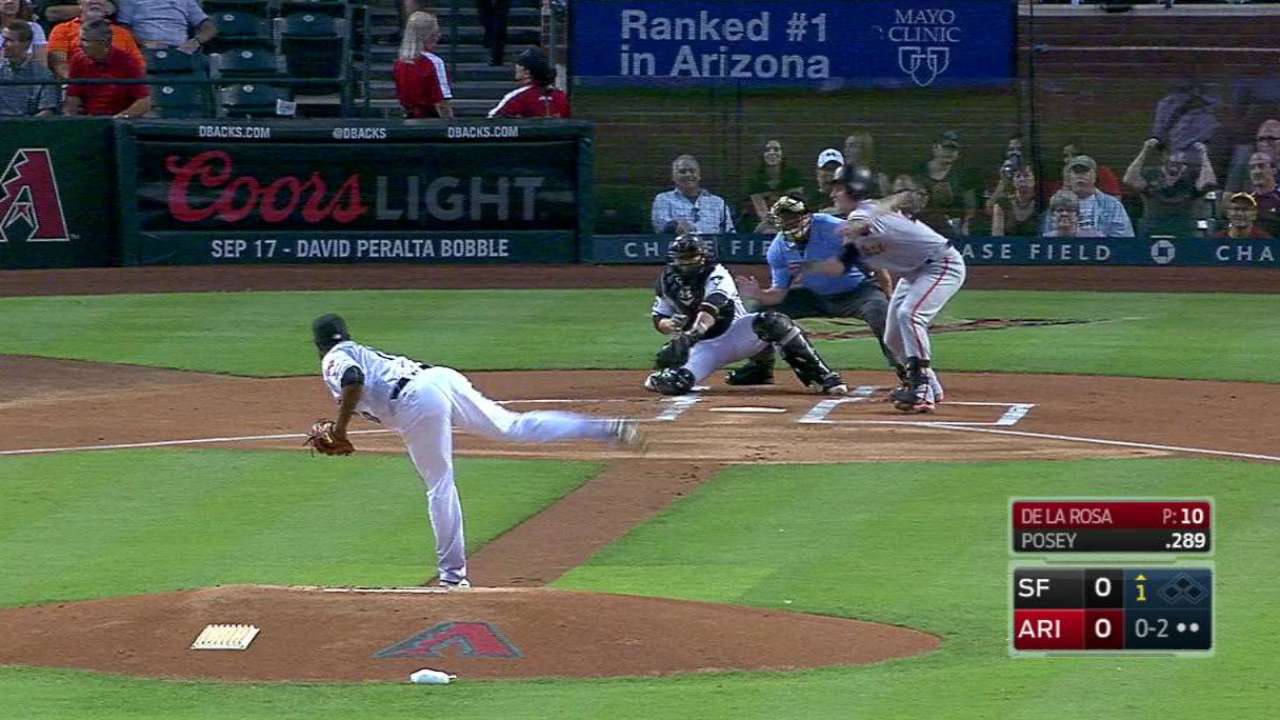 SOUND SMART WITH YOUR FRIENDS
The D-backs used 12 pitchers, a franchise record for a single game and one shy of the Major League record set by the Rockies on Sept. 15, 2015. Arizona also used a franchise-record 26 players.
CASTILLO TOSSED
D-backs catcher Welington Castillo received his first career ejection for arguing balls and strikes in the bottom of the 12th inning. He was called out on strikes for the third time in the game, and it was the second time he voiced his displeasure to home-plate umpire Dale Scott.
The third strikeout came with Arizona trailing by one run with one out and runners on first and second.
"That's a ball; I cannot swing at that pitch," Castillo said. "I think it's a ball; I just said it, 'That's a ball, I cannot swing at that pitch.'"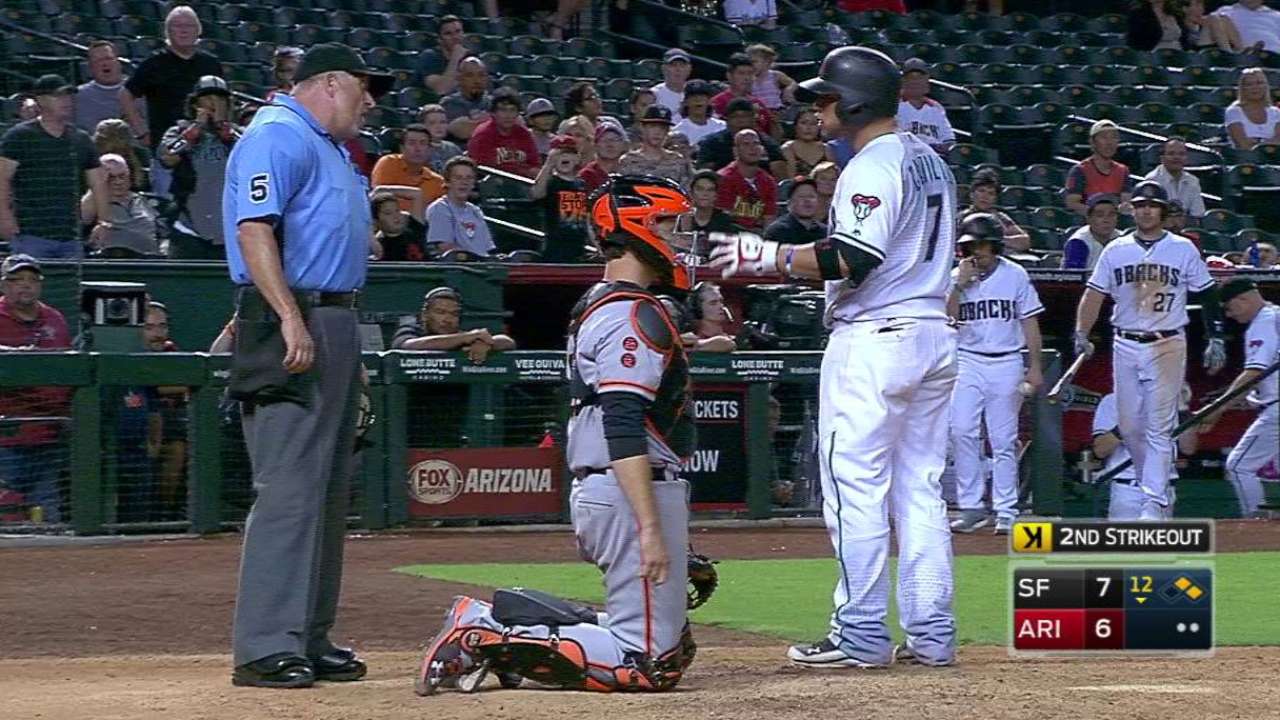 UPON FURTHER REVIEW
The Giants requested a crew-chief review on Brandon Drury's two-run, second-inning homer for Arizona, contending a fan reached over the barrier and touched the ball while it was technically still in play. After a brief video review, the call was confirmed, and the D-backs had a 2-1 lead.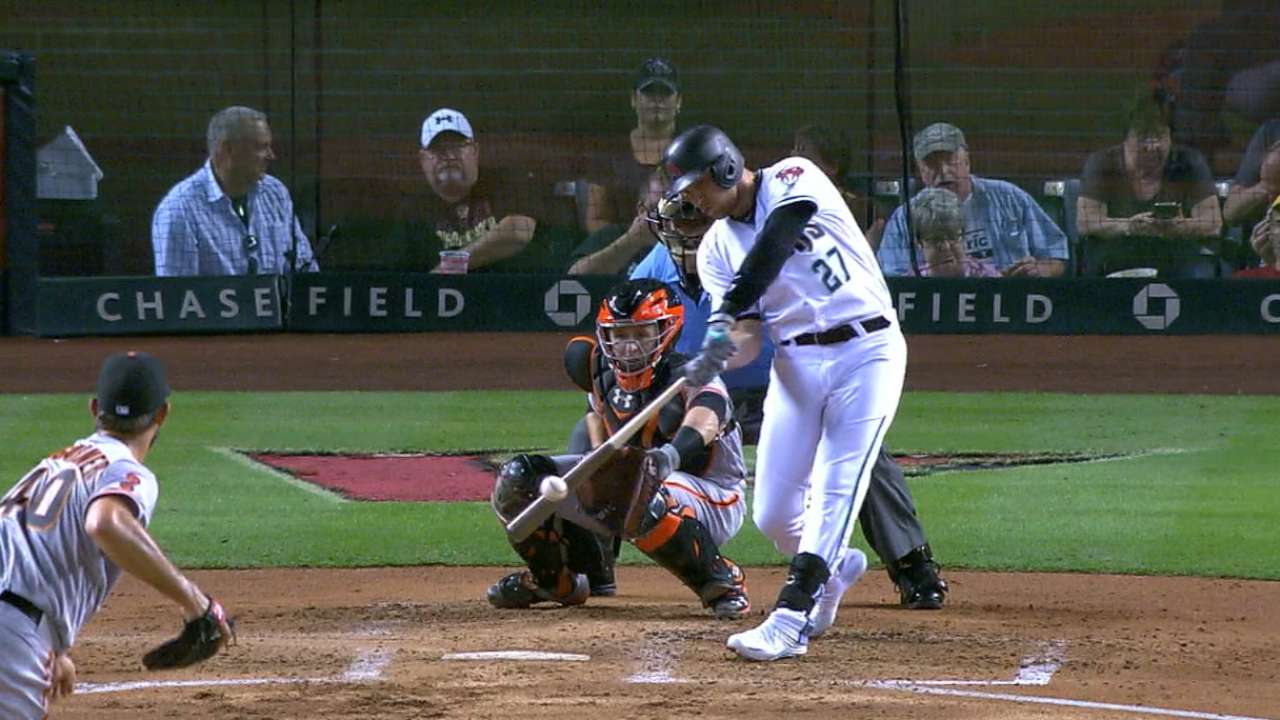 The D-backs won a manager's challenge in the bottom of the seventh after Chris Herrmann was called out trying to steal second base, which was initially the final out of the inning. After a review, Herrmann was ruled safe and credited with his fourth steal of the season. It came at a cost, however, as Herrmann broke two bones in his left hand on the slide and is out for the season. More »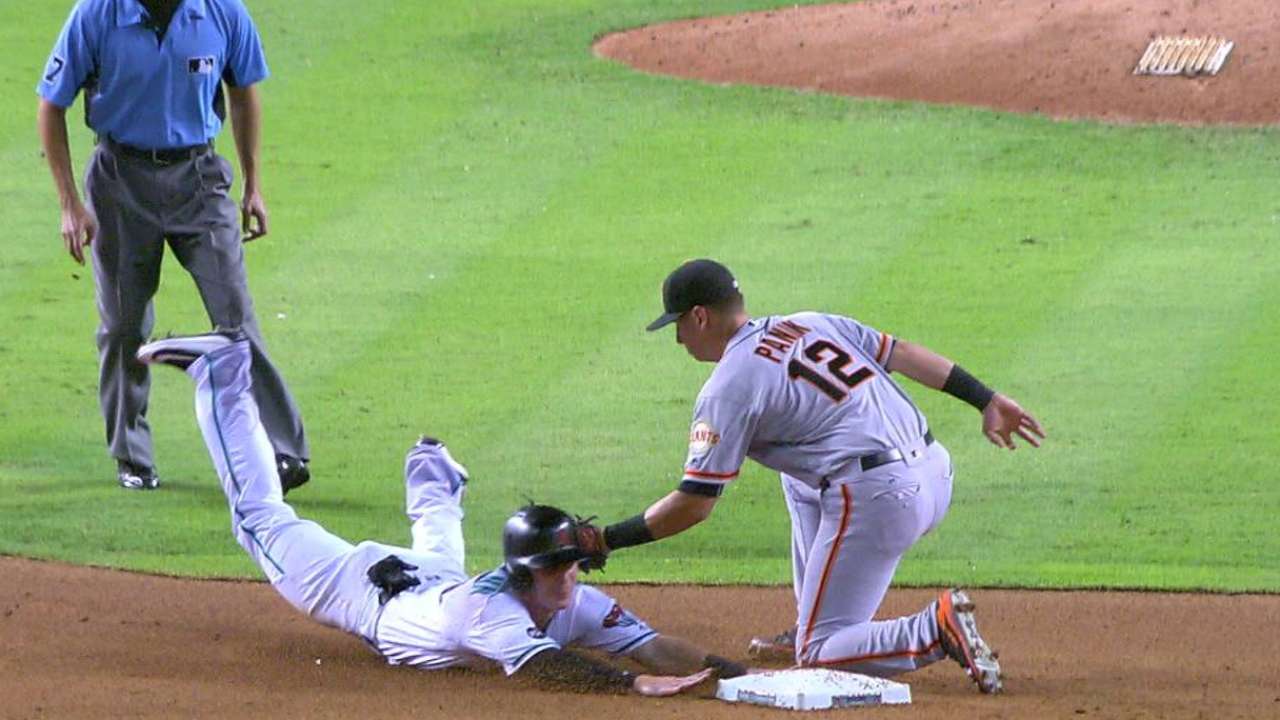 In the 10th, the D-backs issued another challenge when Crawford's slide possibly prevented Castillo from attempting a 4-2-3 double play. However, it was ruled to be a legal slide, which kept the bases loaded for the Giants with one out.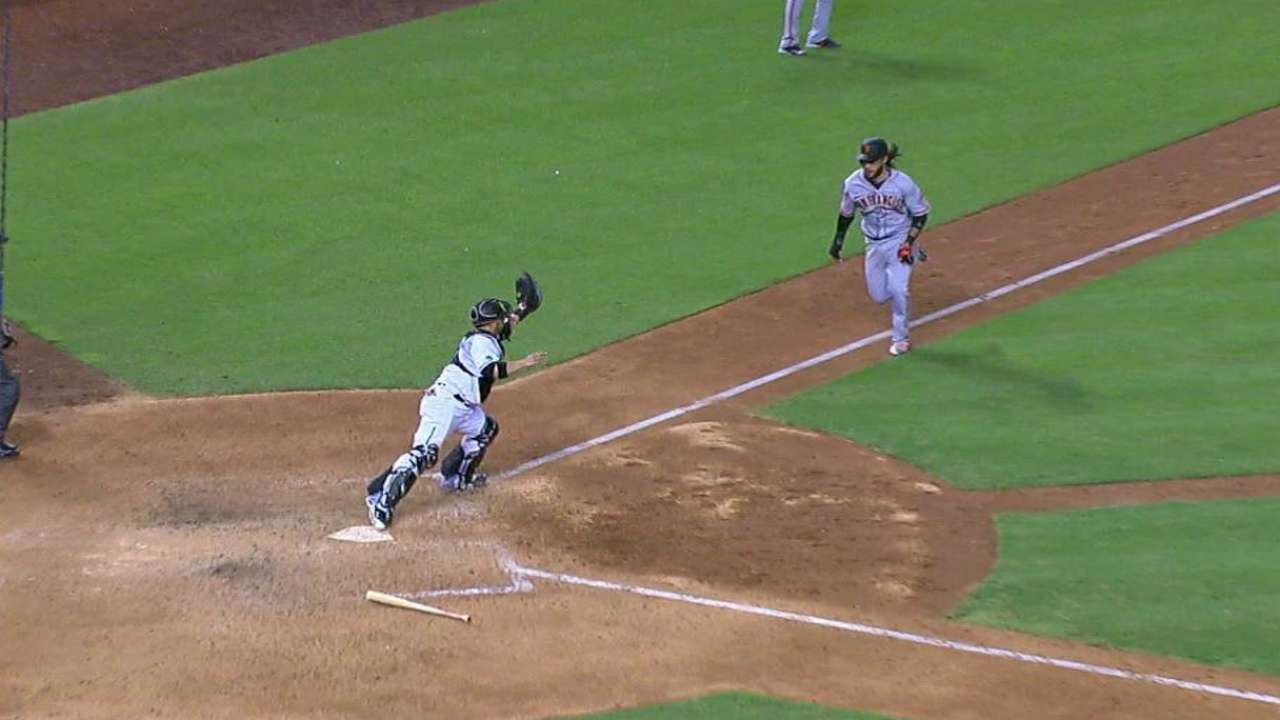 WHAT'S NEXT
Giants: With five projected starts remaining, Johnny Cueto (14-5, 2.92 ERA) likely won't reach the 20-win plateau. But he has ample opportunities to put an exclamation point on an impressive season, including Saturday when he leads the Giants into a 5:10 p.m. PT contest against the D-backs.
D-backs: Archie Bradley takes the mound for Arizona when the series continues Saturday at 5:10 p.m. MST. Bradley (6-8, 4.85) looks to win three consecutive starts for the first time this season. The right-hander has allowed two runs in six innings in each of his last two outings -- wins over the Reds and Rockies.
Watch every out-of-market regular-season game live on MLB.TV.
Chris Haft has covered the Giants since 2005, and for MLB.com since 2007. Follow him on Twitter at @sfgiantsbeat and listen to his podcast.

Jake Rill is a reporter for MLB.com based in Phoenix.

This story was not subject to the approval of Major League Baseball or its clubs.