Wong proving doubters wrong as catalyst
Cards second baseman thriving with playing time, new mindset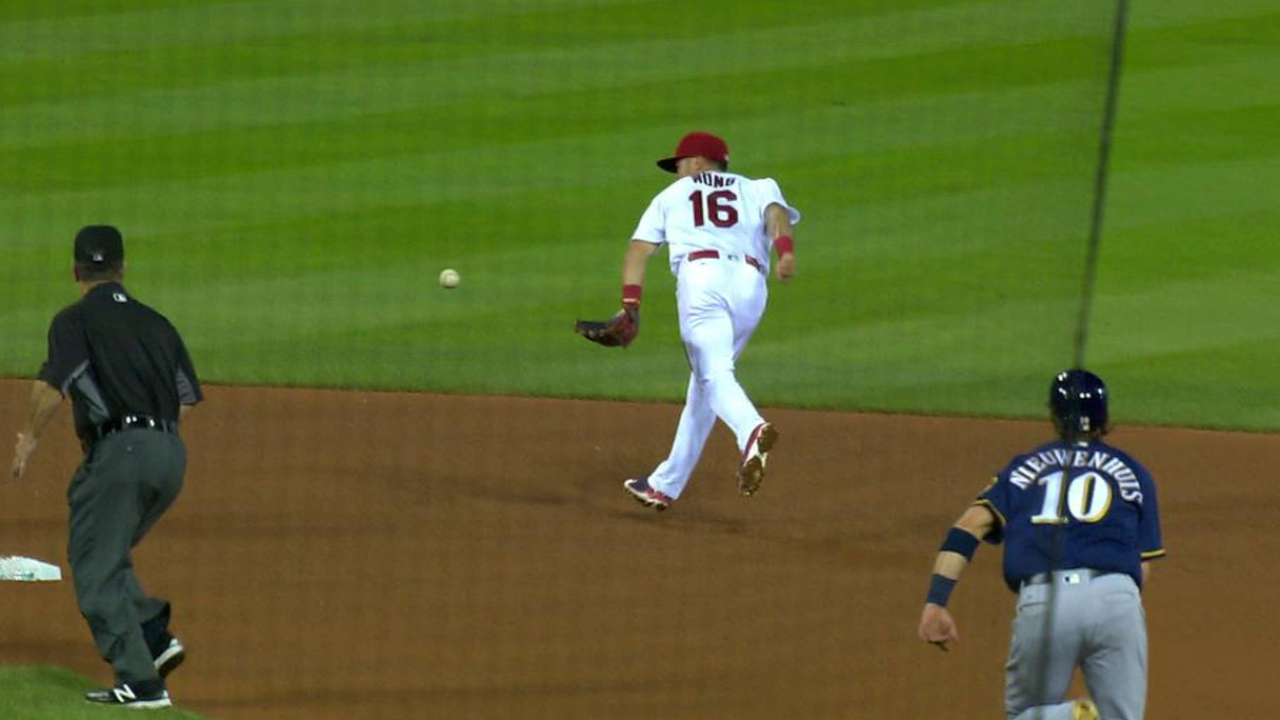 ST. LOUIS -- Kolten Wong had plenty of opportunity to stew over his season as August passed by with only periodic appearances by the second baseman. Buried on the bench -- in part because of his uneven first half, in part because of others' second-half surges -- the player to whom the Cardinals committed $25.5 million this spring had finally had enough.
Fed up with those who believed he had no fit, and tired of his own self-induced pressure getting in the way, Wong came to a fresh conclusion. Whenever that next chance came, he would approach it differently than he ever had before.
Wong has kept that promise to himself, playing with an edge and emotion that has helped him emerge into a must-watch player once again. With a terrific and timely double play turn on Friday and a critical eight-pitch walk, Wong helped the Cardinals turn an ominous start into a 4-3 win over the Brewers.
"I think I'm just tired of people thinking that I'm not that good," Wong said. "I believe in myself to the fullest, and I play this game the way I do because I believe in myself. I'm not the kind of guy who is going to sit back and worry about making an error. I know I can make these plays, and if I make an error, so what."
It's with that sort of reckless abandon that Wong has reminded the Cardinals why they so heavily invested in him. With more upside than any other Cardinals infielder, Wong has turned in several web gems since he started playing regularly again in late August.
Friday's play may have been his most impressive. With a backhanded stop and executed glove flip, Wong helped starter Carlos Martinez out of a mess and kept the deficit at three.
In the bottom half of that inning, Wong followed Matt Carpenter's two-run homer with a two-out walk to set up Stephen Piscotty's game-tying blast. It was one of three times Wong found his way on base Friday.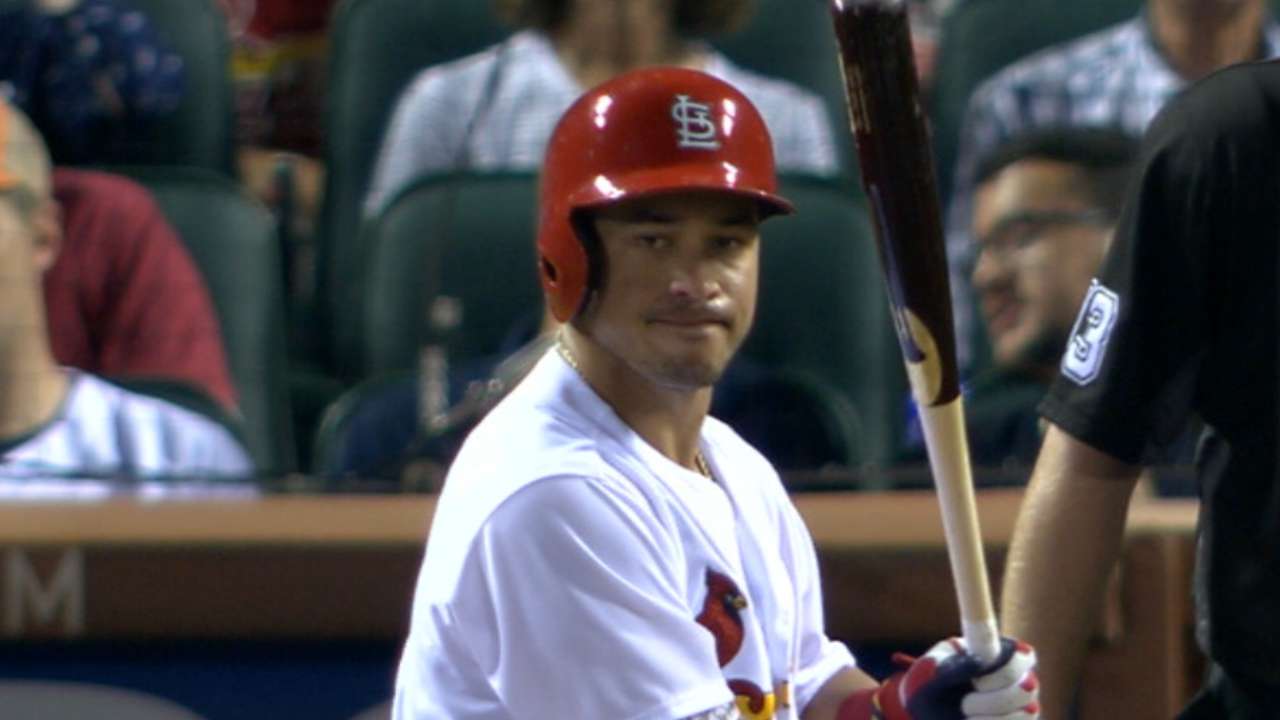 "I think that comes with confidence and comes with success," manager Mike Matheny said. "We love when he gets going because we believe he is infectious. Right now, he's in a real good spot."
To get there, Wong had to first find opportunity. It came with an Aug. 29 start, the first he had gotten in 10 days. Wong responded with two hits, including a home run in a one-run victory. What he found was that with results came reward -- in the form of increased chances.
Wong has started seven games since then, reached base at least twice in all of them and is slashing .391/.516/.890. It has been, Wong said, the product of playing free.
"I think sitting on the bench as much as I did, it was just eating at me because I'm a guy who likes to play every day," Wong said. "As soon as I got my chance, I said ... I'm going to go out there and play my game. I'm going to do what I want to do. If it works out, great. If not, at least I know I'm having fun.
"This has been kind of an eye-opening experience for me because playing like this, I've never done it before. And it is so much more fun to play this way. I just tell myself that I'm going to prove people wrong every day."
It helped, Wong said, to have so many current teammates, former teammates and even opponents remind him along the way that he has the talent to thrive. Among those to reach out to Wong was Jon Jay, who challenged him not to let a poor start dictate his finish.
"Now I'm starting to really learn about who I am as a person and a player and what kind of player I need to be for this team," Wong said. "It's been fun. These past couple weeks have been really fun for me. It's been the most fun I've had playing baseball."
Jenifer Langosch has covered the Cardinals for MLB.com since 2012, and previously covered the Pirates from 2007-11. Read her blog, follow her on Twitter, like her Facebook page and listen to her podcast. This story was not subject to the approval of Major League Baseball or its clubs.