Salazar exits early with forearm tightness
Indians remove starter after four innings as precaution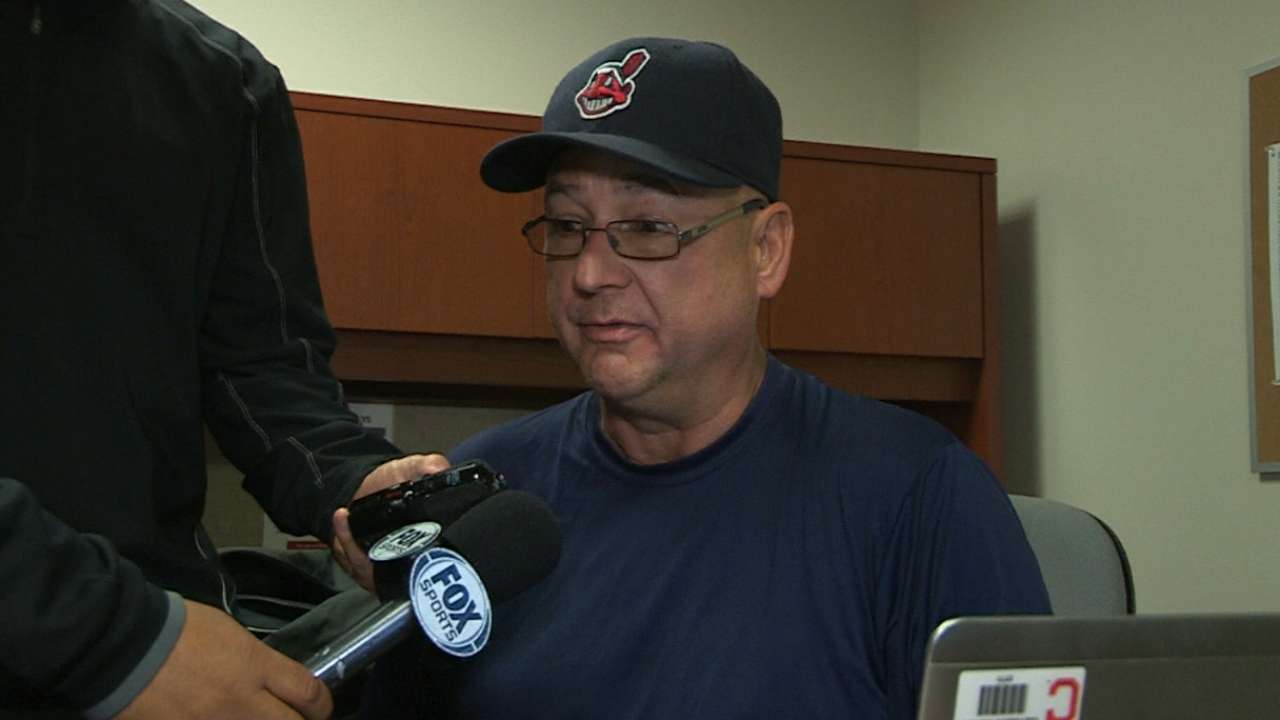 MINNEAPOLIS -- Something did not look right to Indians pitching coach Mickey Callaway in the fourth inning on Friday night. The bite was suddenly gone from Danny Salazar's fastball and the right-hander's mechanics were falling apart against the Twins.
"It was a little weird," Callaway said after Cleveland's 5-4 victory over the Twins. "It looked like he was throwing a bar of soap, the way he was releasing the ball. So, I wasn't shocked when he came in."
Salazar was quickly pulled out of the ballgame.
The Indians announced that the root of the problem was right forearm tightness for Salazar, who has dealt with arm discomfort multiple times throughout this season. Manager Terry Francona said the pitcher was removed from the game as a precaution and examined by the team's medical staff, but there was no clarity about the extent of the injury.
Francona said Salazar would be re-evaluated on Saturday, adding that the issue did not appear to be structural in nature.
"After the fourth, he came off and he said he was feeling some tightness," Francona said. "So, obviously, we kind of checked him out. It's a little different. It's muscular, which, if it's going to hurt, that's good. We'll certainly keep an eye on him tonight and then when he shows up [Saturday], we'll see how he feels and then we'll go from there. That's really all we have right now."
This is the fourth time this year that the All-Star starter has had an arm issue flare.
In early June, the Indians skipped Salazar's turn in the rotation due to shoulder fatigue. Cleveland then held the hard-throwing righty out of the All-Star Game when he indicated that he was feeling mild pain in his right elbow. A poor string of starts led to a stay on the 15-day disabled list from Aug. 2-17 for Salazar, who has made five starts since being activated.
Through 25 starts this season, Salazar has turned in a 3.87 ERA with 161 strikeouts against 63 walks in 137 1/3 innings. During a six-start stretch from July 9-Aug. 23 while dealing with the off-and-on arm issues, Salazar posted a 10.41 ERA, seeing his season ERA rise to 3.90 from 2.36 in that span (23 1/3 innings). Prior to Friday, Salazar had a 2.45 ERA with 21 strikeouts in 11 innings over his previous two starts.
Callaway said the current problem does not seem to be related to the earlier elbow issue.
"Right now, we really don't know," said Callaway, when asked how concerned he was about the injury. "There's always concern when one of your starters is feeling something."
If the issue is serious, it is not clear how Cleveland will proceed with its rotation. Corey Kluber, Carlos Carrasco and Trevor Bauer occupy three spots, but the fifth spot behind Salazar is in flux. The No. 5 slot is scheduled to come up Saturday, when rookie righty Mike Clevinger (a reliever right now) is serving as the starter for a bullpen day. Josh Tomlin, who had been the fifth starter, could potentially slide back into the rotation.
Salazar was not at his best at Target Field against the Twins, who took advantage of some flat pitches and a slight dip in his typical velocity. He allowed four runs (three earned) on five hits, including a two-run home run to Byron Buxton in the fourth. Salazar struck out four, walked two and logged 76 pitches before departing.
After the game, Salazar was receiving treatment and was not available for comment.
Rookie reliever Joseph Colon took over to start the fifth inning, and the bullpen pieced together five shutout frames to seal the win.
"That's tough to string together zeros like that," Francona said. "Everybody picked each other up."
Jordan Bastian has covered the Indians for MLB.com since 2011, and previously covered the Blue Jays from 2006-10. Read his blog, Major League Bastian, follow him on Twitter @MLBastian and listen to his podcast. This story was not subject to the approval of Major League Baseball or its clubs.