Rupp hopes titanic blast ends slump
Catcher launches game-tying three-run homer in loss to Nationals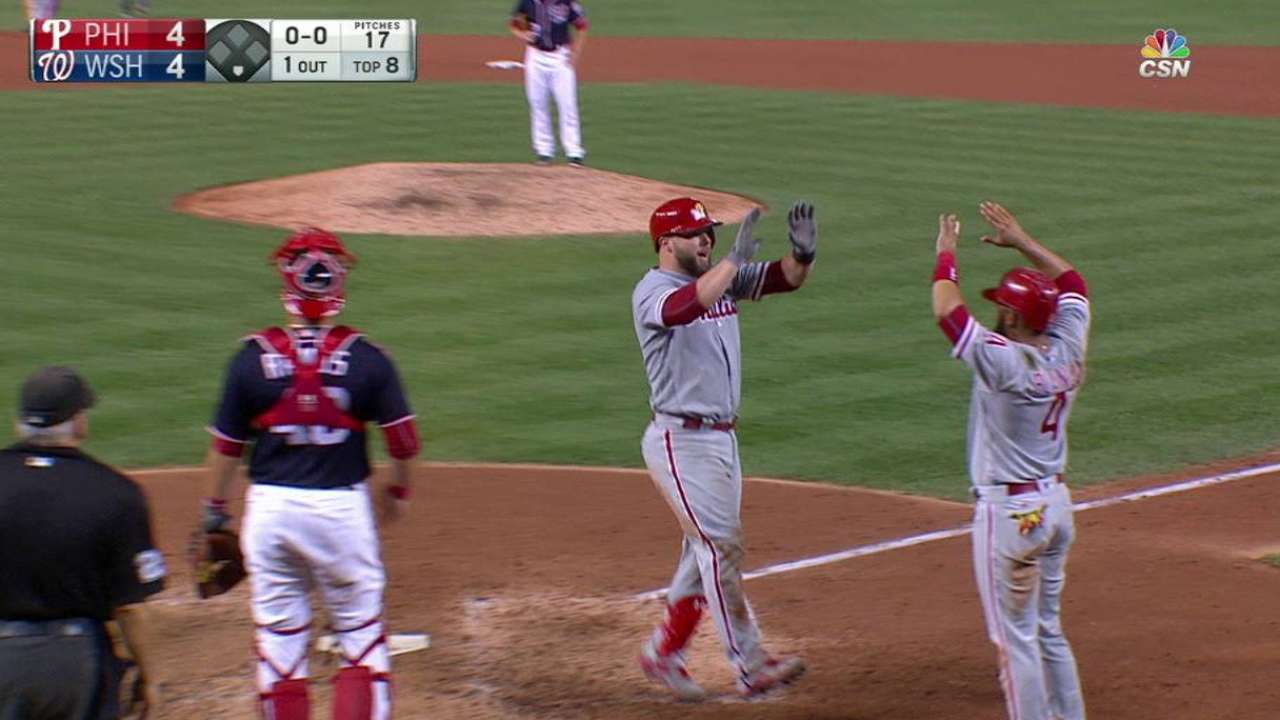 WASHINGTON -- Cameron Rupp needed that one.
He mashed a game-tying, three-run home run to left-center field in the eighth inning Friday night in a 5-4 loss to the Nationals at Nationals Park. The 2-0 fastball from Nationals reliever Koda Glover left Rupp's bat at 106 mph and traveled a projected 420 feet, according to Statcast™. But it looked like it traveled faster and farther than it did. He crushed it.
"I was ready for it," Rupp said. "I would say I sold myself on getting a fastball there."
Rupp hopes the shot reverses his fortunes following a rough few weeks. He had hit .278 with 18 doubles, one triple, 13 home runs, 38 RBIs and an .831 OPS in 283 plate appearances through Aug. 5, making him one of the most productive catchers in baseball this season.
But he has struggled since then. He entered Friday night hitting .185 with two doubles, one home run, seven RBIs and a .515 OPS in his last 71 plate appearances.
"I just hit one of those spots," Rupp said. "It's part of the game. At some point every hitter goes through it. It took me a little longer to get out of it. It was a little frustrating at times. I got away from myself a little bit and finally found my approach again and got back to getting the ball in the zone and putting a good swing on it."
Said Phillies manager Pete Mackanin: "He's pulling off the ball. I talked earlier about how he changed his approach at the plate and changed his swing path. Well, he was reverting back to his old swing path. That's common for players to do. When you do something one way your whole life you kind of creep back to it little by little. But he put a charge into that one."
But Rupp never needed to worry too much. He solidified himself as the team's No. 1 catcher with his strong play through early August. Even with his recent struggles, he still ranks seventh out of 20 catchers in OPS, making him the projected Opening Day starter behind the plate next season.
"You've got to have success in this game to keep your job," Rupp said. "It was nice to get off to a good start, but I really can't worry about that. I've got to stick with my strengths and worry about pitch selection and calling games and working with the pitchers and just let the offense happen."
Todd Zolecki has covered the Phillies since 2003, and for MLB.com since 2009. Read his Phillies blog The Zo Zone, follow him on Twitter and listen to his podcast. This story was not subject to the approval of Major League Baseball or its clubs.