Turner showing sneaky power so far in MLB
Rookie notches first walk-off hit, multi-homer game vs. Phillies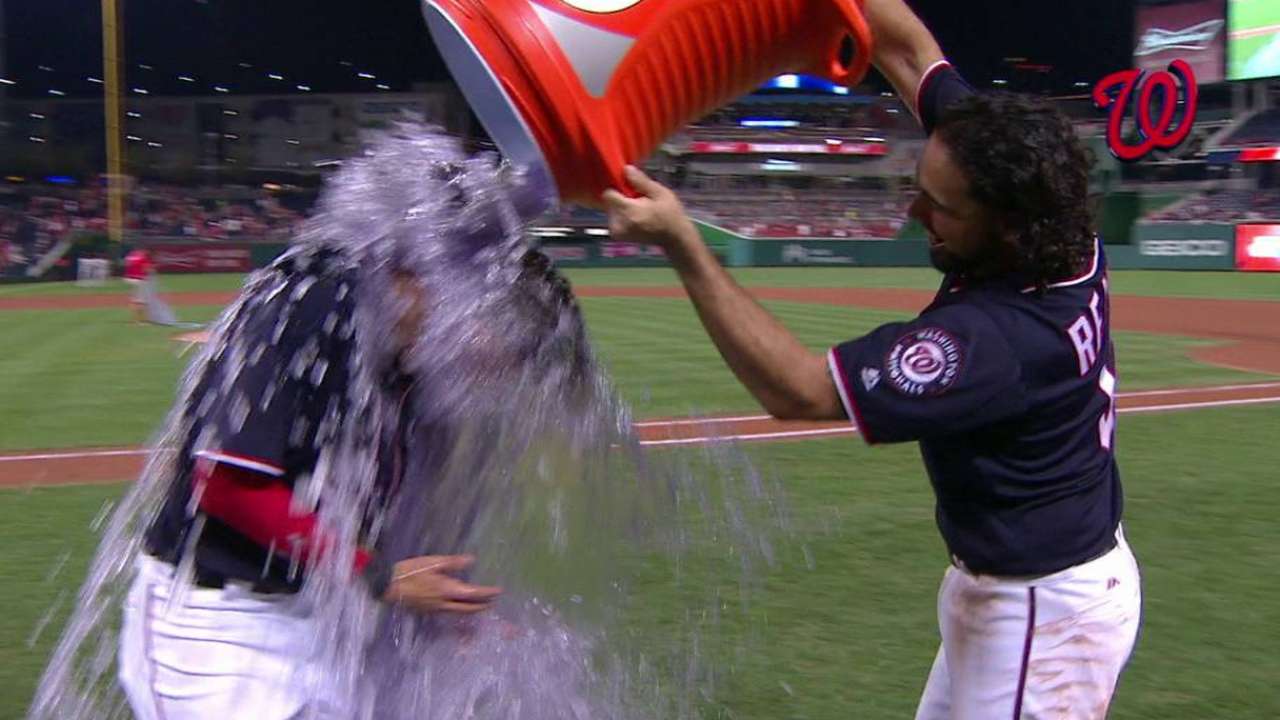 WASHINGTON -- About halfway down the third-base line, still laughing in disbelief that his first career walk-off home run even landed over the fence, Trea Turner took off his helmet and tossed it into the air before he was mobbed by his teammates at home plate.
With two outs in the bottom of the ninth, Turner fouled off five consecutive pitches from Phillies reliever Frank Herrmann before he hammered the game-winning homer into center field -- Turner's second home run of the night -- to catapult the Nationals to a 5-4 victory. The ball traveled 440 feet, but Turner still admitted to being in awe that the ball even went over the fence.
"I asked myself, 'did that really happen?'" he said. "Because everybody wants to hit a home run to walk off, get a walk-off win, but I guess seldom does it happen, at least for me. It was kind of funny-slash-exciting, try to cherish that as much as I can."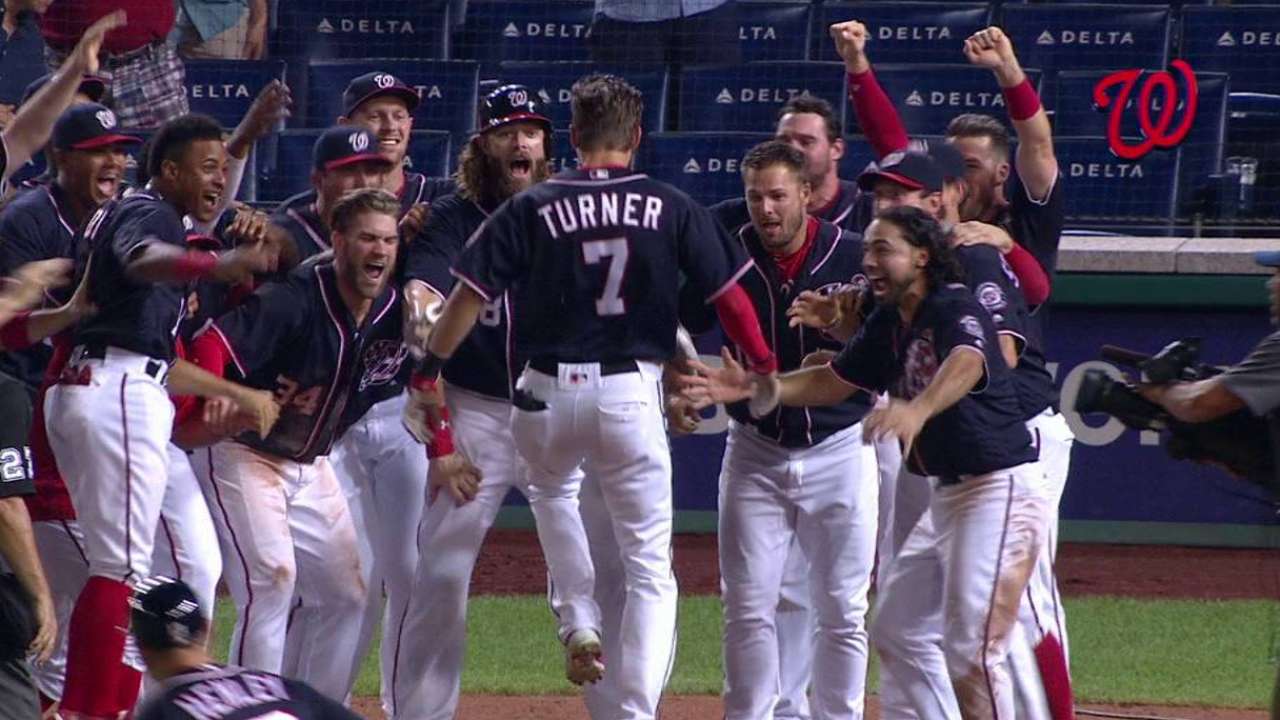 This was the first career multi-homer game for Turner, who is listed at 185 pounds, with a frame so slender that his manager, Dusty Baker, made a mark about slapping Turner on the backside a few weeks ago and feeling nothing but bone.
And yet, Turner has shown sneaky displays of power during his short time with the Nationals.
He now has eight homers in the Majors this season in 52 games, two more than he hit in 83 games with Triple-A Syracuse this year. In 2015, he hit eight homers in 116 games between Double and Triple-A. According to Statcast™, Turner also has hit more homers this season measured at least 440 feet than the Cubs' Anthony Rizzo and the same amount as Boston's David Ortiz.
"You guys are going to be way more surprised than I am because I know what I've done over the course of the last however many years," Turner said. "I'm not a power lifter or anything like that, but I feel like I'm stronger than I look. It's a matter of mechanics at the plate. I think the strength is there, it's just a matter of making your swing better and squaring up the ball."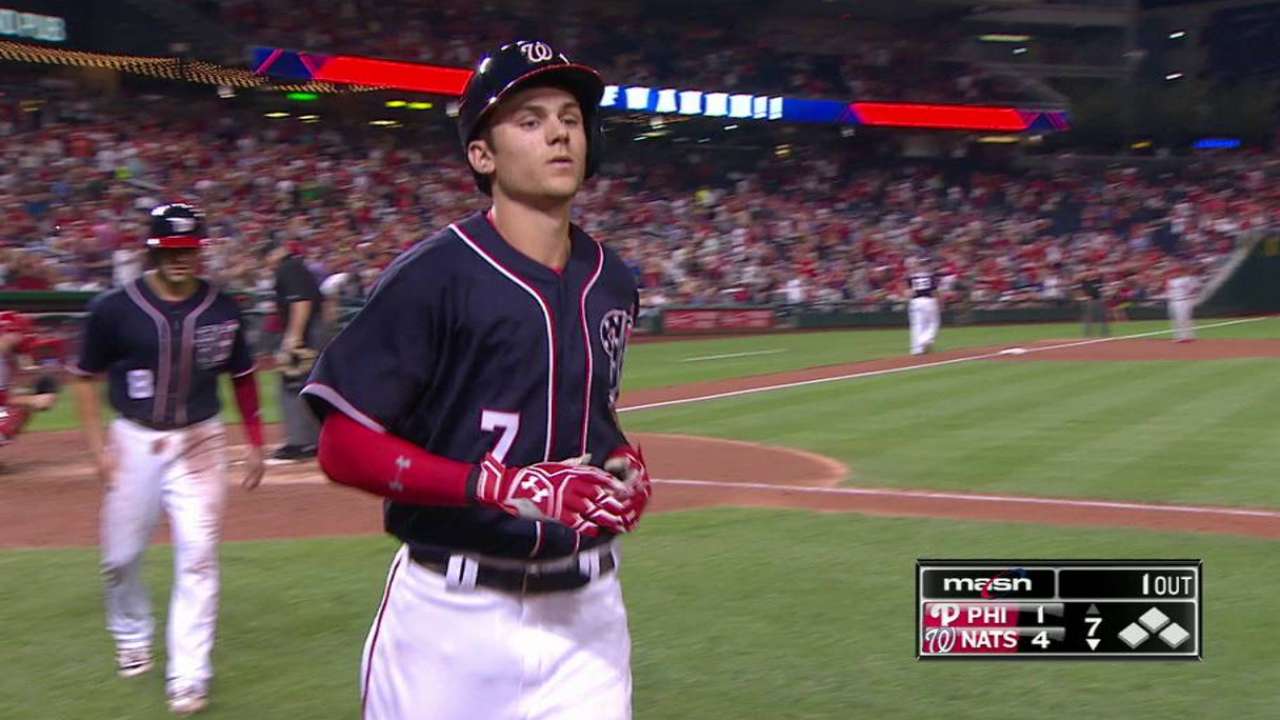 Since becoming the Nationals' regular leadoff man and center fielder just after the All-Star break, Turner has been perhaps their most dynamic offensive player. In 52 games, he is hitting .345/.365/.561 with eight homers, 39 runs scored and 21 stolen bases.
"He's a gamer and he's a fighter," right-hander Tanner Roark said. "And he's perfect."
"The sky's the limit," Baker said. "He's probably doing some things that even amaze himself."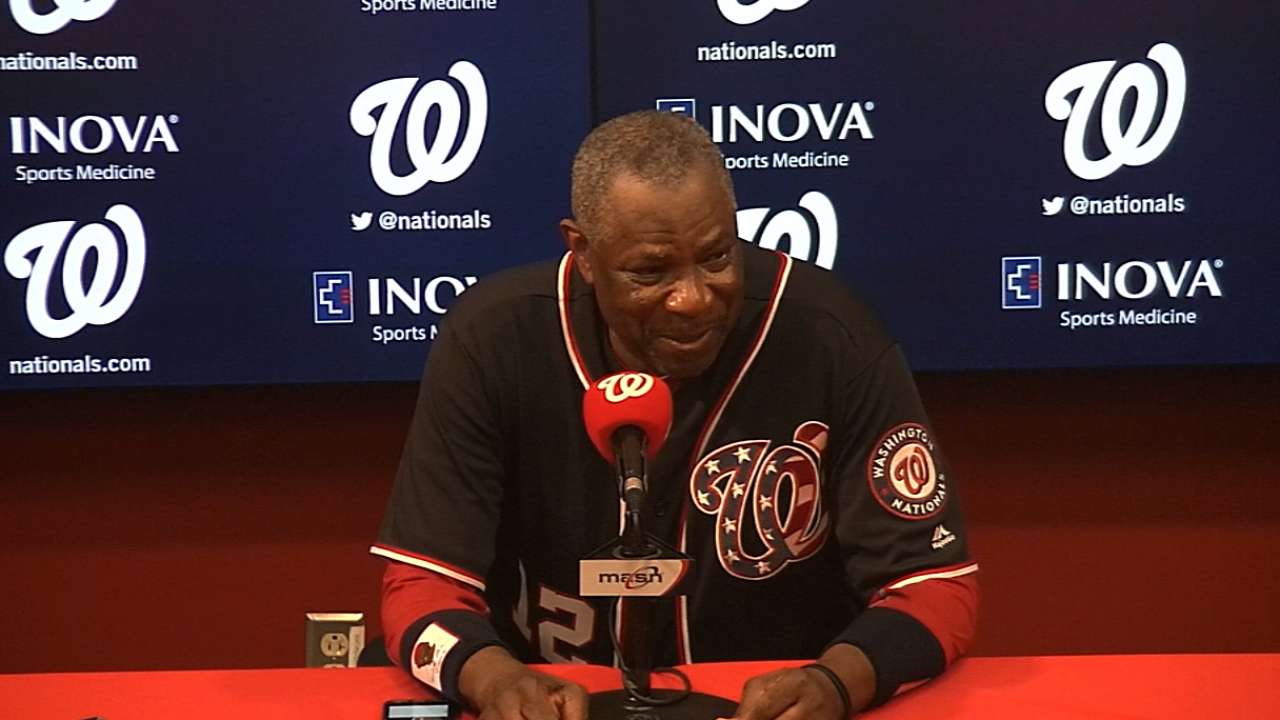 Turner could quickly recall the only other time he had ever had a walk-off hit in his baseball career, when he was 9- or 10-years old. He hit a bouncing ball through the hole at shortstop to score the winning run from third and remembers bouncing up-and-down at first base.
"This one's a little bit better," Turner said with a smile.
Jamal Collier covers the Nationals for MLB.com. Follow him on Twitter at @jamalcollier. This story was not subject to the approval of Major League Baseball or its clubs.