HP umpire Knight exits after taking pitch off mask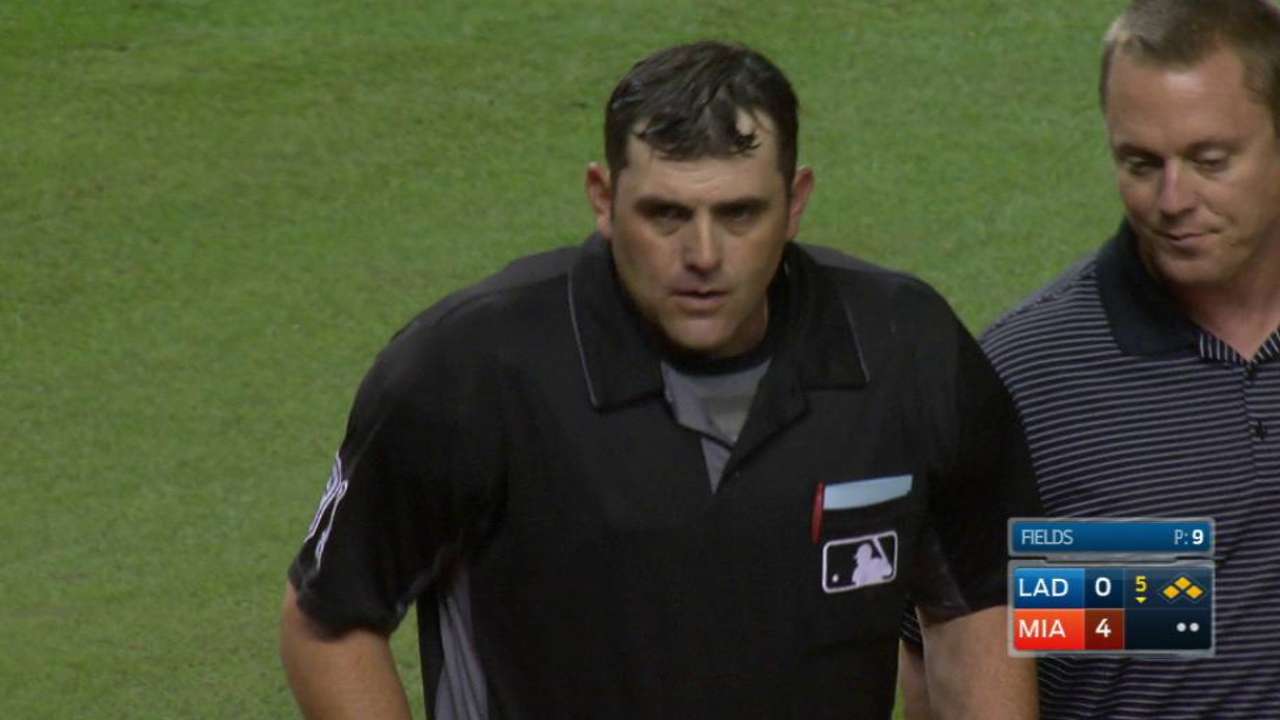 MIAMI -- A fastball that got away from Dodgers reliever Josh Fields in the fifth inning of Friday's 4-1 win for the Marlins caused a scary moment as the pitch struck pinch-hitter Ichiro Suzuki high on his right shoulder and deflected off the facemask of home-plate umpire Brian Knight.
The impact of the redirect dazed Knight, who walked off the field amid a nine-minute delay. Crew chief Bill Miller, who was at second base, took over behind the plate at Marlins Park.
The Marlins loaded the bases in the fifth inning, and Ichiro pinch-hit for Jeff Francoeur. Fields, the third Dodgers reliever used in the inning, got ahead in the count, 1-2, but his 95-mph fastball ran up and in and caught Ichiro's arm, before deflecting off Knight's mask, in the chin area.
Ichiro took first base and was credited with an RBI that put Miami ahead, 4-0. Knight was immediately tended to by his fellow umpires, as well as Marlins trainer Dustin Luepker. After a few seconds, he walked off the field.
The rest of the game was handled by three umpires.
"It seemed like Brian got hit earlier in the game, too," Marlins manager Don Mattingly said. "He got hit a little early, and honestly, looked a little dazed that time. That one, they were quick with it. It was the right thing to do."
Joe Frisaro has covered the Marlins for MLB.com since 2002. He writes a blog, called The Fish Pond. Follow him on Twitter @JoeFrisaro and listen to his podcast. This story was not subject to the approval of Major League Baseball or its clubs.