Chisenhall acknowledges foul on 'wild pitch'
Indians benefit from missed call in victory over Astros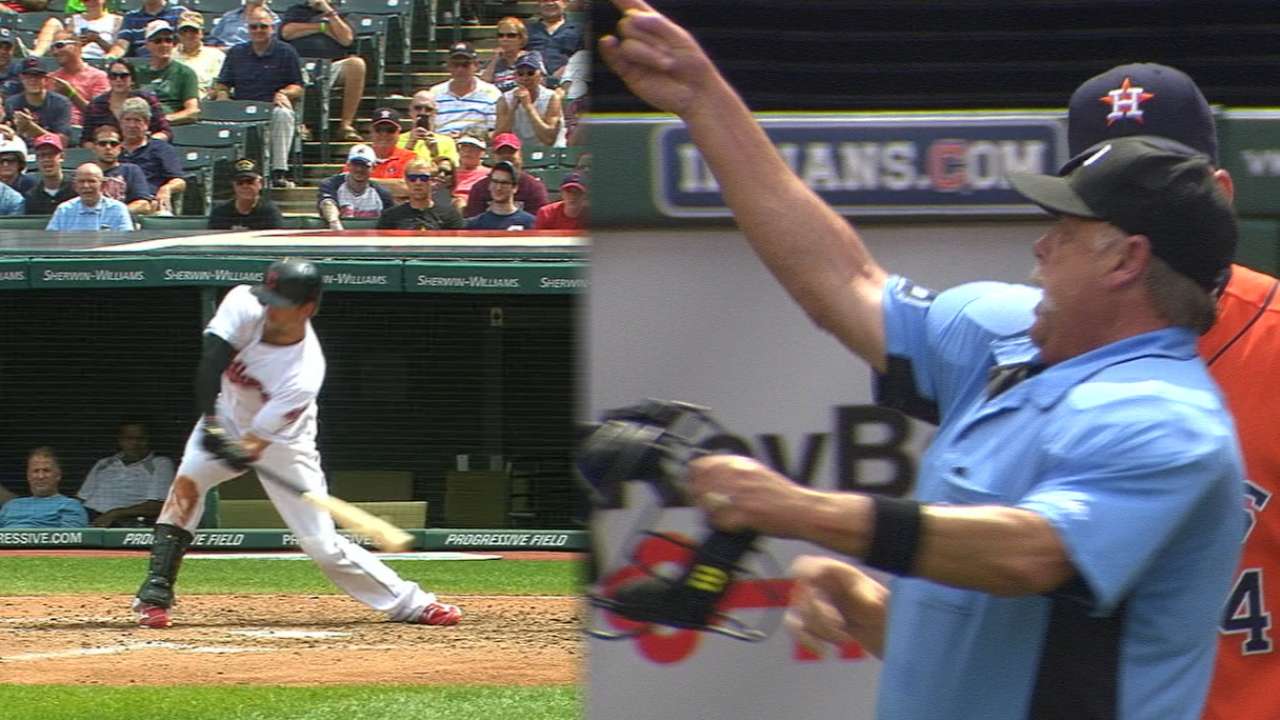 MINNEAPOLIS -- Lonnie Chisenhall knew the question was coming, and the Indians outfielder allowed himself to smirk ever so slightly when asked on Friday afternoon. Did he foul off that pitch from Astros pitcher David Paulino in Thursday's game?
"The video says yes," Chisenhall replied.
Chisenhall was referring to the bounced curveball from Paulino that led to a controversial call that helped Cleveland pull off a 10-7 victory over Houston. With the bases loaded and two outs in the third inning, Chisenhall tried to check his swing, but nicked the ball on what was ruled a wild pitch by home-plate umpire Jim Joyce.
Some chaos ensued in the immediate wake of Joyce's call. Houston catcher Jason Castro stood up and argued with the umpire, while the baseball skipped away into foul ground. Chisenhall stepped out of the batter's box and became a spectator, as Francisco Lindor, Mike Napoli and Jose Ramirez crossed the plate one after the other.
Due to Joyce calling time before Ramirez scored, only two of the runs counted.
One day after that play, Indians catcher Chris Gimenez summed up the team's thoughts on the play.
"There was a lot of things going wrong that ended up going right for us," Gimenez said. "Honestly, ultimately, everybody just wants the call to be right. Umpires and players included. They want it to be right. And one thing I do think replay has done is it's really proven how good these guys really are in a sense. A lot of times, they are right."
In this case, replays showed that Joyce and the umpiring crew got it wrong.
Chisenhall said he "had an idea what happened," and the replay shows the baseball deflecting off his bat before bouncing away. Joyce convened with the other umpires, but none could clearly say whether the ball struck the bat. Under the circumstances, which include that type of judgment call not being reviewable, the ruling remained a wild pitch.
"There was a lot of movement," Chisenhall said. "With a check swing, a bounced curveball, I think Castro was dropping down to block it, too. There was a lot of movement and a lot of noises. On Castro's part, he was convinced as soon as it happened [that it was a foul ball]. That's why he didn't run after the ball, obviously.
"But, they got together and couldn't get it figured out. Unfortunately, it was kind of a video thing. You're not trying to cheat anybody or anything. You just want the call to be right."
Indians manager Terry Francona said he expected that Major League Baseball would examine the play and potentially consider it for the future.
"I do think MLB does a really good job," Francona said. "My guess is at some point, more things are going to be reviewable. It probably should be. But, it's kind of in its infancy. It's only in its third year. They did say that there would be some growing pains, and they've tried to make adjustments as they've gone. They're pretty good about that."
Chisenhall said his role during the play was simple.
"It's my job to play," he said, "and their job to figure the rest out."
Jordan Bastian has covered the Indians for MLB.com since 2011, and previously covered the Blue Jays from 2006-10. Read his blog, Major League Bastian, follow him on Twitter @MLBastian and listen to his podcast. This story was not subject to the approval of Major League Baseball or its clubs.