Soria will receive extra time between outings
Yost said reliever has struggled pitching back-to-back games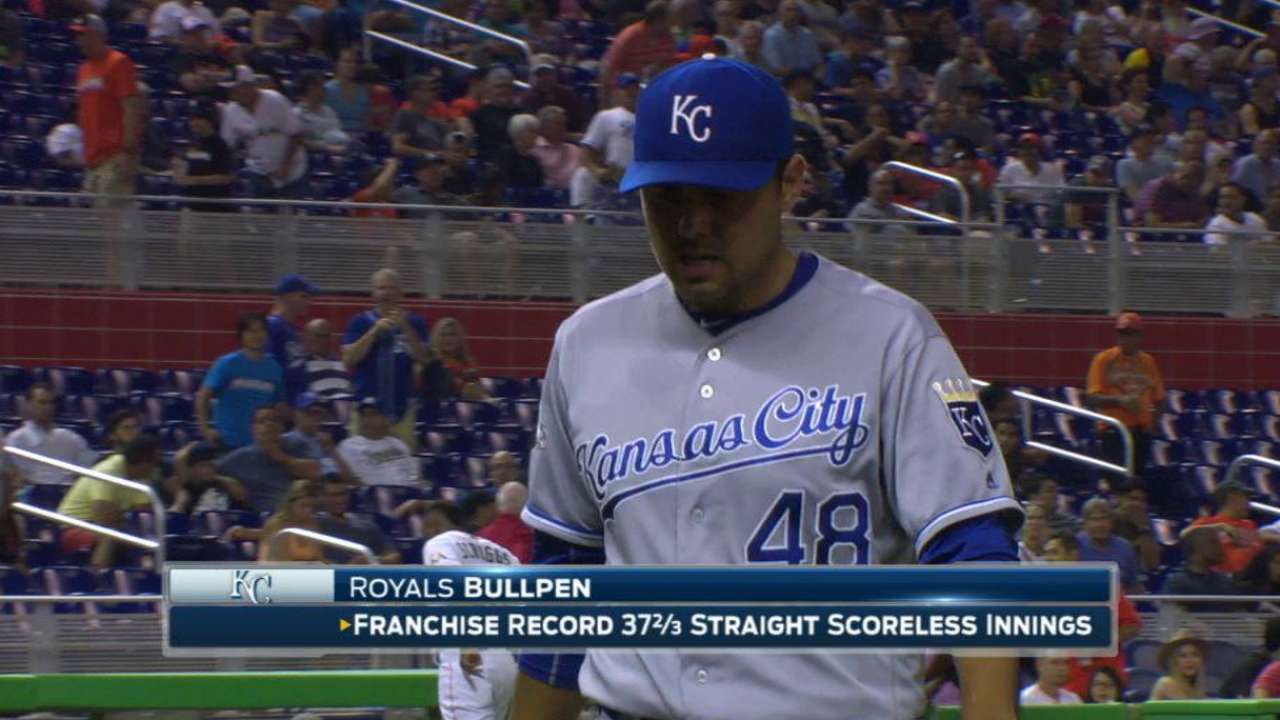 CHICAGO -- Royals manager Ned Yost spent his off-day on Thursday conferring with his coaching staff, trying to figure out what has been wrong with reliever Joakim Soria.
Soria took his eighth loss of the season (the franchise record for a reliever is nine) on Wednesday in Minnesota. It also was his third loss in eight games. He entered Friday having given up the go-ahead run 11 times when entering a game with the score tied or with the Royals ahead.
But Yost believes he has identified part of the problem.
"I think I've overused him," Yost said. "If you look at his numbers, specifically two days' rest, he's really good."
Soria's overall ERA is 4.13. His ERA on zero and one days' rest is 4.45 combined.
But on two or three days' rest, Soria's ERA is 0.98 combined.
"One day, he goes right through the heart of Detroit's order -- boom, boom, boom," Yost said of last weekend's Tigers series. "The next day, he gives up the homer to the same part of the order. Same thing against the Twins this week.
"I think his command gets a little off with too much use. His fastball is still good and the velocity is the same. Command gets a little more off."
Of course, there have been times Yost hasn't had any viable options but to use Soria in back-to-back games.
"The problem [Wednesday] night was that the Twins lineup he went to face was screaming for a right-handed pitcher," Yost said. "I had [rookies Brooks] Pounders and (Brandon) McCarthy but I haven't seen them enough. You don't know what you're going to get."
The Royals desperately need to find a solution to the Soria issue, not just for this season but for the next two seasons. Soria signed a three-year, $25 million deal last December.
"I'm just going to have to do a better job of managing him," Yost said. "Can't use him back-to-back especially. Will just have to mix and match."
Jeffrey Flanagan has covered the Royals since 1991, and for MLB.com since 2015. Follow him on Twitter @FlannyMLB. This story was not subject to the approval of Major League Baseball or its clubs.