Baserunners getting best of Cards this season
Molina only partially to blame, despite career high for steals allowed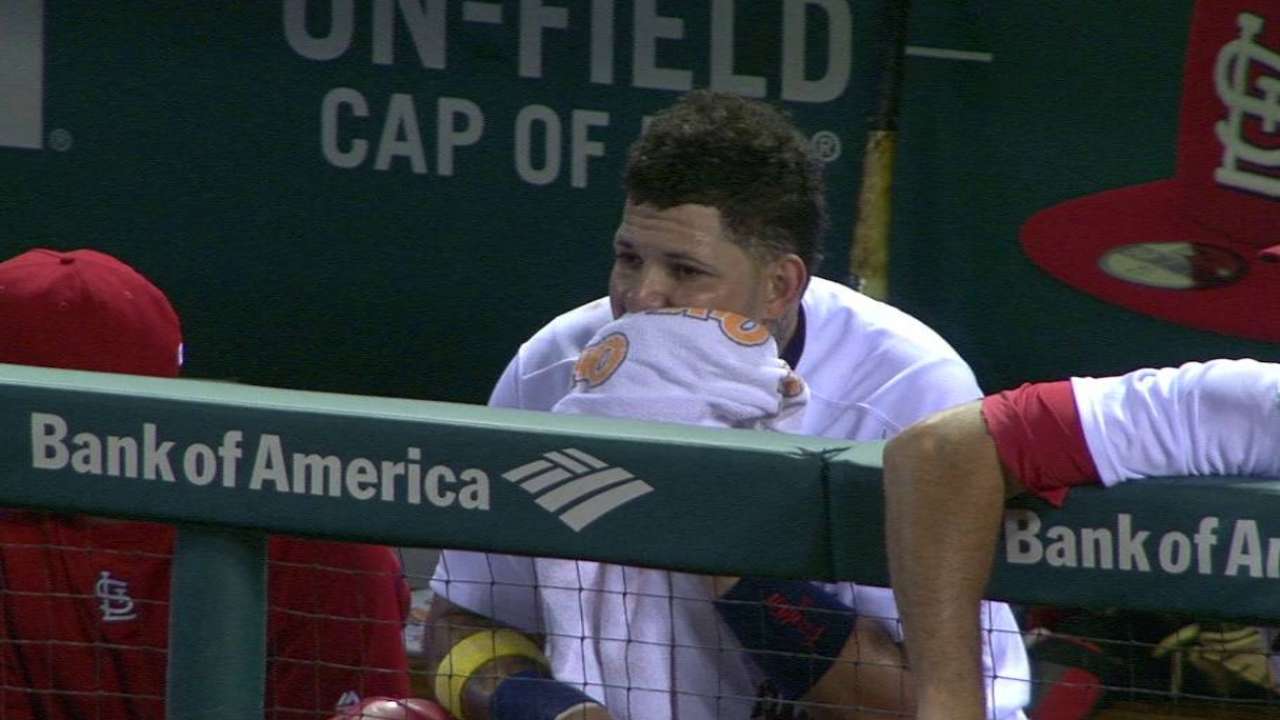 ST. LOUIS -- The fact that the Cardinals rank 29th with 32 stolen bases this year is of little surprise given their personnel. What has been much more unexpected, however, is how often teams have been running against them.
With the Brewers' three stolen bases in a 12-5 win on Thursday, the Cardinals have now allowed 69 on the season. It's a figure that sits slightly below league average, but one much higher than their norm.
Since catcher Yadier Molina debuted in 2004, the Cardinals have never allowed more than 64 in a season. Fifty-one of this year's 69 steals have come with Molina behind the plate. That total, as well as opponents' 79.7-percent success rate off him, are career highs for the veteran backstop. Over his career, Molina averaged one stolen base allowed every four games. This year, it's every 2.5.
However, the Cardinals' troubles controlling the running game hardly rest on Molina's shoulders. According to data compiled by Statcast™, Molina's pop time -- defined as the time elapsed from the moment the pitch hits the catcher's mitt to the moment the intended fielder receives the throw -- is the same as it was last year (1.92 seconds), when he allowed 37 stolen bases and ranked third in the National League with a caught-stealing percentage of 41. That pop time ranks seventh best among all catchers in 2016.
The dip in Molina's average arm strength on steal attempts -- 80.51 mph to 79.85 mph -- isn't enough to alone explain the increase in attempts. There is great responsibility on the pitching staff, too.
"I think we're just having some slower times [to home plate] from time to time," manager Mike Matheny said. "I think the same amount of attention has been paid to [holding runners on], but guys are slower for some reason [and have] been predictable for another reason."
Starters Mike Leake and Jaime Garcia have been most susceptible to the stolen base. Leake has allowed a career-high 13, while Garcia has given up 11.
Matheny said his staff will continue to preach ways to better control those attempts, be it by incorporating slide steps, being quicker to home plate or varying delivery times more frequently.
Worth noting
• Trevor Rosenthal (right shoulder inflammation) is scheduled to face hitters Saturday afternoon during a live batting practice session. It could be Rosenthal's final exercise before being activated from the disabled list.
• Michael Wacha (right shoulder stress) threw his second bullpen session of the week Friday. Matheny later described it as "pretty high intensity." After a day or two of rest, Wacha will next face hitters in live BP.
• Aledmys Diaz, who played shortstop for Double-A Springfield on Wednesday, was scheduled to do so again in Game 3 of Springfield's Texas League postseason series Friday. Matheny was noncommittal when asked if Diaz, who has been on the DL since Aug. 1 with a fractured right thumb, would return to St. Louis on Saturday. If not Saturday, that return should be within a few days.
Jenifer Langosch has covered the Cardinals for MLB.com since 2012, and previously covered the Pirates from 2007-11. Read her blog, follow her on Twitter, like her Facebook page and listen to her podcast. This story was not subject to the approval of Major League Baseball or its clubs.