Marlins experimenting with Yelich in center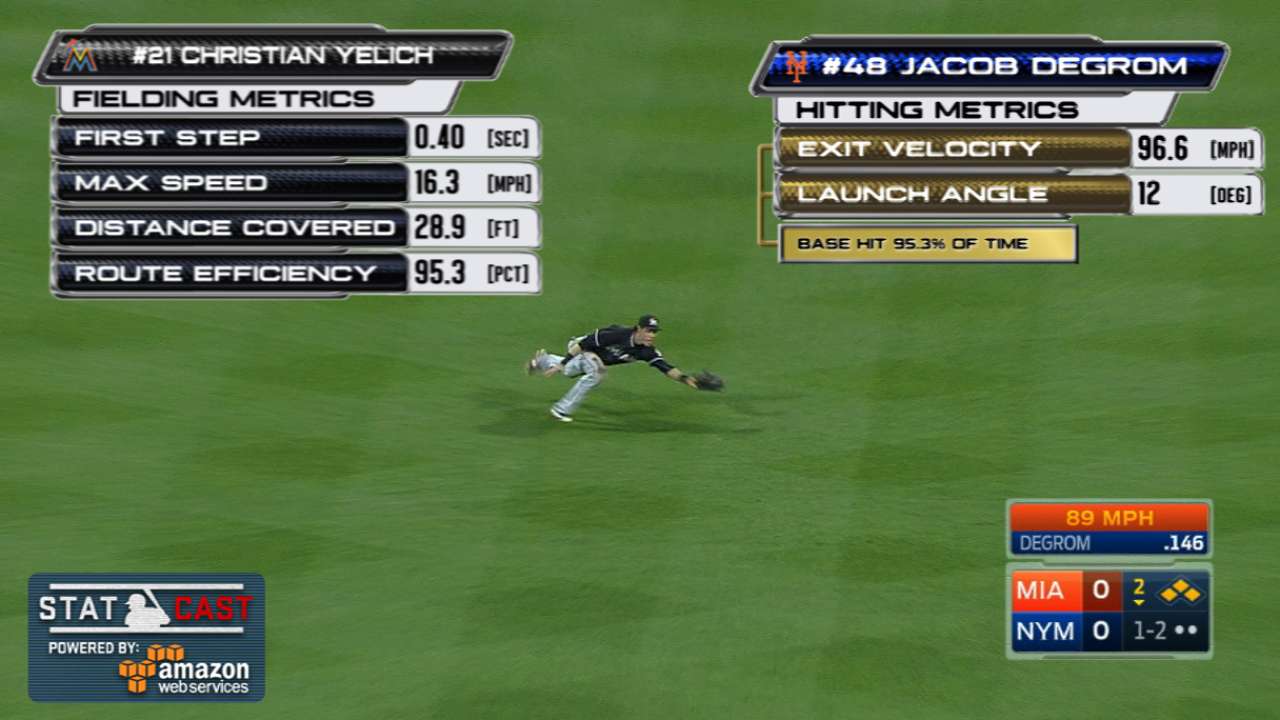 MIAMI -- Moving from left field to center will be a seamless transition for Christian Yelich. The 24-year-old saw substantial action at the position in the Minor Leagues, and he is agreeable to sliding over to a new position for the remainder of the season and beyond.
Marlins manager Don Mattingly said the club had considered moving Yelich to center field in Spring Training, but it opted instead to keep him in left with Marcell Ozuna in center.
As much as the Marlins are trying to climb back into National League Wild Card contention, they are also evaluating where players may fit in 2017. So they are testing some alignments in the outfield.
"The biggest thing we've seen about Yelly is the closing speed," Mattingly said. "It's been in discussion since last winter, which direction to go with that. It was hard for any of us to say because we didn't really see a whole lot of it."
When right fielder Giancarlo Stanton sustained his Grade 3 left groin strain on Aug. 13, the Marlins then experimented with Ozuna playing right and Ichiro Suzuki in center. Eventually, Yelich went from left to center, and the organization feels that may be the best combination, even when Stanton is cleared to return.
In 2014, Yelich was the NL Gold Glove Award-winning left fielder, but he is comfortable playing center.
"It doesn't matter to me," Yelich said. "Whatever helps us the most is what I want to do. Right now, that's playing center field. Wherever that kind of unfolds in the future is up to them, but I'm comfortable in center, left."
In Friday's series opener with the Dodgers, Yelich made his 11th appearance in center field. In his career, he has played 64 big league games in center.
When Yelich was at Class A Advanced Jupiter in 2012, he played 103 games in center.
"I told Donnie I feel comfortable in both spots," Yelich said. "The decision is up to him."
Mattingly approached Yelich about playing center when the team was in Cincinnati last month, which was the series after Stanton was injured.
Marlins Park has a big outfield, and the organization feels Yelich's speed makes him a better fit in center, with Ozuna in either right or left.
"You've got a lot of ground to cover here," Yelich said. "You've got a lot of ground to cover in left and right here. The ball comes at you at little different angles."
Yelich's speed in center was displayed on Wednesday on the final out of Miami's 6-0 win over the Phillies.
Andres Blanco hit a low liner which, according to Statcast™, was projected at 363 feet, with an exit velocity of 97 mph. But Yelich ran it down for the final out.
"That's just closing speed," Mattingly said. "This field is so big out there in the right-, left-center gaps. We really wanted to find the right guy for that position."
Joe Frisaro has covered the Marlins for MLB.com since 2002. He writes a blog, called The Fish Pond. Follow him on Twitter @JoeFrisaro and listen to his podcast. This story was not subject to the approval of Major League Baseball or its clubs.