Castellanos hopes to return by next weekend
Third baseman recovering from fractured left hand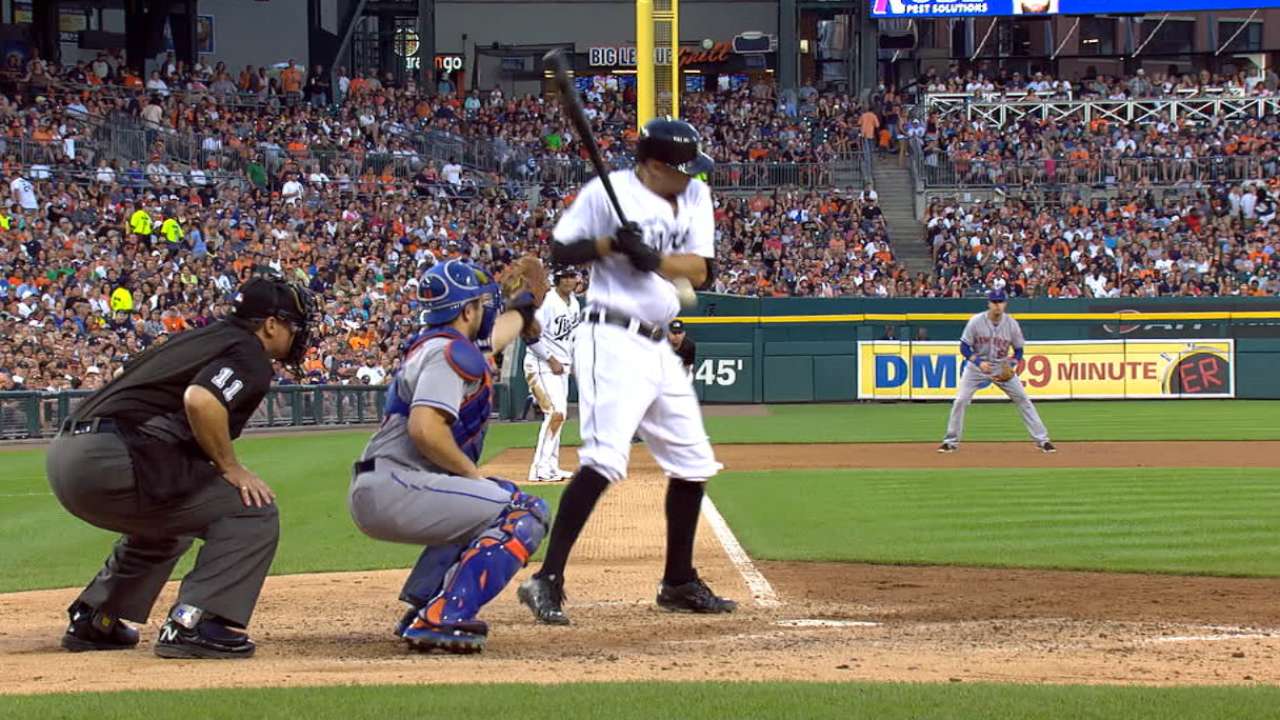 DETROIT -- Nick Castellanos senses the days dwindling on the regular-season schedule as he tries to work his way back from a fractured left hand. But he believes he can be back sooner rather than later.
Asked if he can use the Tigers' fall instructional league in Florida for a rehab assignment, the third baseman said he's aiming for earlier than that. Castellanos was injured when he was hit by a pitch in a game against the Mets on Aug. 6.
"My goal is to be back before the 18th," Castellanos said, noting the start of instructional league play.
Friday provided a good step in his way back. While Castellanos took ground balls at third base for a second day with defensive coordinator Matt Martin, he took batting practice off soft-toss pitches in the cage at Comerica Park for the first time since the injury.
"Today was the first day that I was hitting a moving baseball," he said.
Manager Brad Ausmus said they hope to progress Castellanos to full batting practice on the field with the team next week. From there, they have to figure out how to get them the kind of at-bats to prepare him for game-level pitching.
With Minor League regular seasons over, the only potential spot for a rehab assignment would be Class A West Michigan if the Whitecaps advance in the Midwest League playoffs. The uncertain nature of that makes it more realistic that the Tigers will at least plan on simulated games in Detroit instead.
"We'll see how it goes for a couple days [with batting practice] and then we'll probably have to set up a sim game of some type," Ausmus said.
All of this, of course, hinges on Castellanos' health. For now, his hand still bothers him at times, but it's a matter of tolerance.
"That's pretty much where it is right now," he said.
Jimenez named to Prospect Team of the Year
Tigers relief prospect Joe Jimenez, the club's fifth-ranked prospect, didn't earn a September callup for his rise up the farm system, but he picked up a big postseason honor when he was selected by MLBPipeline.com as the closer for its Prospect Team of the Year.
The team is selected annually by MLBPipeline.com staff. Players must spend at least half the season in the minors to be considered.
The 21-year-old Jimenez posted 30 saves in 55 appearances between Class A Advanced Lakeland, Double-A Erie and Triple-A Toledo. He allowed just 26 hits over 53 2/3 innings, walking 17 and striking out 78. The performance earned him consideration for a late-season call to the Majors, but the Tigers sent him to the instructional league to further work on his pitches in preparation for next year.
Jason Beck has covered the Tigers for MLB.com since 2002. Read Beck's Blog, follow him on Twitter @beckjason and listen to his podcast. This story was not subject to the approval of Major League Baseball or its clubs.