Verlander's foundation sponsors Veterans Day run
Race part of Fifth Third Bank Armed Forces Salute on Nov. 6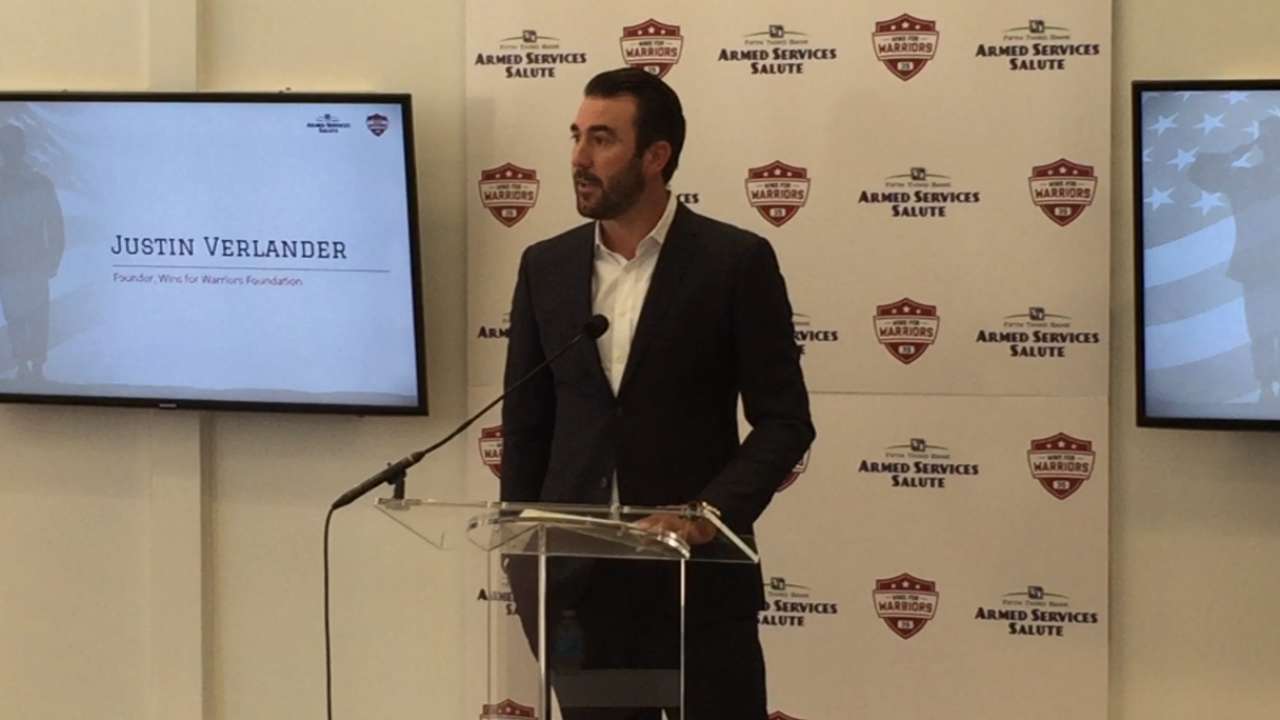 DETROIT -- Justin Verlander started his Wins for Warriors Foundation three years ago with his own money to help veterans adjust to life back home. Now his organization will be playing a big part in the city's Veterans Day festivities in November.
It's a long journey, which makes it appropriate that it'll be part of the 4Star 4Mile Race, inviting veteran and civilian runners to race to support Wins for Warriors and the Metro Detroit Veterans Coalition. The race is part of the Fifth Third Bank Armed Forces Salute on Sunday, Nov. 6, at Hart Plaza downtown, coinciding with Detroit's 11th annual Veterans Day Parade.
"Our goal is to empower servicemen and women, veterans and their families when they come home," Verlander said at a Friday afternoon press conference downtown. "We want to collaborate with local organizations. That's why I think this is such a great fit with this event downtown. I'm so excited about it, and I think it's going to be great to bring everybody into this resurgent city and experience what's going on and to help.
"Go downtown. Run. Run for a veteran in your family. Run to support veterans in general. Just come downtown to support, have fun. It's going to be a great day, and I'm so excited to have my charity be part of it with Fifth Third Bank and have this event here Nov. 6. I can't tell you how much it means to me to go from where I started to where we're at now, sitting here talking about this event and the partnerships. It means the world. Hopefully everybody comes to show their support. The more, the better."
Wins for Warriors began as a way for Verlander to honor returning veterans by having him enjoy a Tigers home game from his suite at Comerica Park. The hosting efforts started a conversation on how to help returning veterans in everyday life back home. So far, the foundation has given out more than $650,000 in grants to projects supporting the mental health and emotional well-being of veterans and their families in Michigan, as well as Verlander's home state of Virginia.
"In talking to some veterans, we found that there needs to be a more streamlined way to get help if you need it," Verlander said. "I think there are so many charities, thousands and thousands of veterans' charities out there right now, but it's kind of an overload if you go to get help. Everything's kind of thrown at you at once, and you don't really know where to go for what, or who to talk to exactly."
Friday's event brought together Verlander with Brigadier General David Bassett, who serves as program executive officer for the U.S. Army's Ground Combat Systems, based in nearby Warren. He said the efforts have helped charities that have long helped Vietnam War veterans connect with a new generation as well.
"I'm always grateful when somebody takes their celebrity and uses it to help others," he said, "and I think it's incredible that Justin's willing to give back to the community, in particular giving back to the veteran community in a city that has really embraced him.
"He's absolutely serious about it. I've met members of the Wins for Warriors team, had an opportunity to gauge the kinds of things they're doing. For me, it's about supporting all the veterans organizations here in the city of Detroit. We want to make sure that all of our soldiers are soldiers for life, whether they're in uniform or out of uniform. We want to make sure that we're helping them get access to the services that they need and the benefits that they're entitled to."
For more information on the foundation or events, log on to winsforwarriors.org or armedforcessalute.com.
Jason Beck has covered the Tigers for MLB.com since 2002. Read Beck's Blog, follow him on Twitter @beckjason and listen to his podcast. This story was not subject to the approval of Major League Baseball or its clubs.