Richards 2-3 weeks from throwing off mound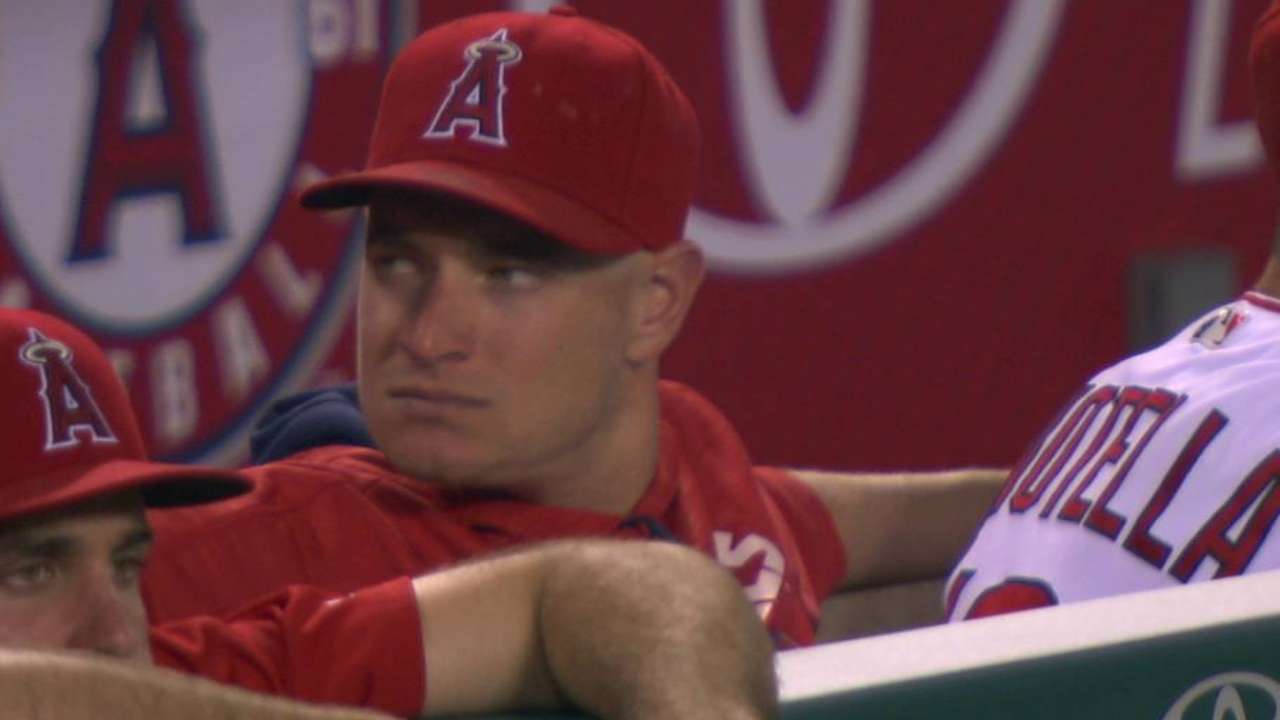 ANAHEIM -- Garrett Richards is on track to begin pitching off a mound within two or three weeks, Angels manager Mike Scioscia said on Friday. It's a positive development for Richards and the organization, as the right-hander has not thrown off a mound since he suffered a right elbow ligament injury in early May.
"I think Garrett's goal is to come into Spring Training knowing that he's 100 percent," Scioscia said before Friday's series opener against the Rangers.
Once he pitches off a mound, Richards and the Angels hope he can progress enough to pitch in the Instructional League at some point in October.
"I think that would be something that might give him a little more certainty as to where he is," Scioscia said. "We'll see how this process goes. We're very excited any time he's going to get off a mound."
Shoemaker to visit Angels soon
The Angels also had a positive update on pitcher Matt Shoemaker, who has returned home from the Seattle hospital where he underwent emergency surgery after being struck in the head by a line drive on Sunday. Shoemaker returned home on Wednesday and is said to be resting comfortably. He's planning to visit the Angels during their 10-game homestand, which began on Friday.
"Everything seems to be going in the right direction," Scioscia said. "We're happy about that for sure."
Tropeano drops in on teammates
Another injured pitcher, Nick Tropeano, was back in the Angels' clubhouse for the first time since undergoing Tommy John surgery in August. Tropeano received a warm welcome from his teammates. He's out until 2018, but Scioscia said being around the team is mentally beneficial in the rehabilitation process.
"When you get back and around the guys, there's a sense of normalcy to your life," Scioscia said. "This is where you want to be, where you were. He definitely understands the process. He knows he's got to put aside any thoughts of what's happening right now and what's happening in 2017 and just focus on what it's going to be like in the spring of 2018. That's what unfortunately this injury brings with it. He has perspective on that."
Worth noting
• The Angels are not sure when reliever Cory Rasmus (right groin strain) will return to Major League action. Rasmus began a Minor League rehab assignment on Thursday with rookie-level Orem, pitching a 1-2-3 inning. Scioscia said the right-hander would need one or two more rehab outings before the Angels decide if he's ready to be activated from the 60-day disabled list. Rasmus has been sidelined since June 13. Orem's season ends Sunday.
"It's contingent on the outings," Scioscia said of Rasmus' timetable. "He's got one or two more outings, depending on how it goes there. He needs the work right now. He's feeling physically a little better, but he needs to pitch and see where he is."
• Catcher Geovany Soto (right knee inflammation) ran the bases on Friday and will do defensive drills on Saturday, Scioscia said. Soto has been on the shelf since Aug. 15, and with Minor League seasons ending this weekend, it's unlikely he could play in rehab games before being activated from the 15-day DL.
"He feels much better, which is a good sign in itself," Scioscia said. "We'll work him out and make sure he's healthy, first of all, and then we'll take things one step at a time."
• Angels Minor League outfielder Cam Williams has received a 56-game suspension without pay after a violation of the Minor League Drug Prevention and Treatment Program, The Office of the Commissioner of Baseball announced on Friday. Williams, on the roster of the rookie-level Arizona League Angels, tested positive for a metabolite of Nandrolone, a performance-enhancing substance. The suspension will be effective at the start of the 2017 season.
Austin Laymance is a reporter for MLB.com based in Los Angeles. This story was not subject to the approval of Major League Baseball or its clubs.