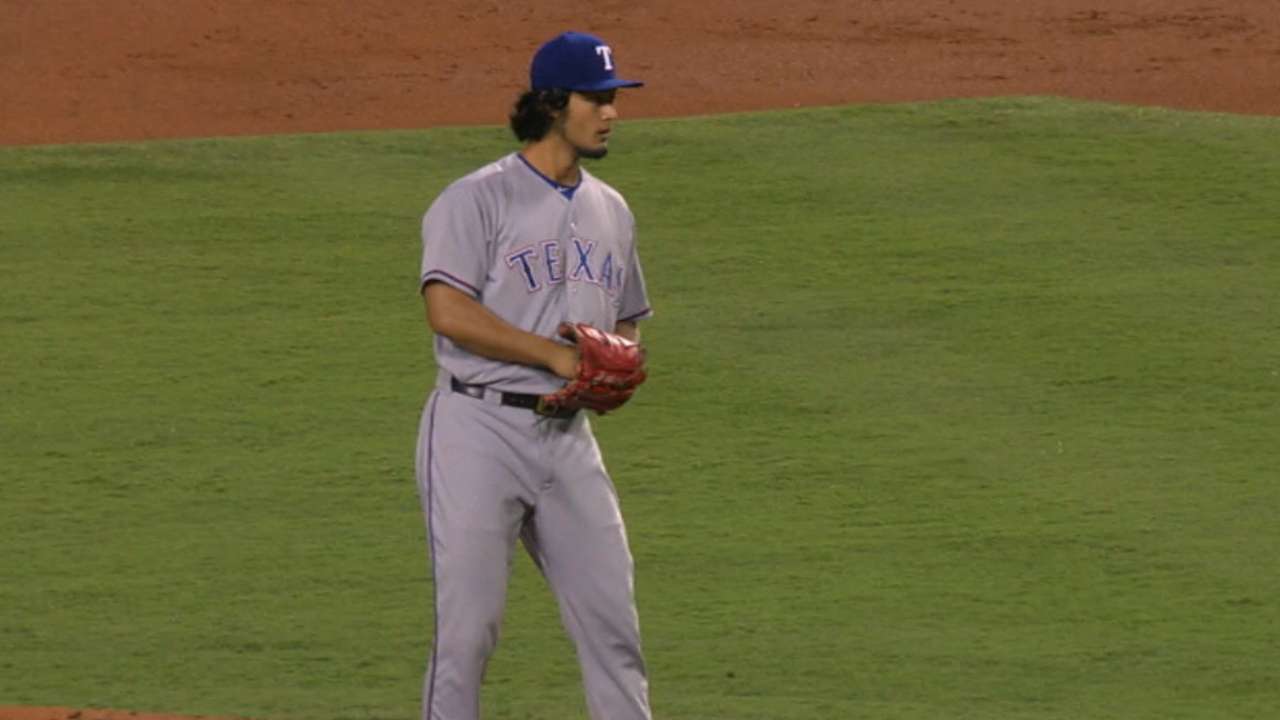 ANAHEIM -- It was all about the slider on Friday night at Angel Stadium.
After a shaky start against Houston five days earlier, Rangers right-hander Yu Darvish made some mechanical adjustments in order to better establish his most effective out pitch. The result was three hits, one earned run and nine strikeouts in the Rangers' 2-1 win over the Angels in the series opener.
"Some really, really good sliders today," catcher Jonathan Lucroy said. "That's his wipeout pitch. That's his really good pitch. It breaks really big. He throws it hard, but he can take a little bit off of it and throw it for a strike when he wants to. When you establish that really high in the count and use it in conjunction with his fastball, it creates a pretty good deception."
The fastball Lucroy mentioned worked especially well, too. Just ask Mike Trout, who struck out twice against Darvish, the second time on a 97-mph high fastball.
"He's one of the best hitters," Darvish said. "I strike him out, but I also give up a lot of home runs to him. So I enjoy facing him."
Darvish said he threw the book at Trout, using every pitch in his arsenal, but the righty kept going back to the slider with the rest of the lineup.
"I was just trying to get it back to where it was," Darvish said. "Before the game, it was at maybe 80 percent. But during the game, I got it back to 100 percent."
The feel for his slider had eluded him in his last three starts, but none moreso than the last, when he gave up a season-high four earned runs.
Darvish said he made big adjustments in his elbows and his steps, but pitching coach Doug Brocail said it was more about the work he put in. Throughout the week, Darvish has been diligently repeating his pitching motion and meticulously making sure his arm was in the right slot, determined to get the feel back for the pitch.
"I think he was a little bit mad after that last start," Brocail said. "Tonight, I think it showed the hard work he had put in. He went out and produced exactly what he wanted."
The results were evident. The pitch mix was effective, but most effective when the slider played a staring role.
"The slider was in play, but more than anything else he was able to use the up-to-down, front-to-back game with the fastball," Rangers manager Jeff Banister said. "He was hitting all four quadrants of the strike zone and kept all the hitters off balance. I can't say enough about the slider."
Abbey Mastracco is a contributor to MLB.com based in Anaheim. This story was not subject to the approval of Major League Baseball or its clubs.