Banister confident Diekman will work out struggles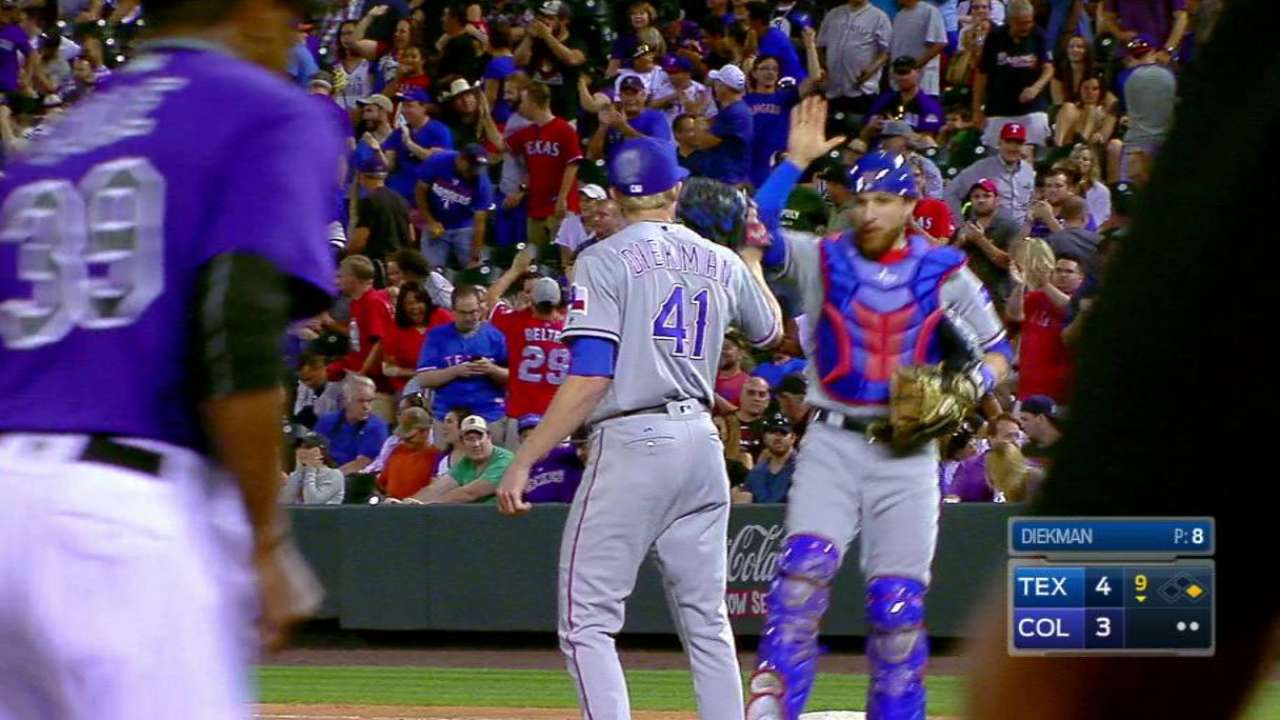 ANAHEIM -- The answer to lefty reliever Jake Diekman's struggles isn't time off, Rangers manager Jeff Banister insists, it's trust.
Diekman has had four straight rough outings, his worst stretch of the season. After failing to retire a batter in his last three appearances heading into Thursday's matchup in Seattle, the left-hander was called on in the seventh and was tagged for two earned runs in one inning. For an unconventional pitcher with an unconventional delivery, it's easy for the zone to shrink.
"There's a little bit of a sight-line issue," Banister said. "Across his body, there's a very narrow window to throw into for himself. I think that's a very fixable situation for him. It's about going ahead and trusting his stuff, letting the ball go. It's the same stuff, it just feels like he's just trying to get a ball in the area that, right now, just looks narrow to him."
It would be easy to tinker with bullpen roles while the roster is expanded this month, but that's not something Banister wants to do. Diekman, Banister said, is a key part of the bullpen, and he's confident in his ability to work through a slump.
Banister doesn't foresee giving Diekman a break to work through his troubles.
"We've got 21 games to go. This is not about unplugging," Banister said. "Relievers and starters, they are built to be able to make mental and mechanical adjustments along the way."
Rangers beat
• Rangers infielder Xavier Turner received a 50-game suspension Friday for a violation of the Minor League Drug Prevention and Treatment Program. Turner, 23, tested positive for a drug of abuse for a second time. Currently on the roster of the Class A Hickory Crawdads of the South Atlantic League, Turner will serve his suspension at the start of the 2017 season.
As a third baseman, first baseman and designated hitter, Turner played most of the 2016 season for the short-season Class A Spokane Indians of the Northwest League, hitting .340 with 16 RBIs and two home runs. Turner played five games in the South Atlantic League, hitting .214 with two home runs.
• Outfielder Shin-Soo Choo made the road trip with the team and was able to hit on Friday. Choo has missed the last 21 games with a broken left forearm.
Abbey Mastracco is a contributor to MLB.com based in Anaheim. This story was not subject to the approval of Major League Baseball or its clubs.