Porcello first in Majors to 20 victories
Righty has gone seven-plus frames in 9 straight starts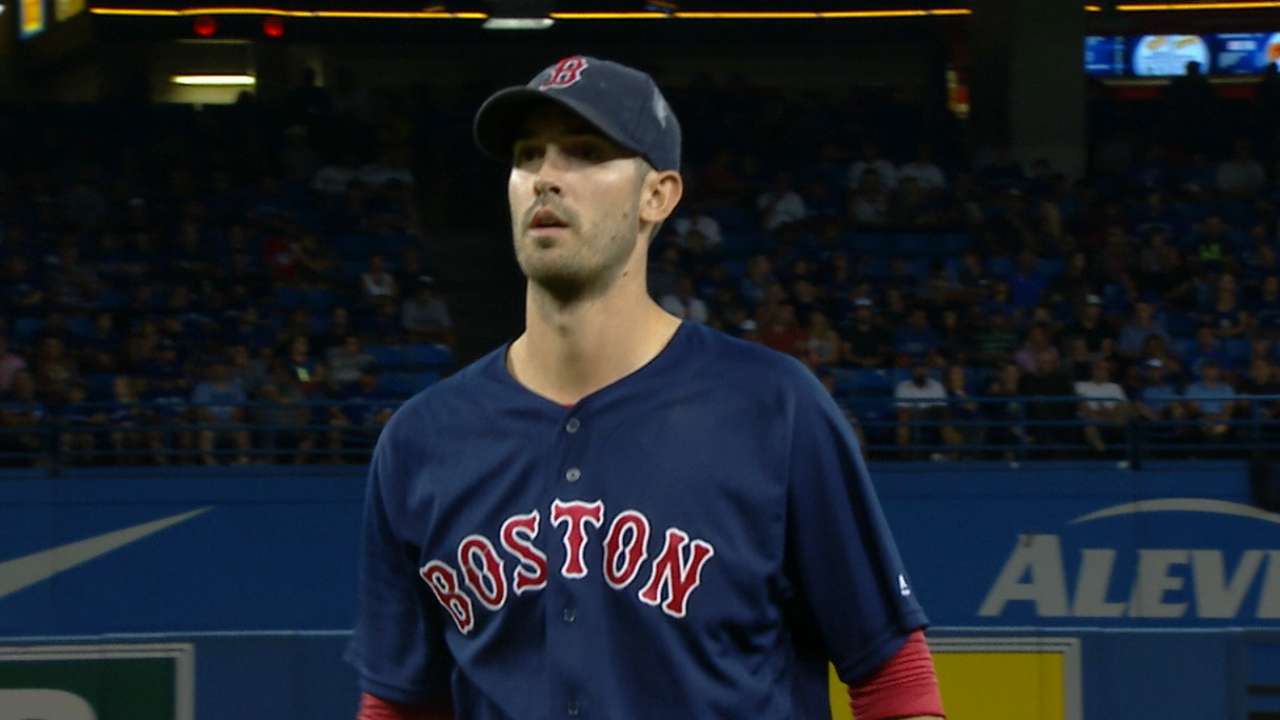 TORONTO -- Rick Porcello had just won his 20th game, a marvelous accomplishment for any pitcher, let alone one who had never had more than 15 victories in a season.
But there were some other numbers attached to the milestone that better display not only the season Porcello is having, but how much he can impact the Red Sox down the stretch.
While leading the Red Sox to a 13-3 win over the Blue Jays on Friday night, Porcello (20-3, 3.21 ERA) went seven innings while allowing two runs.
That made it nine straight starts of seven-plus innings and three earned runs or fewer for Porcello, who is 7-1 with a 2.53 ERA over that run that has vaulted Boston to a two-game lead over Toronto in the American League East.
It is by far the longest such streak in the Majors this season. Clayton Kershaw and Max Scherzer have come the closest, going at least seven frames while giving up three earned runs or fewer six straight times.
The last Red Sox pitcher to record the feat was Hall of Famer Pedro Martinez, who did it in 11 straight starts in 2000, when he was at his peak as a pitcher.
"That's what I'm trying to do, to pitch deep in the games and be consistent," said Porcello. "I think the biggest thing is throwing strikes. With our offense, if I can pitch deep into games and keep the score reasonable, we're going to win a lot of ballgames."
It is the 12th time this season the Red Sox have scored eight or more runs in a Porcello start. Perhaps this has something to do with his pinpoint control, which keeps teammates in the flow of the game. In this one, Porcello walked one and struck out seven.
"He keeps rolling along and we played with a lot of confidence," said Red Sox manager John Farrell. "We've scored a lot of runs when he's been on the mound, and I don't think that is just happenstance. I think our guys are generally confident when he takes the mound. And he keeps every ballgame of late under control."
In the clubhouse after the game, it was easy to sense the excitement the Red Sox had for Porcello's accomplishment. President of baseball operations Dave Dombrowski stopped Porcello just before he was about to speak to the media to express his congratulations. Third-base coach Brian Butterfield extended his hand to Porcello in mid-interview.
There is an appreciation not only for what Porcello has accomplished, but the way he goes about it. Perhaps this is also because the Red Sox saw how much he struggled in the first few months of 2015, leaving Rogers Centre with a 6.08 ERA after getting shelled in a July start.
Friday was a much happier occasion in Toronto.
"For him to have the year he's having is special. He's the best pitcher in the American League right now," said Red Sox third baseman Travis Shaw. "He should be in the Cy Young conversation."
Porcello watched former teammates Justin Verlander and Scherzer win 20 games in Detroit, but now it's his turn.
"Yeah, who doesn't [want to win 20]? I mean, for sure," said Porcello. "It's hard to do. There are a lot of variables and it's definitely a huge honor."
Porcello will put all his focus into his next start as early as Saturday, but he allowed himself some time for reflection on Friday night.
"Yeah, I've got to call my parents," Porcello said. "That's first and foremost. I have a bunch of text messages, so I'm looking forward to talking to everybody."
Porcello's 20-win season is the first by a Red Sox pitcher since Josh Beckett in 2007. That season ended with a parade in Boston, which is what Porcello and his teammates would love to be a part of.
Going into Toronto and winning in front of a packed house of 46,953 on Friday night was a good kickoff for a run in which Boston will play all but three of its remaining games against the Blue Jays, Orioles and Yankees.
"Any time you have big-time wins like that playing a good team in Toronto on the road, it's huge," said Jackie Bradley Jr. "Rick was masterful. He came up really big for us. I'm definitely excited for him."
Ian Browne has covered the Red Sox for MLB.com since 2002. Follow him on Twitter @IanMBrowne and Facebook. This story was not subject to the approval of Major League Baseball or its clubs.