Hanley getting hot at perfect time
Slugger belts three-run homer, closing in on 100 RBIs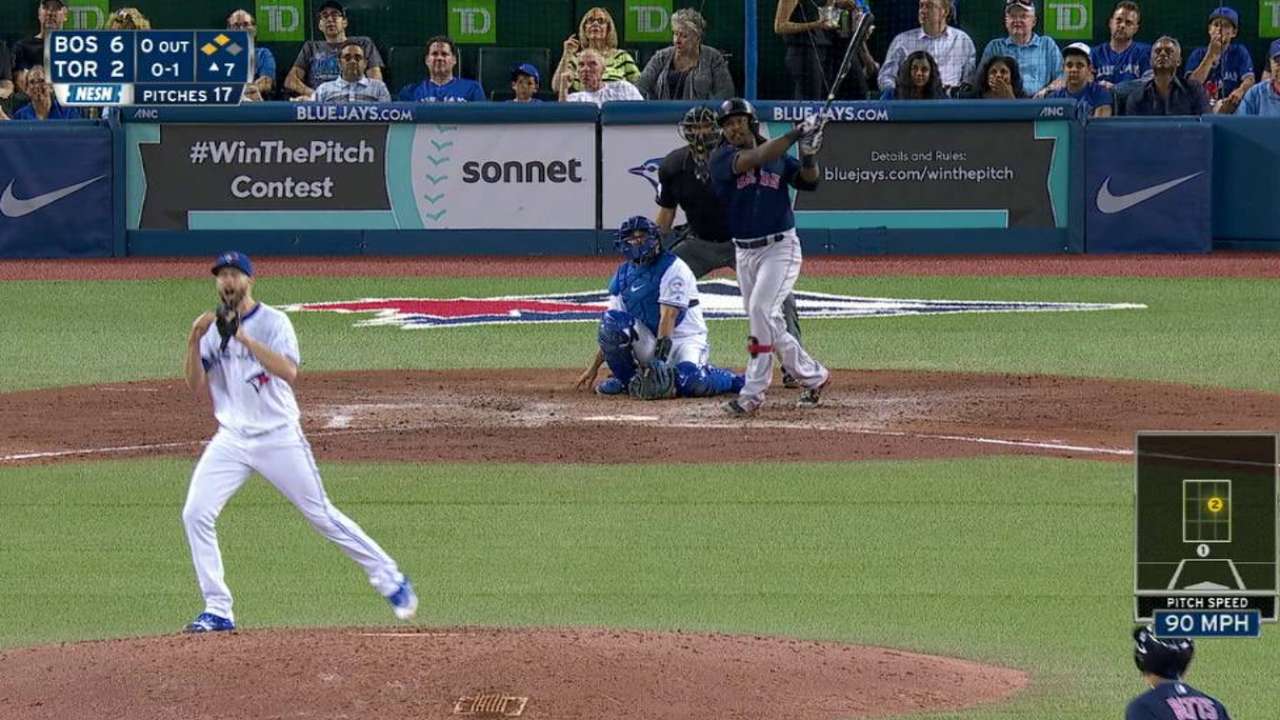 TORONTO -- For much of the second half of the season, the talk surrounding the Red Sox's ascension has been centred on the breakout season of American League MVP candidate Mookie Betts, the consistency of Rick Porcello and the ageless dominance of David Ortiz.
But Hanley Ramirez's under-the-radar bounce-back season has also been an increasingly vital component to Boston's charge atop the AL East.
In what can easily be deemed the biggest game and the biggest series of the year against the second-place Blue Jays, Ramirez came out and set the tone, finishing 2-for-3 with a three-run home and two runs scored in the Red Sox's 13-3 dismantling of Toronto.
Ramirez's campaign has not only provided additional depth to a lineup which already features a pair of MVP candidates, but also given opposing teams an additional threat to deal with in the heart of baseball's best order.
"Quietly he's gone along when so many other guys are getting the attention," Red Sox manager John Farrell said. "Here he is knocking on the door of 100 RBIs. The last three weeks, he's been as hot as anyone for us. So when you've got him in the five-hole doing what he's capable of and then when you can look at the bottom third of our lineup, I firmly believe that's what has a chance to set us apart offensively."
Off the bat, @HanleyRamirez knew it was gone. https://t.co/8bc99vSjCE #RedSox pic.twitter.com/Wqm2esKnWO

— Boston Red Sox (@RedSox) September 10, 2016
Ramirez's second half has put him among the premier players in all of baseball, as the three-time All-Star and two-time Silver Slugger Award winner has slashed an otherworldly .359/.412/.696 with eight homers and 31 RBIs since Aug. 11. Ramirez has also produced four three-hit games in that time frame, helping the Red Sox win 18 of their past 28 games to pull ahead in the division.
"Everybody has been putting up numbers on this team all year," Ramirez said when asked about the difference between the two seasons. "At this point of the year, physically, everything hurts. Mentally, nothing hurts, especially when you go out there and focus on winning. We're going out there and doing the best we can."
While the Red Sox surpassed their win total from last season by picking up their 79th victory of the season on Friday, Ramirez was adamant that this was only the beginning of what could be a special September run in Boston. Now a season-high 18 games over .500 and attempting to break away from the pack in a tight AL East, the Red Sox are finally seeing the best from their entire roster, with major contributions from Ramirez in the season's stretch drive.
"We're playing as a team and we're playing together," Ramirez said. "It's not only one guy, but everybody is going out there and grinding. It's a good group of guys that are hungry, and we're showing that."
Alykhan Ravjiani is a reporter for MLB.com based in Toronto. This story was not subject to the approval of Major League Baseball or its clubs.