Blue Jays bestow custom jackets on Papi
Toronto also makes donation to slugger's charity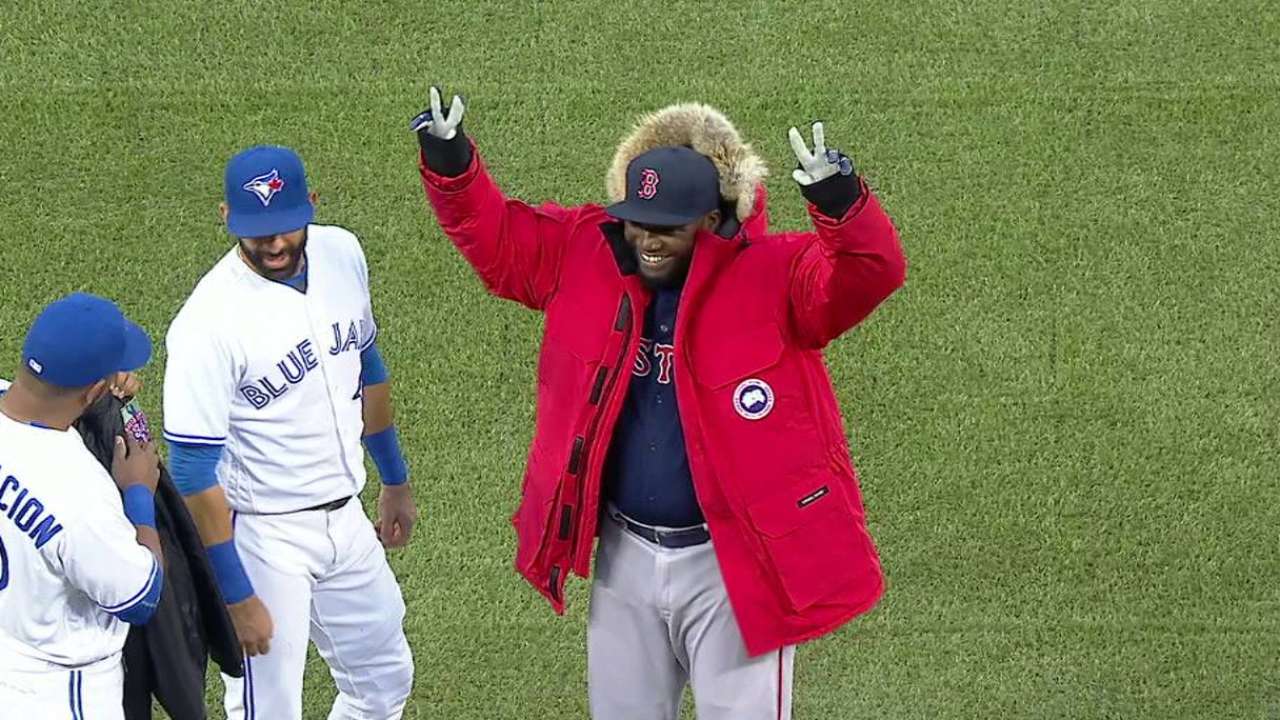 TORONTO -- David Ortiz stepped out of the visitors' dugout and tipped his cap once around the stadium as he received a rare round of applause from the Rogers Centre faithful.
For the better part of the past 20 seasons, Ortiz has been one of the biggest villains against the rival Blue Jays. But for a brief moment on Friday, the rivalry was pushed aside as Ortiz was honored during his final regular-season visit to Toronto this weekend.
The Blue Jays held a short pregame ceremony for the three-time World Series champion, featuring a video montage of Ortiz's career highlights. Dominican countrymen Jose Bautista and Edwin Encarnacion then presented Ortiz with two custom-made Canada Goose jackets, with an embroidered patch which read "Congratulations David Ortiz." The Blue Jays also donated $10,000 to the David Ortiz Children's Fund.
Ortiz has long terrorized Toronto pitching over his career. The 10-time All-Star entered Friday's series opener with more home runs (40), doubles (34), extra-base hits (74) and RBIs (105) than any visiting player against the Blue Jays.
"This building brings a lot of memories to me," Ortiz said in a pregame scrum with members of the local media. "My first game here was in '98. It's a beautiful place. You hear a lot of stories about it, and once you get here, it makes a big impact on you."
Ortiz has also played a major hand in the Red Sox's 120 wins at Rogers Centre, which is the most by any visiting team. Boston's .548 winning percentage at Rogers Centre is also the highest among all American League teams, including the hometown Blue Jays.
"It's a good place to hit," Ortiz said. "I don't know what it is, but it's a good place to hit and a good place to play baseball."
Shortly after, Ortiz shifted his focus back to the current edition of the Red Sox. In his final Major League season, the six-time Silver Slugger Award winner spoke of the recent rivalry between Toronto and Boston, with the two teams at the forefront of a crowded American League East race.
The Red Sox entered the weekend series a game ahead of the Blue Jays atop the division, and the two teams seem likely to battle it out until the final weekend of the season at Fenway Park.
"Both teams are competing for first place in the division," Ortiz said. "There's pretty much three weeks left and you know with the new Wild Card [format], you want to make sure you finish in first place [in the division] so that you don't have to play the one playoff game instead of the three-out-of-five series. It's great, man."
Alykhan Ravjiani is a reporter for MLB.com based in Toronto. This story was not subject to the approval of Major League Baseball or its clubs.