Mistakes vs. Crew contribute to Cards' home woes
Club, now 30-38 at Busch Stadium, falls behind Mets for second NL Wild Card spot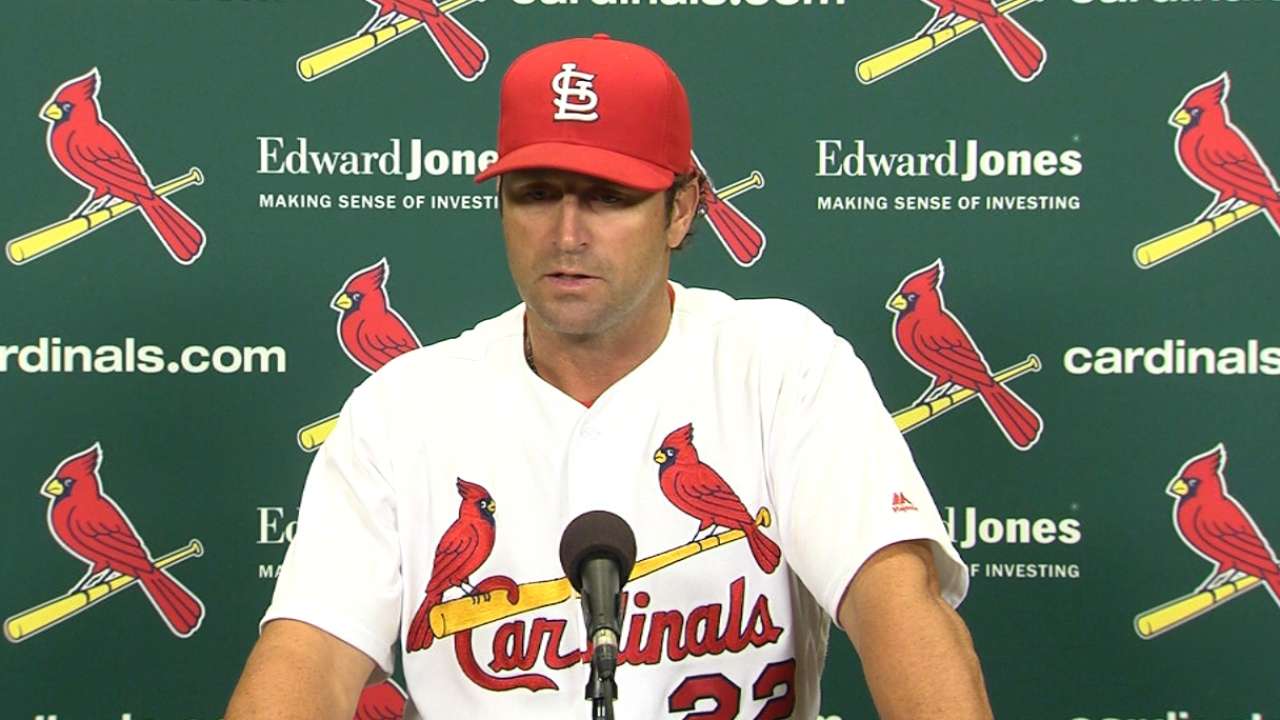 ST. LOUIS -- For the past 26 days, win or lose, the Cardinals have left the ballpark in position to play at least one game beyond the scheduled 162. After Thursday's ugly 12-5 loss to the Brewers, that was no longer a guarantee.
The Cardinals lost their hold on the National League's second Wild Card, leaving the surging Mets alone in that spot. The Giants sit a half-game ahead of New York. It's a race waiting for a team to create some separation, but as was the case again on Thursday, St. Louis' propensity to get in its own way continues to stall potential momentum.
"We had a lot of things happen today that we need to clean up," manager Mike Matheny said. "Today was just one of those games where things went bad and they just kept going in that direction."
Before the game got out of hand during the Brewers' six-run sixth, the Cardinals had an opportunity to set a better tone. Instead, the mistakes swelled.
Starter Jaime Garcia, who continues to be an enigma within this rotation, allowed homers on consecutive pitches to erase the team's early lead and labored through 3 2/3 innings as he became the third straight Cards pitcher unable to complete five innings. Along the way, his inability to hold runners on led to three stolen bases, and a wild pitch plated the Brewers' fifth run.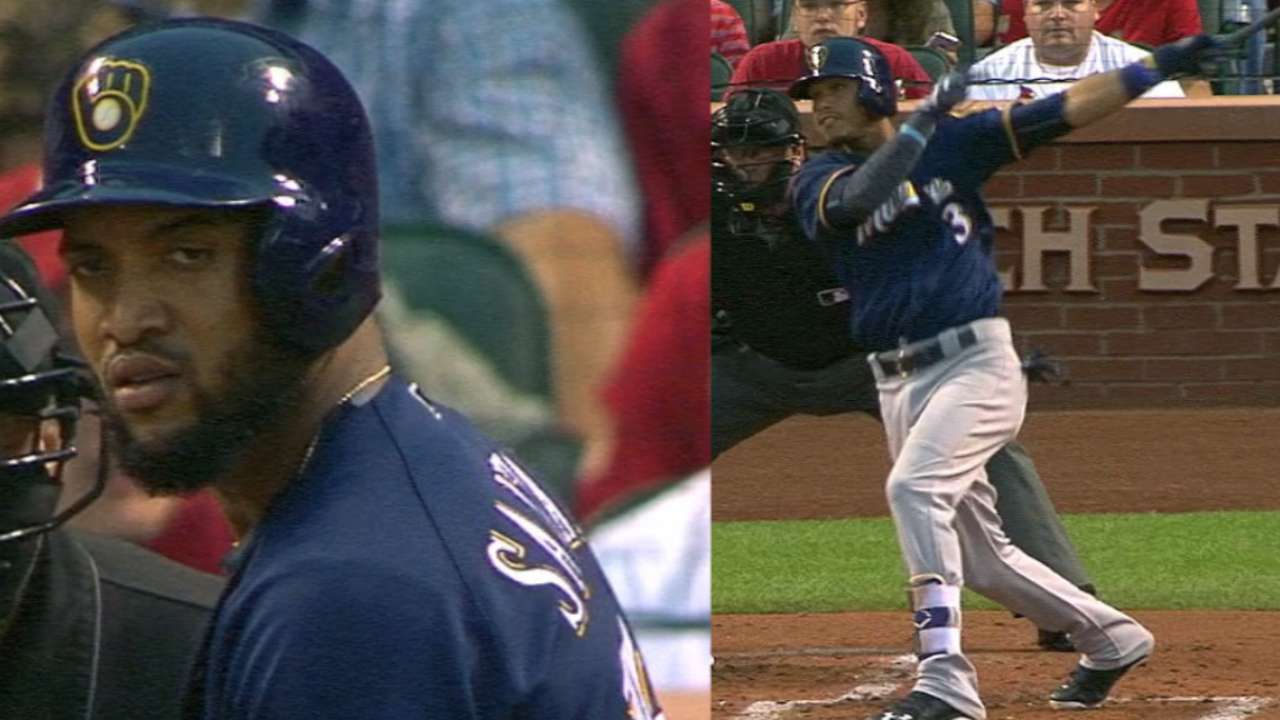 "I didn't get the job done," said Garcia, who has now allowed four or more runs in a career-high 14 starts. "I didn't come through. The guys scored some runs against a tough pitcher, a good lineup over there. I just didn't get the job done."
He wasn't alone. Randal Grichuk getting picked off at second after extending his lead too far dampened an offensive opportunity in the second. Yadier Molina's inning-ending double play with runners on the corners and one out in the third left the Cardinals unable to capitalize on an error.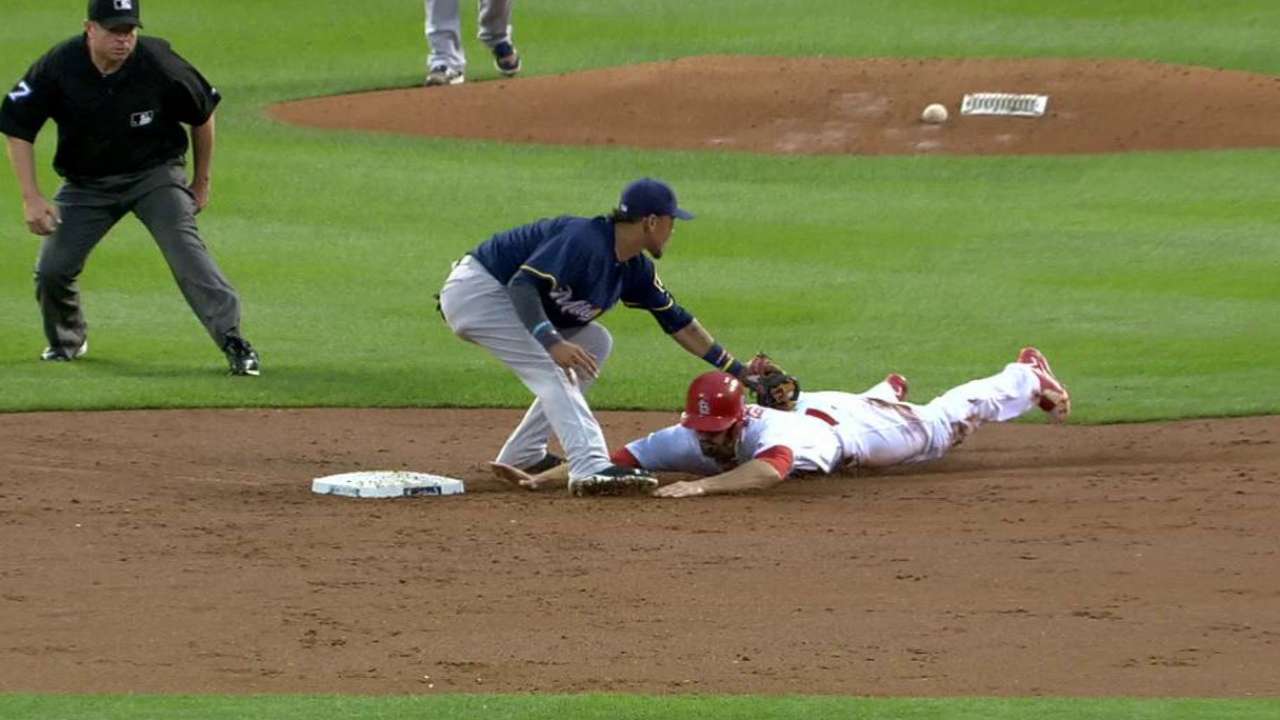 Then there was the sixth, an inning in which the confidence Mike Mayers built with a clean relief appearance Tuesday dissolved into another disastrous home outing. With six runs allowed, Mayers has now given up 15 in 2 1/3 innings at Busch Stadium. Dean Kiekhefer allowed all three runners he inherited to score in Milwaukee's 10-batter frame.
"We have a lot of young players out there," Matheny said. "You just hope you don't have a lot of the similar mistakes happen time after time. Those are the ones that are frustrating. We have guys that are learning and getting better. But still, there is another level."
It all led to another home loss, the team's 38th this season. That matches a franchise season record (2007) for the most at Busch Stadium III and still 13 more home games remain on the docket.
A club that never had a dozen runs scored off it at home last year has now had it happen three times in 2016. Still seeking their first home series win since July, the Cardinals fell to 2-8 in the first game of a homestand with this loss.
"I hate the fact that we've been able to draw as many fans as we have here and not been able to put them on their feet at the end of the game as much as we want to," Matheny said. "We have time to change that."
Jenifer Langosch has covered the Cardinals for MLB.com since 2012, and previously covered the Pirates from 2007-11. Read her blog, follow her on Twitter, like her Facebook page and listen to her podcast. This story was not subject to the approval of Major League Baseball or its clubs.