Arcia coming on strong for Brewers
After slumping to begin his MLB career, top prospect raking in last 15 games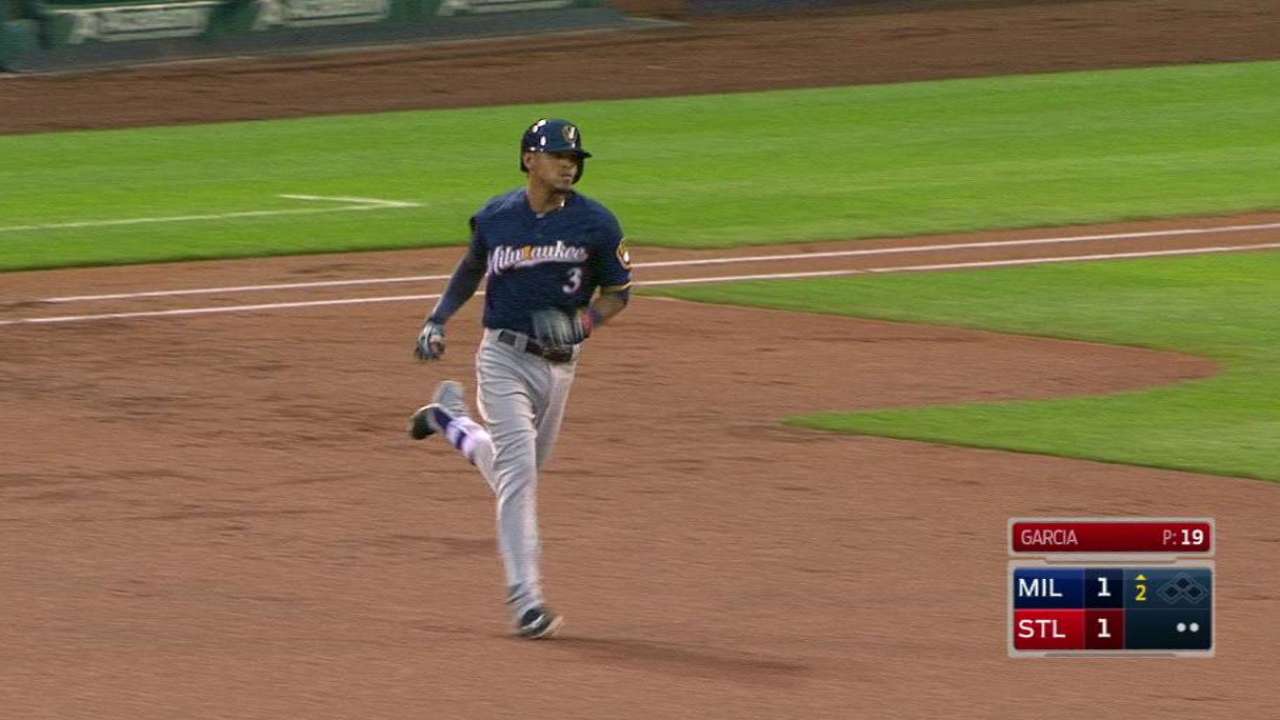 ST. LOUIS -- Is Orlando Arcia's emergence from his career-opening slump attributable to mechanical adjustments, or was it merely a matter of time?
Probably both, manager Craig Counsell said Thursday before Arcia put together another productive night. His second-inning home run was the first of Arcia's three hits, and pushed the Brewers ahead for good in a 12-5 romp over the Cardinals at Busch Stadium. It was Milwaukee's seventh victory in eight games.
"From the moment I got called up, I just felt like this is what I was born to do, this was my dream," Arcia said through translator Carlos Brizuela. "Now it is time to work hard to make sure I stay up here."
His work has been paying off. Including Thursday's 3-for-5 performance, which featured his third home run, Arcia is 18-for-49 (.367) over his last 15 games, with eight extra-base hits. Arcia's 1.120 OPS in that span leads Brewers regulars. Only Jonathan Villar has more extra-base hits or total bases.
Orlando Arcia's last 15g, with Brewers ranks in that span:

.367 AVG (1st)
.446 OBP (1st)
.673 SLG (1st)
8 XBH (2nd)

- Adam McCalvy (@AdamMcCalvy) September 9, 2016
Arcia, the Brewers' top prospect and No. 10 on MLBPipeline.com's list of the top prospects in all of baseball, credits mechanical adjustments with hitting coach Darnell Coles. While Arcia was going 10-for-70 in his first 19 Major League games after an Aug. 2 promotion from Triple-A Colorado Springs, Coles and Brewers players noticed that Arcia tended to "jump" at the ball, and spoke to the 22-year-old about improving the timing of his swing.
During the final week of August, it began to click. Arcia hit safely in five straight games, including an Aug. 26 game against the Pirates in which he hit his first Major League home run off Pirates reliever Jared Hughes.
"I do think he's become more consistent with his load [while] hitting," Counsell said. "But I also think there's a normal transition to the big leagues and to seeing what would happen. I think we were all confident that he was going to make adjustments. Good players make adjustments."
"It doesn't surprise me," Brewers catcher Martin Maldonado said. "This was a guy who was going to have success."
Domingo Santana and Arcia teamed on Thursday for the Brewers' seventh pair of back-to-back home runs this season. One pitch after Santana tied the game with a solo homer off Cardinals left-hander Jaime Garcia, Arcia hit a changeup for a go-ahead shot.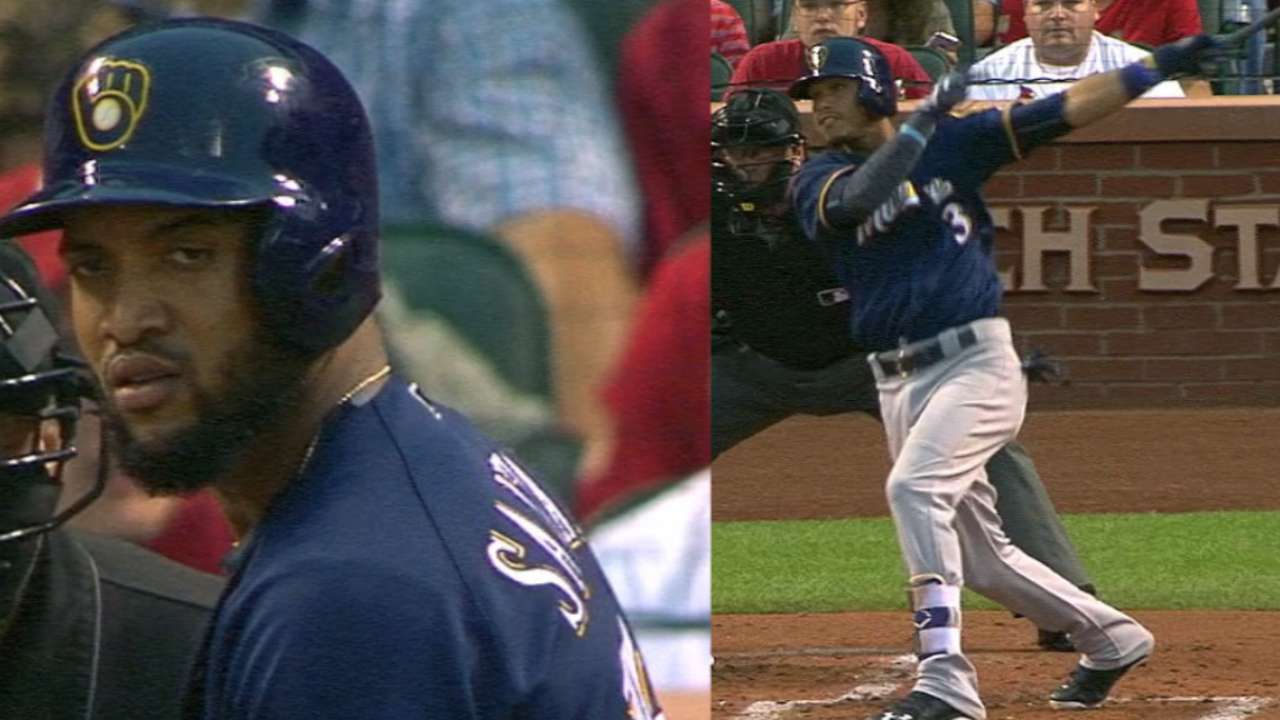 Arcia later lined a 106-mph (according to Statcast™) single in the fourth inning and scored on a wild pitch. He singled again in the sixth and scored on Maldonado's two-run homer, part of a six-run inning.
When he was struggling early, Arcia said, "I tried to stay positive, and all the guys had my back and took me in and told me to keep working, that things will come. I tried to take my same approach of being aggressive on the ball. I tried to have fun out there."
Adam McCalvy has covered the Brewers for MLB.com since 2001. Follow him on Twitter @AdamMcCalvy, like him on Facebook and listen to his podcast. This story was not subject to the approval of Major League Baseball or its clubs.