Mac attacks: McCann goes yard twice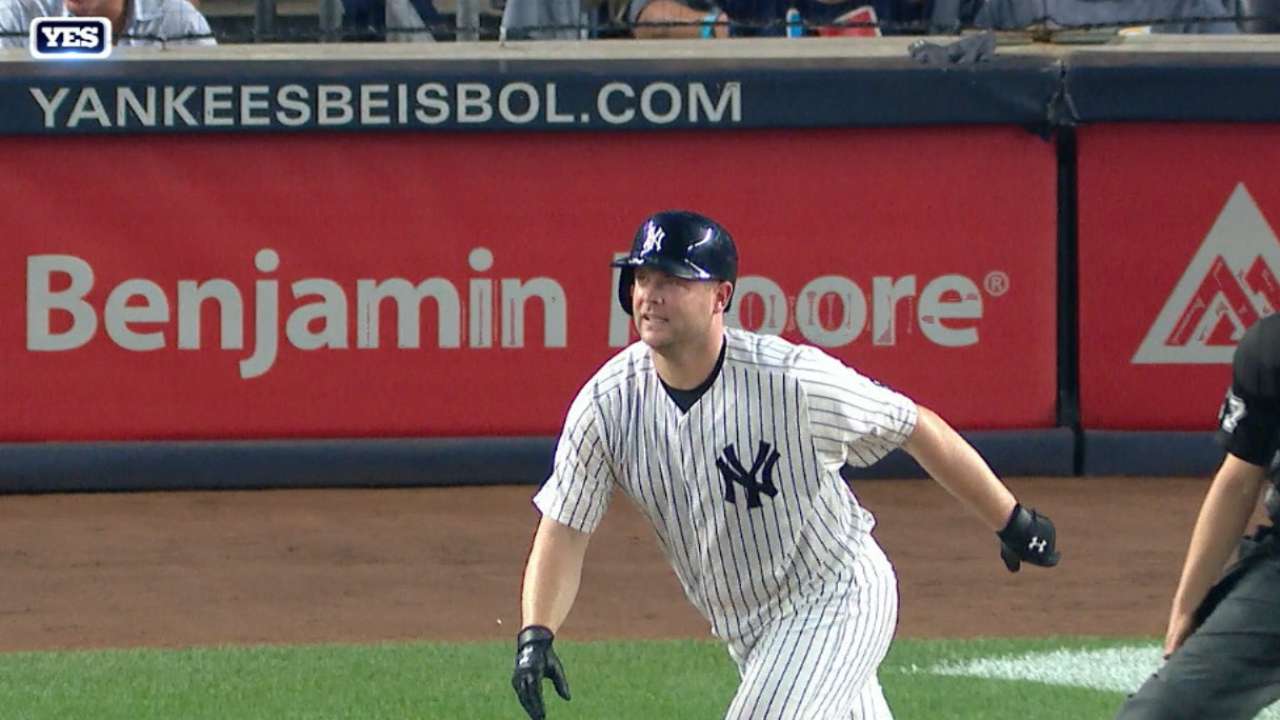 NEW YORK -- Even in a game with another big moment for a Baby Bomber, Brian McCann showed what the Yankees' veterans still mean to the club.
In New York's 5-4, walk-off win against the Rays in Thursday night's series opener at Yankee Stadium, rookie Tyler Austin dealt the final blow, but it was McCann who went 3-for-4 and came up with a pair of key home runs of his own to pace the Yankees earlier in the game.
"You want to pull your weight. You want to pull your weight around here," McCann said. "For a large part of the season, I haven't been doing that, so tonight it was nice to get through some baseballs."
McCann's two solo homers off Tampa Bay starter Alex Cobb, his 18th and 19th of the year, both gave New York a lead. The first was a 413-foot answering shot deep into the second deck in right field in the bottom of the second inning, after the Rays had tied the game at 2 in the top half. The second, another rope into the right-field seats, put the Yankees up, 4-3, in the fourth.
"We have to keep going and just keep battling every day," starter CC Sabathia said of the Yankees' remaining veteran core. "And guys are stepping up."
The Yankees are now only two games out of an American League Wild Card slot, and four games back of the Red Sox in the AL East, with 23 games remaining in the regular season. As New York fights for a playoff spot with its new-look younger roster, the presence and production of seasoned players like McCann remain important.
"You mix good young talent with good veteran players," McCann said, "that's a good recipe for success."
McCann has ceded regular catching duties to one of the talented youngsters, Gary Sanchez, but on Thursday, he was back behind the dish. With Sabathia laboring through his shortest outing since last August, McCann helped a cast of five relievers through five innings of one-run ball.
"He did a great job tonight getting our pitchers through some difficult situations," manager Joe Girardi said. "But he swung the bat extremely well -- three hits -- and that's great to see, too."
After going the entire month of August with just one long ball, McCann now has three in the Yankees' last three games, all wins, as New York continues to make up ground in the standings.
Even with the proliferation of shifts, there's still a place for a left-handed power bat at Yankee Stadium, where McCann has hit 45 of his 68 home runs as a Yankee. One more home run would give the 32-year-old his ninth straight 20-homer season, and his 10th in 11 full Major League seasons. Only three catchers in Major League history -- Mike Piazza, Johnny Bench and Yogi Berra -- have reached the 20-home-run mark 10 times.
"I've made minor adjustments," McCann said. "Tonight, I felt like I was on my back side a lot better, and ready to hit."
David Adler is a reporter for MLB.com based in New York. Follow him on Twitter at @_dadler. This story was not subject to the approval of Major League Baseball or its clubs.