Soaking it in: Austin hits first walk-off homer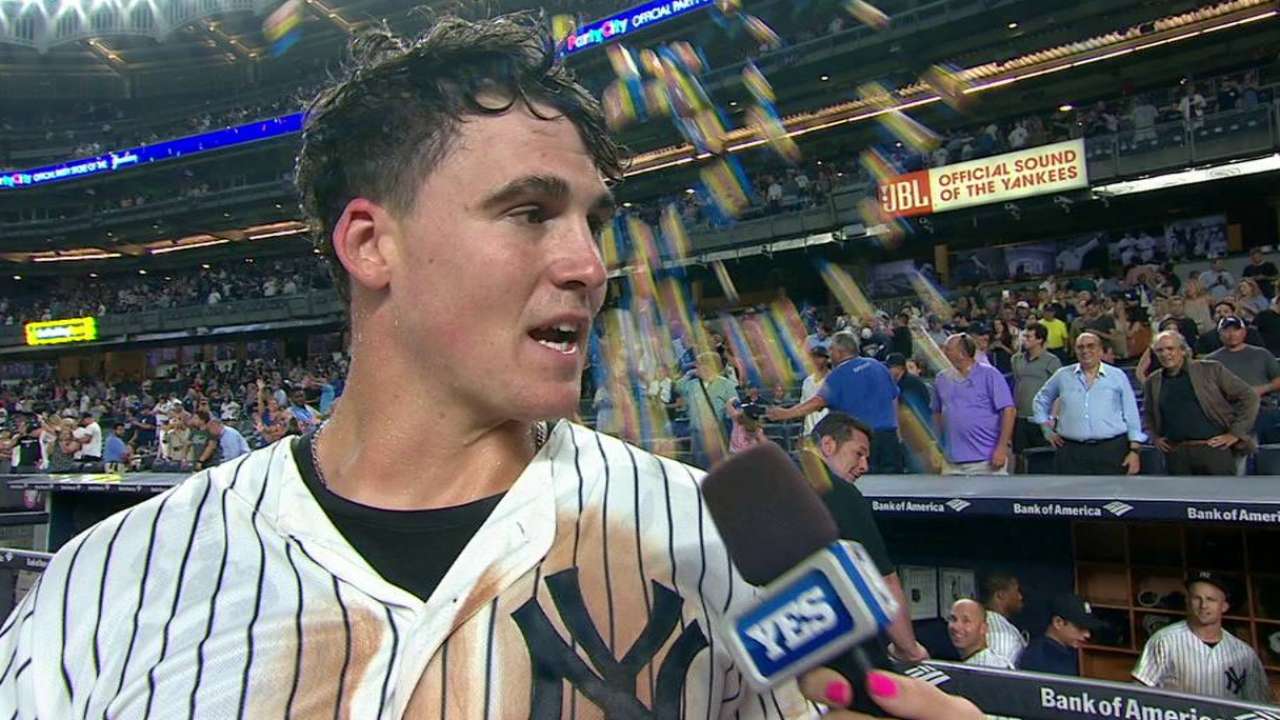 NEW YORK -- Tyler Austin raised his right fist in the air as he rounded the bases for his first career walk-off homer, later remarking that he couldn't imagine a happier moment. To the Yankees, you could file it as more evidence that no stage seems too big for these baby Bombers.
Austin mashed an Erasmo Ramirez fastball over the right-center-field wall and was doused in a raucous home plate celebration as the giddy Yankees toasted their fifth consecutive win on Thursday, a 5-4 victory over the Rays that continued to close the distance in their unlikely postseason chase.
"I don't think it gets any better than that right there," Austin said. "I am extremely happy to be a part of this team, and happy to be here."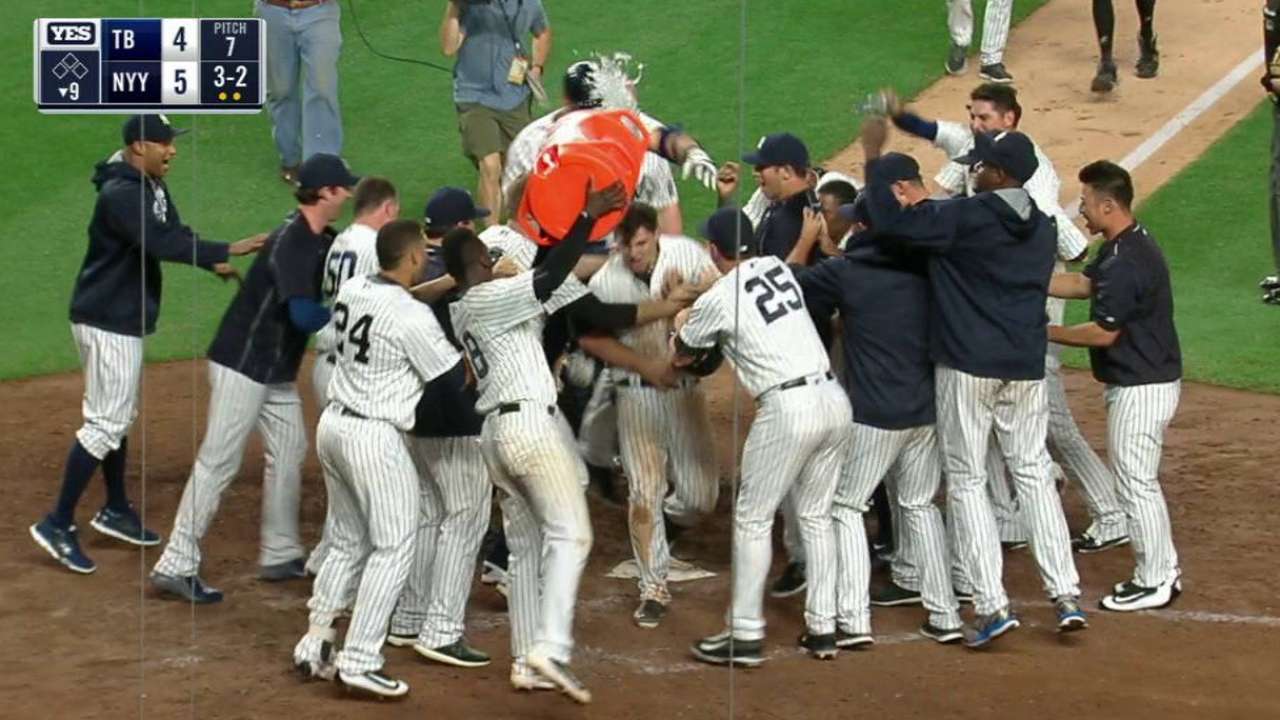 The Yankees are equally thrilled with the early results of their midseason youth movement. Since Aug. 13, the afternoon that Austin and Aaron Judge each homered in their first Major League plate appearances, New York has rattled off 15 wins in 24 games to move a season-high nine games above .500.
"There's not a better feeling than that. There's not," said Brian McCann, who homered twice on Thursday. "In this sport, as a hitter, when you hit a walk-off to win a game for your team -- it's a high. He's not going to sleep tonight, that's for sure."
Thursday's victory trimmed the Yanks' (74-65) deficit in the American League Wild Card race to just two games, inching past the Astros as they look up at the Orioles and Tigers. They are also starting to see the AL East as a realistic goal, now just four games behind the division-leading Red Sox.
"It's amazing what these kids have been able to do for us," Yankees manager Joe Girardi said.
Just a few months ago, this would have all been difficult for Austin to imagine. Once touted as one of the Yankees' brighter prospects, Austin's stock had dipped due to an assortment of injury setbacks, but the slugger got back on the map with a solid showing in the Arizona Fall League.
Still, Austin had to prove himself while opening the year back with Double-A Trenton, playing 50 games there. He did that and more, earning a promotion to Triple-A Scranton/Wilkes-Barre and punishing International League pitching to the tune of a 1.051 OPS that the Yanks couldn't ignore.
"I didn't give up. I kept battling, and here we are," Austin said.
Austin needed to make adjustments after that storybook first homer off the Rays' Matt Andriese, enduring a 3-for-29 funk, but Austin is heating up just as Gary Sanchez's magic cools. Austin's two hits Thursday extended his hitting streak to five games, batting .438 (7-for-16) with two homers and five RBIs over that span.
"I just stuck with my approach, stuck with the work I've been doing in the cage, and going back to trying to get a good pitch and not missing it," Austin said. "If you miss those pitches, you have to go into counts where you've got hit their pitches. And I haven't been missing them."
Austin's other homer of the homestand was a tape-measure job to the right-field bleachers off the Blue Jays' Aaron Sanchez on Tuesday. That was more of a sure thing than Thursday's, but both exhibits of opposite-field muscle show just how bright the future could be.
"In today's game, prospects win you games," McCann said. "You have to win through your farm system in today's game, and our farm system is right there at the top. You mix good young talent with good veteran players, it's a good recipe for success."
Bryan Hoch has covered the Yankees for MLB.com since 2007. Follow him on Twitter @bryanhoch, on Facebook and read his MLBlog, Bombers Beat. This story was not subject to the approval of Major League Baseball or its clubs.