Relaxed at plate, Souza goes deep twice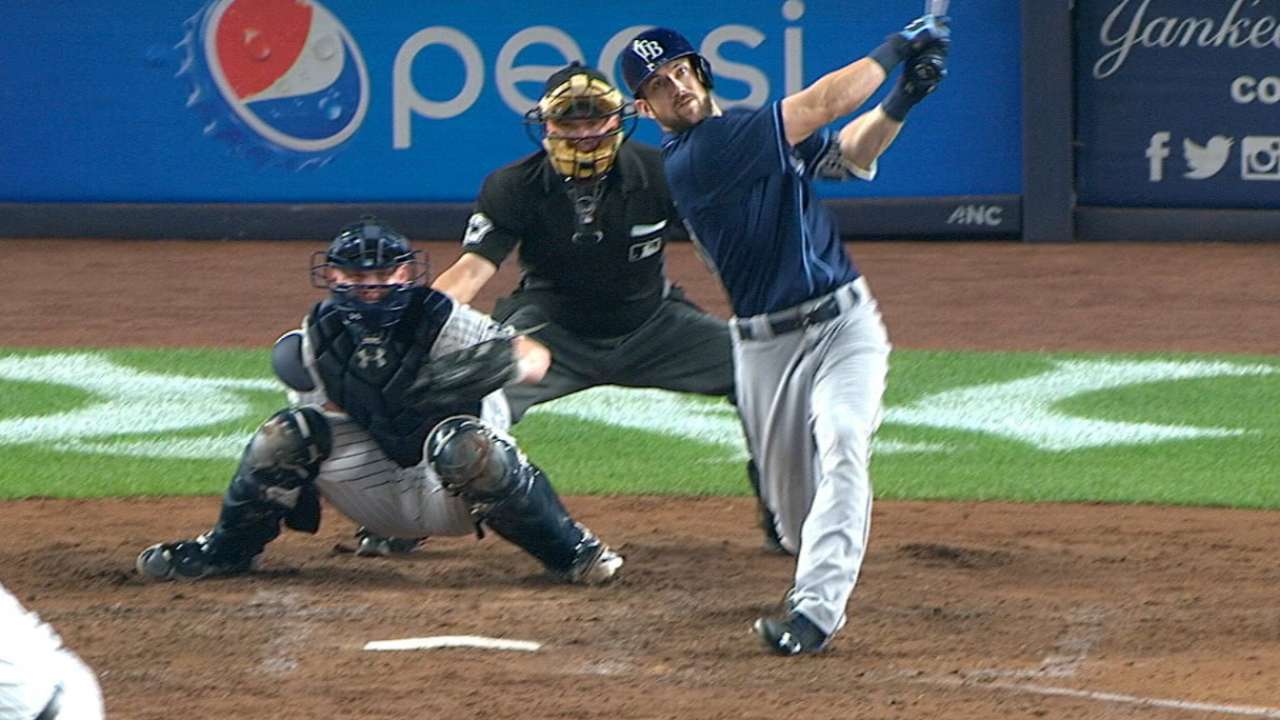 NEW YORK -- The Rays all say the same things about Steven Souza Jr.
They marvel at his ability, and they hope that he can turn potential into reality. They watch home runs like the two he hit in Thursday night's 5-4 loss to the Yankees, especially the one that rocketed off the sports bar in center field, and they dream of seeing that more often.
"Steven has as much talent as anyone who puts on a uniform through the big leagues," starter Alex Cobb said. "The one thing he does is he tries too hard. He wants to outwork anyone else."
Sometimes, all the work helps. All too often, it works against him.
Cobb watched it from afar for much of this season, as he worked his way back from Tommy John surgery. Cobb has seen it close up this month, and when he watched Souza strikeout twice in two at-bats Wednesday against the Orioles, he went to him in the dugout and offered some friendly advice.
"It looked like he was trying to play against the guy on the mound and the guy in the [batter's] box," said Cobb, who told Souza he just needed to relax and trust his ability.
Souza heard the same message Thursday from Chase Whitley, another Rays pitcher. He heard it again from Chad Mottola, who met with various players on his first day as the Rays' new hitting coach.
"Their encouragement just allowed me to relax," Souza said.
Rays manager Kevin Cash noticed the difference in batting practice Thursday afternoon. Everyone else saw it once the game began.
Souza homered in the second inning off Yankees starter CC Sabathia. Souza reached on an infield hit in the fourth, then hit the most impressive shot of the day off Jonathan Holder in the sixth.
The ball left his bat on a line, and rocketed off the glass high above the center-field wall. According to Statcast™, the ball landed 430 feet away from home plate and had an exit velocity of 110 mph.
"There were a lot of 'oohs' and 'aahs' in our dugout," said Kevin Kiermaier, who also homered twice Thursday.
"It looked like a golf ball flying away, getting smaller and smaller," Cobb said.
It was Souza's third two-homer game of the season. The first two came in April, and after the second, Souza had five home runs in his first 15 games of the year.
At that point, Souza had the same number of home runs as Mark Trumbo of the Orioles.
Trumbo has gone on to lead the Major Leagues in home runs. Before Thursday, Souza had just eight home runs since April.
"We all know what his capabilities are," Cash said. "It's been a little bit of a roller coaster. Hopefully tonight is a trend and he finishes strong. We're optimistic what he's capable of."
The 27-year-old Souza doesn't disagree with any of that. If anything, he's harder on himself than his teammates and manager are.
"I think I have to mature as a player," he said. "I think I have a ways to go. I think I've done a really poor job of sticking to my game plan."
Sometimes it takes a little encouragement from some friends.
"I'm glad that it hit home," Cobb said.
It hit home, and Souza hit two home runs. On this night, anyway, the potential looked real.
Danny Knobler is a contributor to MLB.com based in New York and covered the Rays on Thursday. This story was not subject to the approval of Major League Baseball or its clubs.